Review
CloudBolt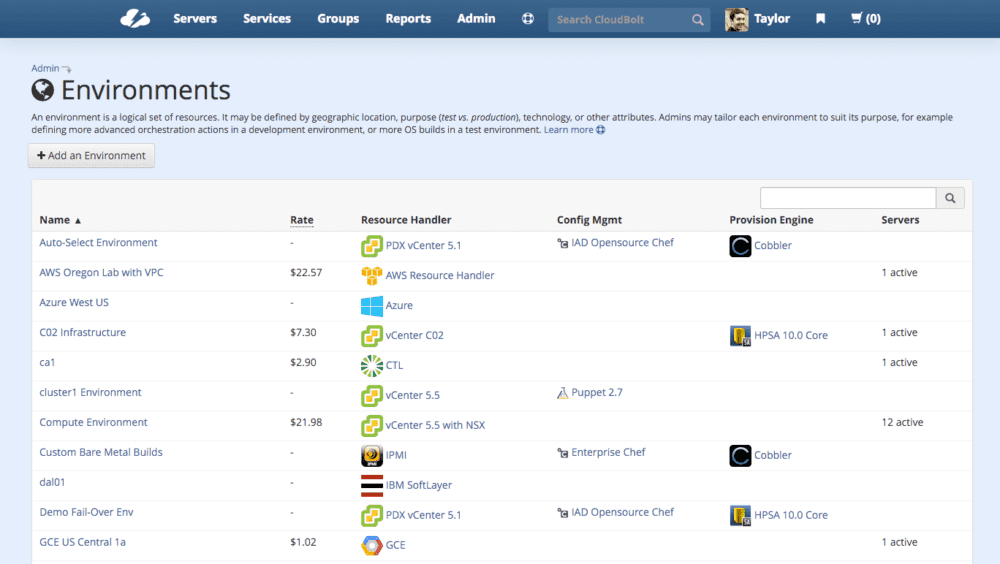 Overview
CloudBolt unifies the reporting, provisioning, and management of private and public environments, providing a single pane of glass for IT admins and their internal and external customers. CB supports 14 different resource handlers (virtualization and public cloud technologies), with the ability to rapidly add new technology support. CloudBolt also integrates with configuration managers (ex. Puppet and Chef), IPAM solutions (ex. Infoblox), CMDBs (ex. ServiceNow), and all other systems involved with server management so end-to-end builds can be performed in one step and one UI or API.
Hybrid Cloud Management Platform
Multi-Cloud
Bi-Directional API
Intuitive Dashboards
Usage Quotas
Interface Customization
Centralized Management
Small (<50 employees), Medium (50 to 1000 Enterprise (>1001 employees)
CloudBolt Software turns IT into a cloud service provider. Its platform integrates on-premises resources and public clouds in a single, intuitive interface. It unifies cloud management across technologies and locations to enable best execution venue and to optimize workload placement. CloudBolt Software supports a variety of cloud technologies, from on-premises virtualization and private cloud to a wide range public and hybrid cloud configurations. It provides as easy import, syncing, and management of legacy deployments even as it helps the company build out new cloud environments. CloudBolt Software's Environments are logical sets of resources that can be defined by geographic location, role, technology, or other attributes. Administrators can tailor each environment to its specific needs. Users can also plug CloudBolt Software into anything such as using existing run book automation flows or CloudBolt's orchestration hooks to interoperate with even the most complicated business and IT environments.The Role Based Access Control feature defines and enforces access by user role across systems, applications, and environments. By centralizing cloud management, CloudBolt Software maintains a detailed access history of both on-premises and cloud-based systems for audit and security purposes. By using Quotas, this will ensure alignment with business needs and budgets rather than technological limitations. CloudBolt's hierarchical groups allow detailed tracking at every organizational level.
CloudBolt Software's Centralized Management is a feature that users can take full advantage in making the process easier and more effective, in addition to its intuitive end-user experience, CloudBolt Software also delivers extensive management capabilities to administrators. They can perform a wide variety of actions from the server screen including out-of-band console and SSH access along with remote script and other action execution.