Review
Dell Cloud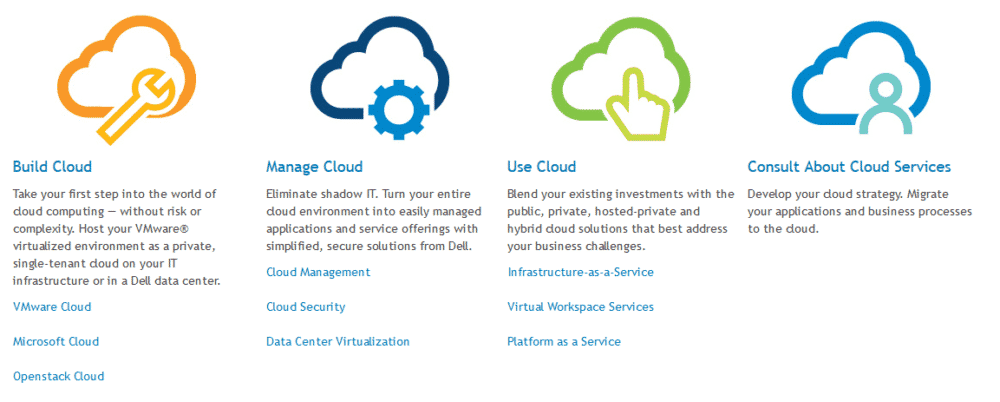 Overview
Dell Cloud enable a faster, simpler path to cloud that delivers industry-leading TCO and the flexibility to adapt your cloud to the future.
Hybrid Cloud Management Platform
Centralized cloud management
Application performance monitoring
Automated workload delivery and infrastructure management
Secure access
Simplified provisioning, governance and access management
Dell Blueprint
Small (<50 employees), Medium (50 to 1000 Enterprise (>1001 employees)
Dell's Cloud Computing provides it users the ability to enable a faster, simpler path to cloud that delivers industry-leading TCO and the flexibility to adapt the company's cloud to the future. Users can customize cloud solution with an end-to-end portfolio, which includes cross-platform infrastructure services, private and hybrid clouds, heterogeneous management and expert guidance.These will help the company cut their cloud deployment time by 80 percent compared to Cisco, slash their operating costs and respond faster to business demands as well as match the right applications to the right cloud to meet the business' challenges.With Dell's cloud computing program, users will be able to host their VMware virtualized environment as a private, single-tenant cloud on its IT infrastructure or in a Dell data center. When it comes to managing cloud for its users, be able to eliminate shadow IT. Turn the entire cloud environment into easily managed applications and service offerings with simplified, secure solutions from Dell. Blend the company's existing investments with the public, private, hosted-private and hybrid cloud solutions that best address the business' different challenges. Plus, be able to migrate their applications and business processes to the cloud.
Dell cloud management solution provides help to its users with centralizing management of multiple cloud environments and automating key tasks. Dell's performance monitoring capabilities help administrators maintain uptime and ensure that the users gain the rich capabilities they've come to expect. Even better, Dell's support for a wide range of cloud solutions gives the company the freedom to avoid being locked in with a single vendor.