Review
Bing Webmaster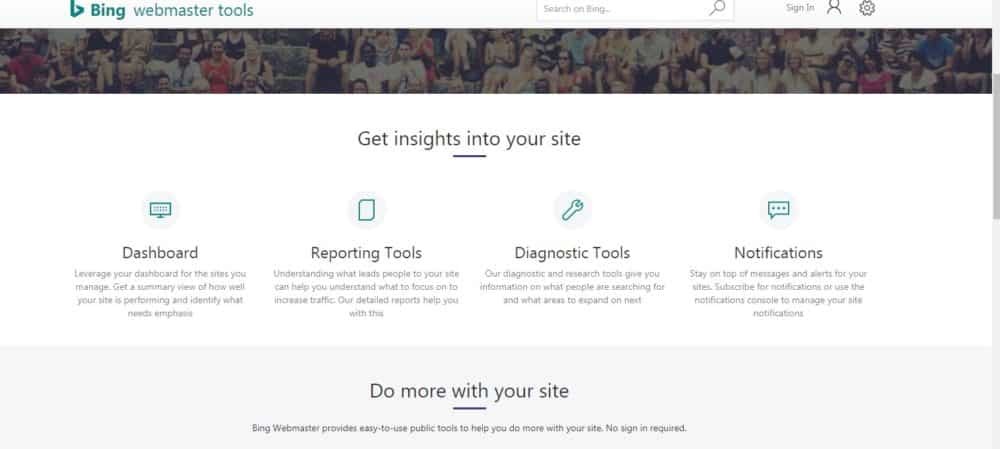 Overview
Bing Webmaster leverage your dashboard for the sites you manage and get a summary view of how well your site is performing and identify what needs emphasis.
• Dashboard
• Reporting Tools
• Diagnostic Tools
• Notifications
• Mobile friendly
Pay for what you use; free If usage is under $20 per month; on site sign up
Small (<50 employees), Medium (50 to 1000 Enterprise (>1001 employees)
What is best?
• Dashboard
• Reporting Tools
• Diagnostic Tools
Bing Webmaster provides easy-to-use public tools to help users do more with the site. With Bing Webmaster Tools account, users will find SEO Reports and the SEO Analyzer tool for on-demand scanning of individual pages.
Both resources will offer basic guidance and recommendations in regards to site optimizations that users can apply to the site. Content is what Bing seeks. By providing clear, deep, easy to find content on the website, Bing will more likely index and show users content in search results. Websites that are thin on content, showing mostly ads or affiliate links, or that otherwise redirect visitors away to other sites quickly tend not to rank well.
The content should be easy to navigate, rich and engaging to the visitor. Content produced today will be relevant years from now. However, content produced today will go out of date quickly. Links pointing to the site help Bing discover new pages on your site. It also, traditionally, is regarded as a signal of popularity. The site linking to user content is essentially telling Bing people trust user content.
As a result, Bing rewards links that have grown organically, that is, that have been added over time by content creators on other trusted, relevant websites made to drive real users from their site to users' site. Abusive tactics that aim to inflate the number and nature of inbound links such as links buying, participating in link schemes (link farms, link spamming and excessive link manipulation) can lead to user site being delisted from the Bing index.
The Webmaster How-To-Center provides users with assistance and help on specific topics and sections of the tools. Users may get support with issues or questions users are facing on Webmaster tools and also stay in touch with the latest updates and announcements from the blog.