TARGIT new Partnership with PrimeIT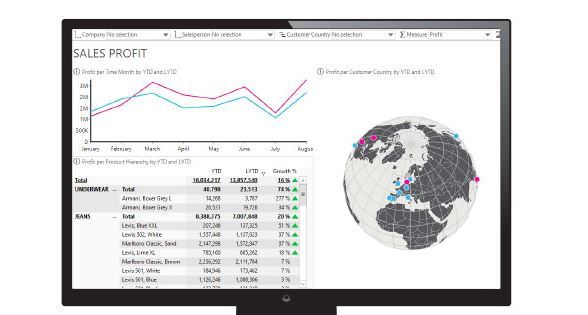 TARGIT new Partnership with PrimeIT : TARGIT's Brazilian subsidiary TARGIT Brasil has signed a partnership with PrimeIT, a Microsoft Dynamics AX and CRM vendor. This move further expands the company's presence in Latin America, and again exemplifies their strong focus on business intelligence for Microsoft Dynamics.
TARGIT is the maker of the Business Intelligence and Analytics solution for all business users, the TARGIT Decision Suite. With over 18 years of experience in the Business Intelligence and Analytics segment and over 300,000 users globally, TARGIT has been consistently considered as a top player in the industry by Gartner and BARC. PrimeIT is a Consulting company, focused mainly in IT and the Microsoft Dynamics universe. Created in 2006, its mission is to provide the best services and outsourcing. Working closely with clients, PrimeIT has the aim to create a great synergy that allows the client to excel in quality and performance.
"The partnership with PrimeIT is a great victory for TARGIT," says Luciana Paiva, Director of Operations, TARGIT LATAM. "Microsoft Dynamics is a core business for TARGIT, so it just makes sense that we get together with this large Dynamics partner. When it comes to shopping for a BI platform for their Microsoft Dynamics system, TARGIT should be front of mind."
"This partnership with PrimeIT is just one more example of how our team at TARGIT Brazil has truly kicked expansion into high gear in 2014," says Joe Corigliano, Vice President of Channel Programs, TARGIT. "The team has done a tremendous job of seeking out and locking down the best in the industry. Microsoft Dynamics is a real TARGIT sweetspot, so as Luciana mentioned, this is a no-brainer for us. We're proud to partner with PrimeIT and look forward to working together to provide the best solutions for the Microsoft Dynamics environment."
TARGIT is headquartered in Denmark, with offices in Boston and Tampa, Fla. They are partnered with over 300 companies throughout the world. These partners resell the TARGIT Decision Suite software or recommend it as part of their practice. TARGIT launched their Latin American initiative in 2011 when it closed a distribution contract with PA Latinoamericana in Sao Paulo, Brazil. Thanks to this partnership, the company has grown their reach exponentially in the Latin American market for Business Intelligence and Analytics.