Ten Best Practices for Customer Loyalty Programs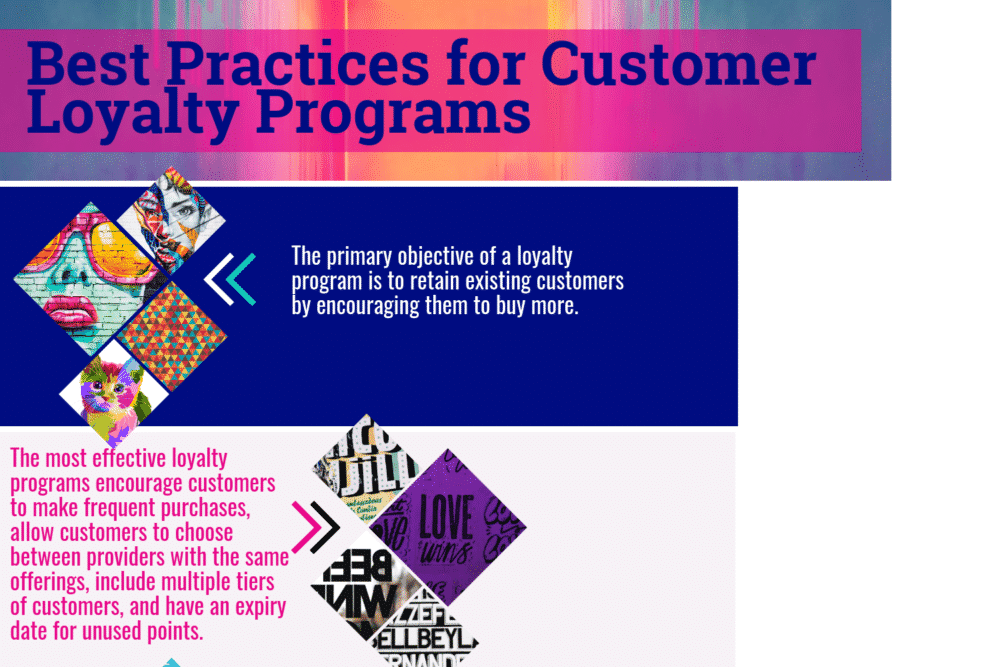 There are different ways of growing a business and one of them is to retain customers through customer loyalty programs. A customer loyalty program is an effective way of encouraging existing customers to buy more and maintain a long-term relationship with the business. Businesses can increase their repeat customer rate (RCR) by offering promotional discounts to customers, offering products and services at an attractive price to long-term customers, and encouraging existing customers to make regular purchases.
The latter involves a number of techniques such as giving rewards and loyalty points. Customers with a certain number of loyalty points can earn free products, paid vacations, and other rewards. This is a great way of encouraging them to make more purchases and remain loyal to the business.
The most effective loyalty programs encourage customers to make frequent purchases, allow customers to choose between providers with the same offerings, include multiple tiers of customers, and have an expiry date for unused points.
Businesses benefit from customer loyalty programs in different ways. The primary objective of a loyalty program is to retain existing customers by encouraging them to buy more. Growth is one of the key goals of any business and the common growth strategies include acquiring new customers and retaining the existing customers.
A business can easily retain its customers because customer retention is cheaper than customer acquisition. Since every business wants to grow, businesses benefit from loyalty programs because these programs encourage more purchases from the current customers and this leads to more profits. Customer loyalty programs also allow businesses to understand their customers' needs. It is difficult to meet the needs of your customers without understanding their needs.
In addition, loyalty programs provide marketers with useful data on repeat customers, frequently purchased items, customer behaviour, and customer lifetime value. These programs also allow businesses to focus on the most profitable customers.
You may like to read: Top Loyalty Management Software
The following best practices will help you develop an effective customer loyalty program:
Best Practices for Customer Loyalty Programs
Customer Loyalty Best Practices 1- Define Clear Goals
The objectives of your customer loyalty program should be clear. The term "loyalty" may mean different things to different people so it is important to define the specific actions and goals of the program. Choose the only thing that will have a great impact on your customers when you introduce the program. What do you want to change in terms of your customer's behaviour? Will it make a great difference?
How much are you willing to spend on customers who exhibit the desired behaviour? The success of your loyalty program will depend on your ability to make the right choices. Other aspects of the program will automatically fall into place if you define clear goals and pick the right action during the initial stages.
Customer Loyalty Best Practices 2- Focus on the Customer
The success of any business depends on the ability to focus on the customer. For this reason, it is important to understand customers and manage your loyalty program around them. Remember the program is about the customer, not the products you offer.
Therefore, it is necessary to spot a target group and structure the program according to the identified group. In other words, you need to determine the most important customer segment or segments, track each segment, and measure its progress. You should also pay attention to individual customers to assess their progress in terms of how their behaviours and lifetime values have changed as a result of the program.
Customer Loyalty Best Practices 3- Utilize Customer Data
Customer loyalty programs allow marketers to generate customer data. This includes data on consumer behaviour and the overall wellbeing of the business. For example, a company can generate data on the average amount spent by each customer, frequently purchased products, as well as days with the highest number of purchases.
Companies need this data to analyze the needs of their customers and provide customers with the most appropriate offers. Customer data also enables businesses to create personalized loyalty programs depending on the needs of their customers. Also, marketers need to target buyers via the most popular channels and offer deals on the most recent purchases and frequently purchased products.
This is an easy task for marketers who utilize customer data to learn more about the activities of their customers. In fact, the ability to use customer data is a key competitive advantage.
Customer Loyalty Best Practices 4- Meet Your Customers' Needs
Once you identify the target group of customers, you need to identify and meet the needs of each customer or customer segment. This means aligning the loyalty program with the needs of your customers. The most effective customer loyalty programs align with what the customer wants and brand massaging. They reward customers for behaviours that align with the goals of the brand.
Customer Loyalty Best Practices 5- Reward Customers
Customers are different in terms of how much they spend on products and services. Some customers spend more than others and you need to know which customers spend more than others. This is important because rewards may encourage customers who make frequent purchases or spend a lot of money on your products and services.
Some of the common types of reward systems include the tier system, the points system, the value-based program, the game system, and the coalition program. Customers receive rewards in the form of discounts, free trips, free shipping, and vouchers among others.
Many business reward customers for spending, but it is important to look beyond money. Spending is a behaviour and a rewards program should reward behaviour. However, the program should also consider the emotional aspects of the customer.
Customer Loyalty Best Practices 6- Use Simple Rules
Your loyalty program should be based on simple rules and minimal restrictions. A simple customer loyalty program encourages customers to participate. Focus on the things you can offer consistently instead of the things you can't offer. Some businesses pay a huge price for publicizing offers that are not available. In this case, customers have unnecessary expectations and end up getting nothing.
You might damage your reputation and your customers might not be able to trust you if you fail to meet your promises. Therefore, your program should only promise what you can offer.
Customer Loyalty Best Practices 7- Create a Flexible Program
Flexibility is an important aspect of every loyalty program. Customers value openness and are attracted to a program that can work with different programs. This means your loyalty program should be flexible. For example, if the program is about earning rewards and loyalty points, your customers should be able to transfer their rewards and points.
Flexible loyalty programs allow businesses to gain customer insights without discouraging their loyal customers. Such programs are also convenient because the ability to switch or transfer points allows other programs to meet the needs of customers based on customer preferences with ease.
The coalition program is a good example of a flexible customer loyalty program. It allows businesses to partner with other businesses, provide customers with more opportunities, and develop business relationships.
Customer Loyalty Best Practices 8- Offer Choices
An effective loyalty program offers different types of services and rewards to customers. This makes it possible to learn more about the preferences of individual customers. A business may decide to award points to its customers for answering some questions or completing a questionnaire to learn more about their preferences.
However, the business may get more information about its customers through more specific offers. Such offers allow the business to learn more about the different factors that influence its customers' personal preferences. For example, companies in different sectors may learn more about the preferences of their customers by offering different types of rewards based on their customer's short-term or long-term behaviours.
With this strategy, it is possible to gain insights about customers by allowing customers to choice their rewards.
Customer Loyalty Best Practices 9- Communicate
Communication is an important factor because businesses want to hear what customers have to say about their preferences, likes, and dislikes. It's hard to know what your customers want and their experiences without getting some feedback from them. You need this information to align your loyalty program with the needs of your customers. Communication is a two-way process that involves talking and listening.
Someone must be responsible for listening to your customers even if you have to set up a communication center to talk and listen to your customers. Customers are attracted to a business that listens to them. Therefore, you should take advantage of the most popular communication channels such as social media, emails, phone calls, and newspapers to keep in touch with your customers and your loyalty program will remain relevant.
Customer Loyalty Best Practices 10-  Address Complaints
Effective communication will enable you to identify your customers' problems. If you fail to address the complaints of your customers, they may decide to buy from your competitors. Look for the common causes of customer complaints such as low quality, slow delivery, poor customer service, ineffective communication, and poor accessibility.
Once you identify the causes of customer dissatisfaction, look for the appropriate solution. Why are your customers dissatisfied? What can you do to address their complaints? You will be able to develop and implement an effective customer loyalty program if you know the answers to these questions and take the necessary actions.
Here are the trending and the top rated Top Customer Loyalty Programs for you to consider in your selection process:
Top Customer Loyalty Programs
PAT Index™
You may like to read: Top Loyalty Management Software