Review
Zenbership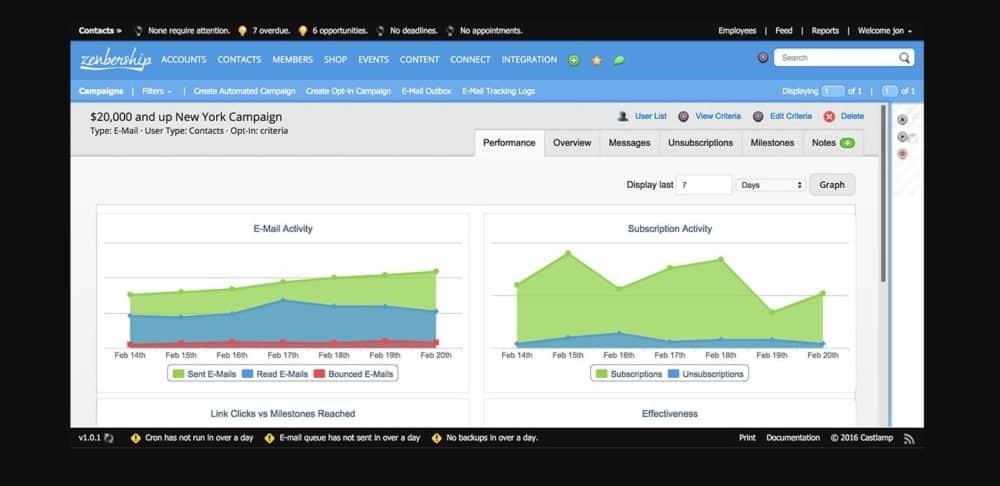 Overview
Zenbership is a 100% free, open source membership CRM platform, designed to provide a central hub helping online businesses & organizations acquire, monetize, and retain members.
Membership Management Software Open Source
•Membership Management
•Web-based Software
•CRM & Account Management
•eCommerce Tools
•Subscriptions & Dues
•Invoicing
Small (<50 employees), Medium (50 to 1000 Enterprise (>1001 employees)
What is best?
•Membership Management
•Web-based Software
•CRM & Account Management
•eCommerce Tools
•Subscriptions & Dues
•Invoicing
What are the benefits?
•Event Management
•Targeted Campaigns
•Personalized Calendar
•Marketing Tools
•Content Builder
•Social Media Integration
•Administrative Dashboard
Zenbership is an open source CRM platform, designed to provide a combination of tools to assist membership-based businesses. Some of the features include member management, e-commerce, marketing, events management and web integrations.
Zenbership's account management tool allows users to create custom databases, manage group contacts collectively and automate intelligent email campaigns with followups. Employees can maintain a historical log of interactions with contacts allowing them to actively engage opportunities, set deadlines, and schedule appointments with access to a personalized calendar and dashboard.
The Zenbership software links social media profiles with contacts who are active on Twitter, Facebook and LinkedIn, providing a background insight to leads. The program contains an administrative dashboard designed to organise daily tasks whether it be interacting with members, managing databases, organizing events, or creating invoices.
Zenbership is a web-based software that is designed to perform searches easily with a quick filtering system. The software provides a marketing platform to create targeted campaigns through email or SMS with a one-click opt-out to prevent potential spam complaints with a readership tracking system. The program supports ecommerce needs with payment gateway integration including Stripe, Authorize.net, and PayPal with a shopping cart that supports digital products, physical products, subscriptions products, and trial products.
The event managment tool allows the user to create event pages with image galleries, maps, image sliders, event timelines, and built-in registration and creates reports based on who registered, when they registered, and what products they purchased. Zenbership allows users to develop client relations, organize events, and track finances combining multiple tools into one solution.
You may like to read: Top Free & Premium Association Management Software (Membership Management Software) and How to Select the Best Membership Management Software for Your Business