Review
Yodiz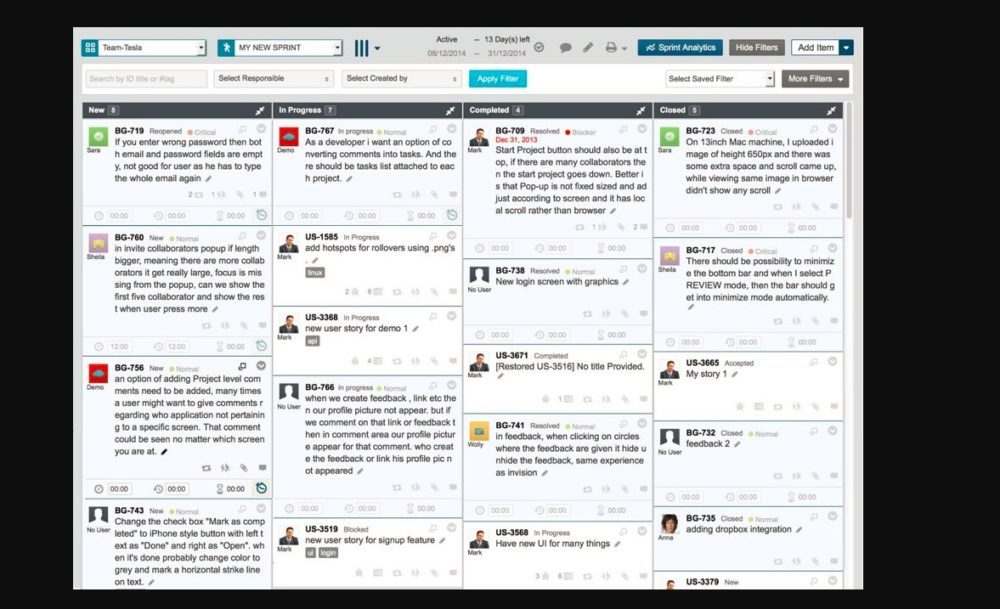 Overview
Yodiz provides mined and polished data graphs at both company and project level. Equipped with well-designed dashboards to see the progress in a single glance, gives key numbers upfront and opportunity to drill down for details.
Product Management Software
•Provides users product backlog
•Provides releases and dashboards
•Keeping everyone in the loop with real-time activity feed updates, notifications emails for comments
•Available for Firefox, Chrome and Safari
•Provides mobile apps for IOS, Android
•Starters – 0 USD
•Professional – 5 USD per month
•Enterprise – 20 USD per month
Small (<50 employees), Medium (50 to 1000 Enterprise (>1001 employees)
What is best?
•Backlog Management
•Dashboard & Reports
•Sprint Board
•Mega Planning Board
•Issue Tacker
•Epics Management
•Release Management
Yodiz is an agile management platform which helps in planning, managing and tracking multiple teams. This platform provides users product backlog which means that it simplifies backlog management with an online, centralized repository so members can quickly prioritize stories using drag-and-drop. Epic features can be used for representing business requirements and breaking down these larger features into smaller stories for releases and sprints.
With sprints, users can visualize, schedule and plan your current and future sprints. Also, user stories and issues can be prioritized by using drag-and-drop. Yodiz provides releases which mean that users can Link sprints to release to track progress easily across multiple teams. Next available feature is issue tracker that includes visual issue board for managing issues across multiple projects, releases and sprints.
Dashboards provide users with detailed statistics and graphs about the progress of multiple projects. Users can also keep everyone in the loop with real-time activity feed updates, notifications emails for comments, tags and all kinds of updates with real time collaboration. Last feature is external integrations which helps users to integrate with existing workflow and to connect with all kind of services like Zendesk, Uservoice, GitHub, Jenkins and more. Yodiz has best Scrum tools for organizing backlog items, setting sprint goals and planning sprint contents, organizing user stories etc.
With Kanban users can get scrum benefits: customizing board layout and columns, creating dynamic status, recording user stories and issues and many others. When it comes to bug tracking members can report new issues through email, define tags for identifying issues easily, track issues etc. Yodiz Gram browser extensions are available for Firefox, Chrome and Safari and it provides mobile apps for IOS, Android.
You may like to read: Top Product Management Software and How to Select the Best Product Management Software for Your Business