Top 5 Smart Irrigation Software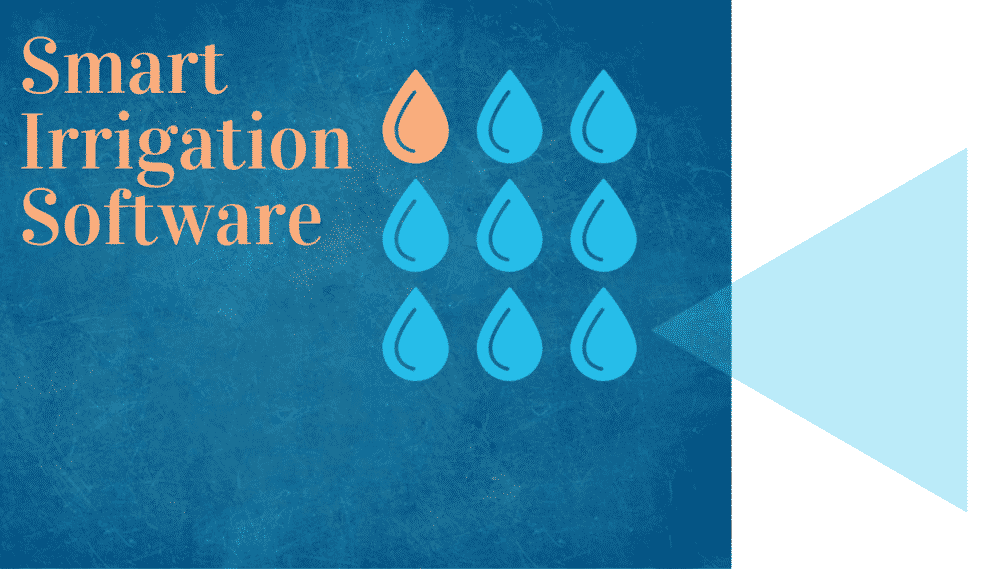 Smart technology has gained popularity in the modern world and many people use it to solve many real-life problems. Innovative advanced technologies have made it possible to automate certain home and farm activities. Plant or crop irrigation is one of the areas where humans can use smart technology and capitalize on the numerous benefits of smart software programs. An irrigation system helps homeowners, farmers and other users maintain a properly irrigated landscape or farm with automated schedules. This means there's no need to worry about when to irrigate.
When it comes to using smart irrigation systems, users enjoy more benefits compared to when using traditional irrigation systems. For instance, smart irrigation systems are able to regulate water levels, initiate or stop the irrigation process, and work independently in the absence of the owner. Overall, smart irrigation systems provide convenience when configured properly.
Top Smart Irrigation Software: Rubbicon's FarmConnect, GreenIQ, Spruce, Hydrawise, Rachio are some of the Top Smart Irrigation Software.
What are Smart Irrigation Software?
Smart Irrigation Software allows farmers, homeowners, and other people who are involved in irrigation activities to optimize water usage. The software is able to regulate water levels depending on various factors such as weather predictions and soil moisture levels. This is possible because smart irrigation software programs communicate with irrigation controls and let the system know when the landscape or farm needs more water. Automated and customizable schedules make it possible to irrigate throughout the lifecycle of a crop from the planting to the harvesting season.
The system knows when to start or stop irrigating because of its specially designed sensors. The sensors play an important role in gathering useful data about the weather, temperature, soils moisture levels, humidity, and other factors. The software uses this data to determine whether to irrigate or reschedule irrigation. Additionally, the software collects data about other factors such as soil condition, plant water usage, wind conditions, and evaporation.
Smart irrigation software programs come with a number of important features that are necessary to facilitate smart irrigation. Individual software products come with different features depending on the vendor.
Smart Scheduling – Smart irrigation software can create and automate irrigation schedules for specific land segments or zones using a timer and data from sensors.
Weather and Soil Monitoring – High-tech sensors monitor the weather, soil condition, humidity, and other factors to cut the water off if there is rain, snow, wind, or sufficient soil moisture levels. Data about the weather and soil is continuously updated to automatically adjust irrigation schedules based on the most recent local weather forecasts and soil conditions.
Notifications – Users of smart irrigation software get alerts for water leaks, bad zone leaks, clogs, watering events, delayed schedules, and freeze warnings. Such alerts help users take the appropriate action to avoid potentially catastrophic outcomes.
Mobile Apps – With the help of mobile apps, smart irrigation software users are able to control and monitor their sprinkler systems from anywhere on the earth. You only need an Android, Windows, or iOS device to use the software. You can also use a browser. The mobile app communicates with the controllers via a WIFI connection.
Dashboard – A streamlined dashboard helps users view information about the weather, water usage, scheduled runs, and other important parameters.
Some of the benefits include:
Saves water and money
Users can make informed decisions based on data collected by smart sensors
Convenient and easy to use
Top Smart Irrigation Software
Rubbicon's FarmConnect, GreenIQ, Spruce, Hydrawise, Rachio are some of the Top Smart Irrigation Software.
Top Smart Irrigation Software
PAT Index™
1
Rubbicon's FarmConnect
FarmConnect is Rubicon Water's suite of products and solutions for farmers. Its modular hardware and software components are designed to work together to enable the application of water to crops using high-flow, high-performance surface irrigation. FarmConnect software uses Google™ satellite mapping and GPS positioning to graphically display the farm, showing the status of all field devices at a glance – making it easy to schedule, control and automate irrigation from your computer. By combining the latest in internet technology and cellular network communications with Rubicon's robust field equipment, FarmConnect software gives users more control than ever. With data recorded every…
Overview
• Surface Irrigation Automation
• Monitor soil moisture and weather information using a powerful graphing interface
• Irrigation commencement from an event or water order date
• Report using meaningful performance indicators such as overall system efficiency
• Real-time device monitoring and control
• SMS text message and email alerts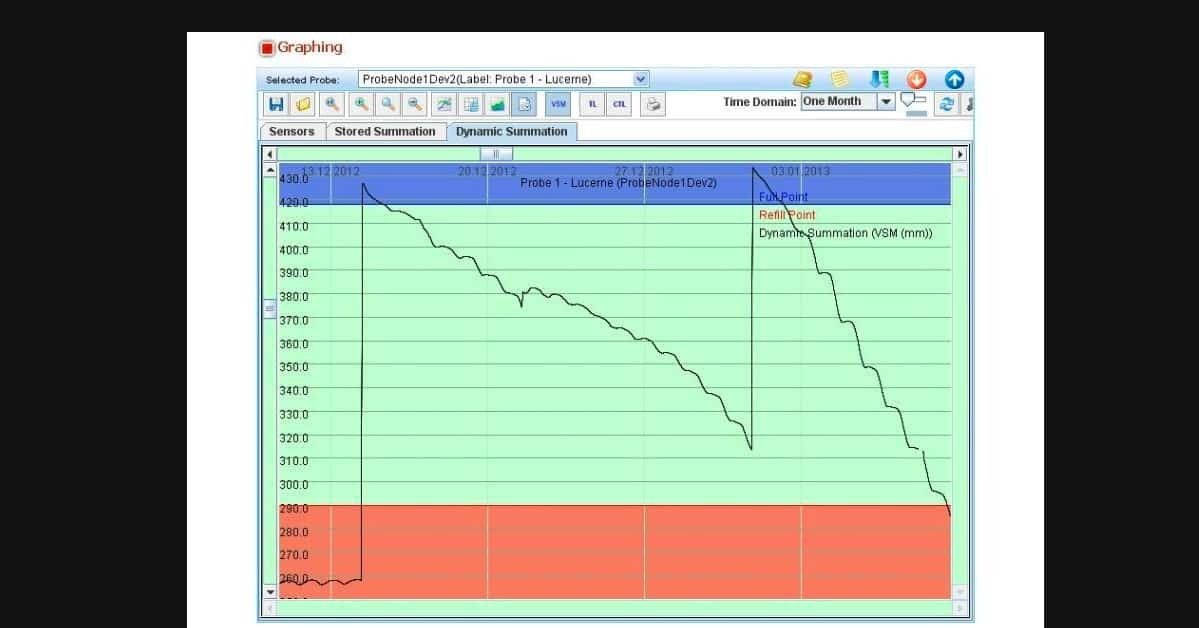 2
GreenIQ
Control irrigation via smartphone or tablet with the GreenIQ app. The app is user-friendly and full of features and programs to easily control the entire garden. GreenIQ Smart Garden Hub supports various Smart Home Integrations such as Amazon Alexa, Google Home, Nest, and Apple Watch, enabling users to complete their Smart Home with a full Smart Garden experience. The system factors in weather data from public weather stations or private like ones, Netatmo and Davis. It detects pipe leaks and clogs when connected to a flow meter. The meter reports gallons/liters of water used to the controller, making the data…
Overview
• Water and electricity usage and savings report
• Evapotranspiration and rainfall indicators
• Real-time local weather data from public or private weather stations
• WeatherIQ™ smart algorithm
• Smart irrigation scheduling control
• "Freeze   Pause" protects the irrigation system by skipping watering  when   the temperature falls below 3°C (37°F)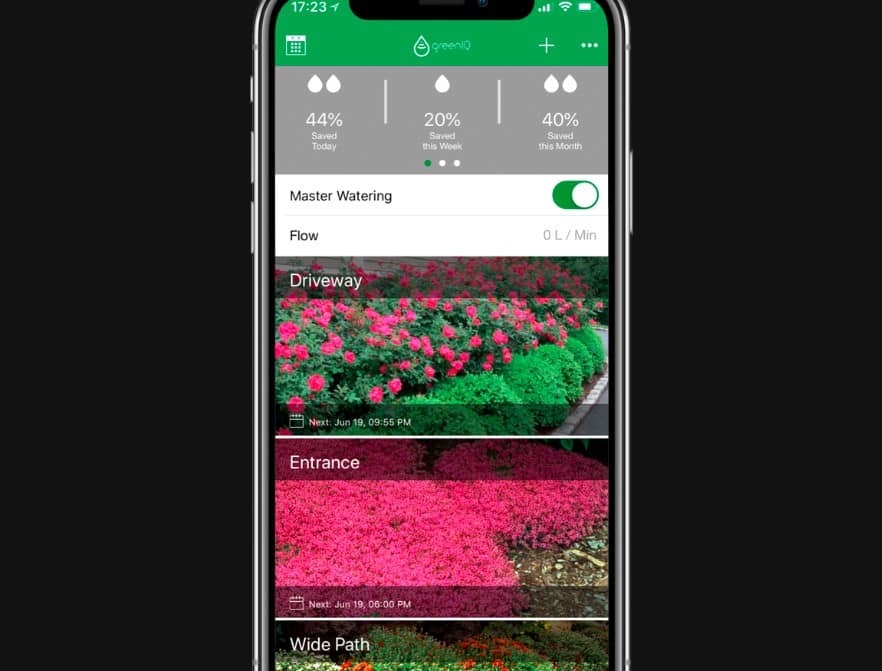 3
Spruce
Spruce gets the latest weather forecasts and moisture data and then calculates the right amount of water to be used for each watering, helping make sure that your plants get the right amount of water in order to stay healthy. Spruce adjusts the schedule and amount of water used when taking into account seasonal changes. It will give plants a lot of water in the summer and less water in the winter. Spruce provides all the tools to water most efficiently. All, automatically. With a touch of a button, adjust watering with a time of the year and adapt to…
Overview
• Surface Temperature Data
• Spruce Live Logging displays the flow meter readings providing unparalleled insight into water use and nozzle efficiency
• Water Monitoring: Get ahead of high water bills by adding in a flow meter
• Smart Scheduling: Spruce combines both real-time moisture sensor data and weather predictions to automatically calculate the best schedule
• Time Restrictions: Easily schedule watering around local restrictions
• Manual Scheduling: Start a preset schedule at the touch of a button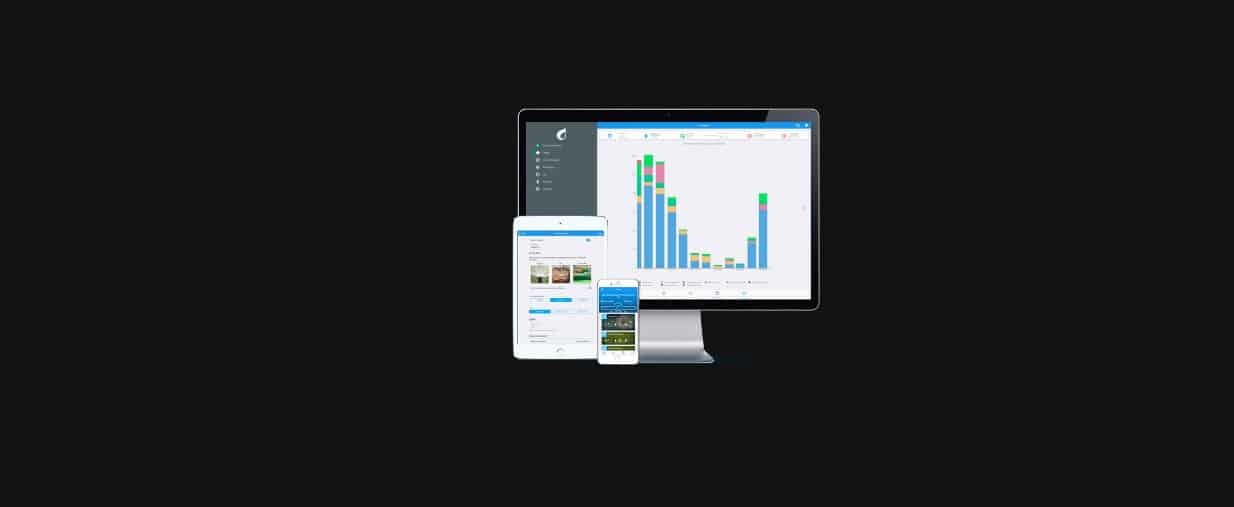 4
Hydrawise
Hydrawise, cloud software for Wi-Fi-based irrigation controllers, is a product line of Hunter Industries, a global leader in the irrigation industry that wants to bring the future of smart connected controllers to both professionals and homeowners. Hydrawise uses only the most accurate weather stations available. With this flexible web-based weather system, users can even add their own weather stations or use free professionally maintained weather stations. Hydrawise integrates with several industry-leading smart home products, like Control4 and Amazon Alexa, for the ultimate solution in home automation. Monitor water use and the state of your piping system with the optional flow…
Overview
• Advanced reports: Gives a minute-by-minute account of a garden's water use including water savings
• Irrigation schedules and layouts
• Contractor dashboard: View all sites, including the status, faults and changes of each customer's controller
• Job sheets: Instantly send job sheets to in-field staff and fix issues before they become problems
• Predictive Watering™: Monitor actual and predicted weather and make daily changes to the schedule
• Smart Watering is an automated watering schedule that uses information about environmental conditions to ensure plants get the optimum amount of water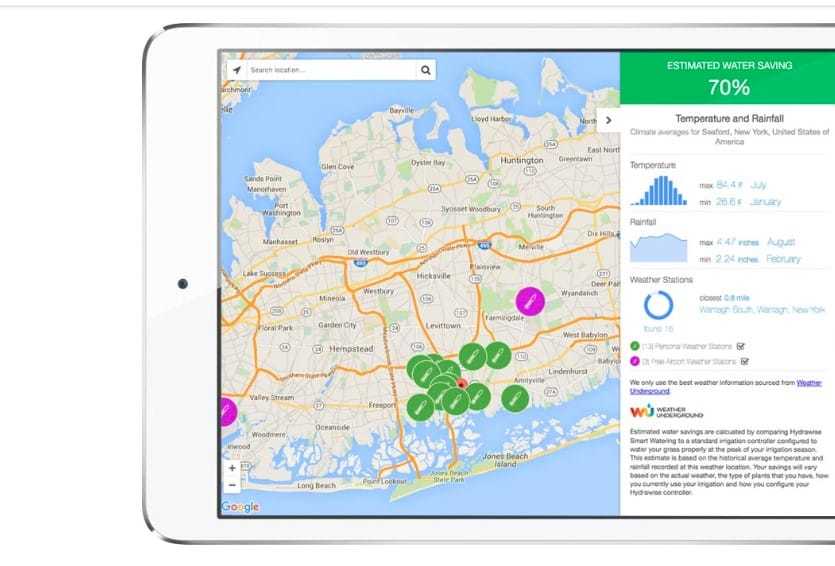 5
Rachio
Rachio balances customized zone details with your personal preferences to recommend the optimal watering days and durations for a happy, healthy yard - without overwatering. Access the intuitive app - anytime, anywhere - for the most robust smart sprinkler control in the industry. Only Rachio technology offers control this precise. Guided setup helps users easily work around watering restrictions, end schedules before sunrise or begin after sunset, apply Weather Intelligence™ and more, for the most personalized watering experience available. Avoid watering in the rain, wind or snow. Weather Intelligence™ uses continuously updated weather data to automatically adjust the watering schedule…
Overview
• Seasonal Shift: Adjust watering for changing seasons based on historical weather data
• Freeze Skip: Avoid plant and sprinkler damage by adjusting watering based on freezing temperatures
• Wind Skip: Adjust watering to prevent waste when wind speeds are too high
• Rain Skip: Adjust watering based on observed and predicted precipitation, to make the most of free water
• Precise remote control with run, pause, skip or Quick Run
• Premium Weather Intelligence™ Plus (hyperlocal accuracy, continuous monitoring, comprehensive data)