What is Service Level Management and Service Level Reporting?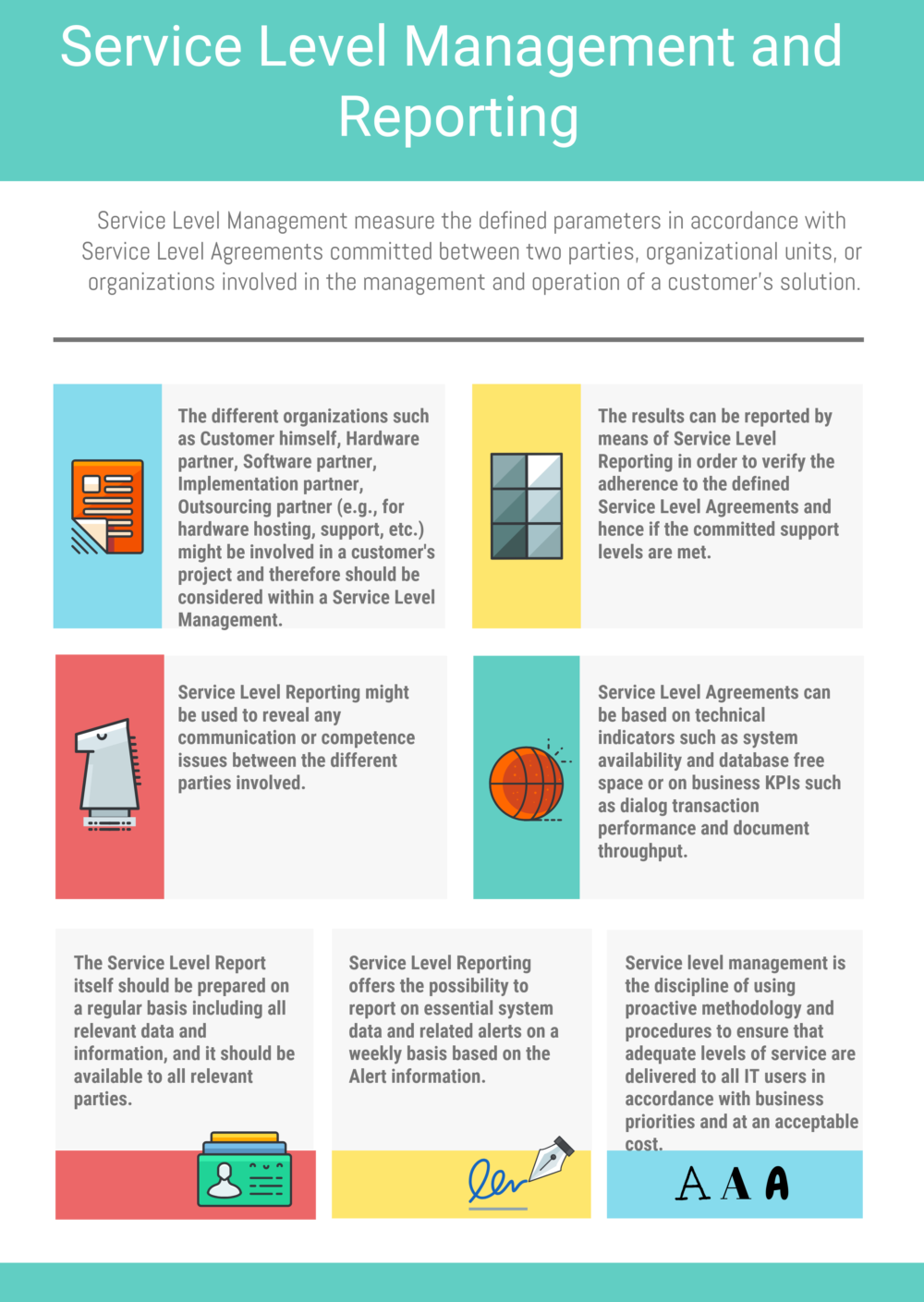 Service Level Management measure the defined parameters in accordance with Service Level Agreements committed between two parties, organizational units, or organizations involved in the management and operation of a customer's solution. The different organizations such as Customer himself, Hardware partner, Software partner, Implementation partner, Outsourcing partner (e.g., for hardware hosting, support, etc.) might be involved in a customer's project and therefore should be considered within a Service Level Management.
The results can be reported by means of Service Level Reporting in order to verify the adherence to the defined Service Level Agreements and hence if the committed support levels are met. Service Level Reporting might be used to reveal any communication or competence issues between the different parties involved.
Service Level Agreements can be based on technical indicators such as system availability and database free space or on business KPIs such as dialog transaction performance and document throughput. The Service Level Report itself should be prepared on a regular basis including all relevant data and information, and it should be available to all relevant parties.
What is Service Level Reporting?
Service Level Reporting offers the possibility to report on essential system data and related alerts on a weekly basis based on the Alert information and it is possible to include data that comes from Business Process Monitoring. This reporting enables for example, to compare agreed Key Performance Indicators weekly, between your IT- and operating department.
Service level management is the discipline of using proactive methodology and procedures to ensure that adequate levels of service are delivered to all IT users in accordance with business priorities and at an acceptable cost.
What are the Benefits of Service Level Management and Service Level Reporting?
Improve your IT staff's understanding of business process requirements
Increase business department satisfaction
Improve the motivation of your IT staff
Facilitate internal resource allocation planning.
Improve IT service quality in terms of:

Availability
Performance
Accuracy
Reporting