Top 20 SAP SuccessFactors Consulting Implementation Partners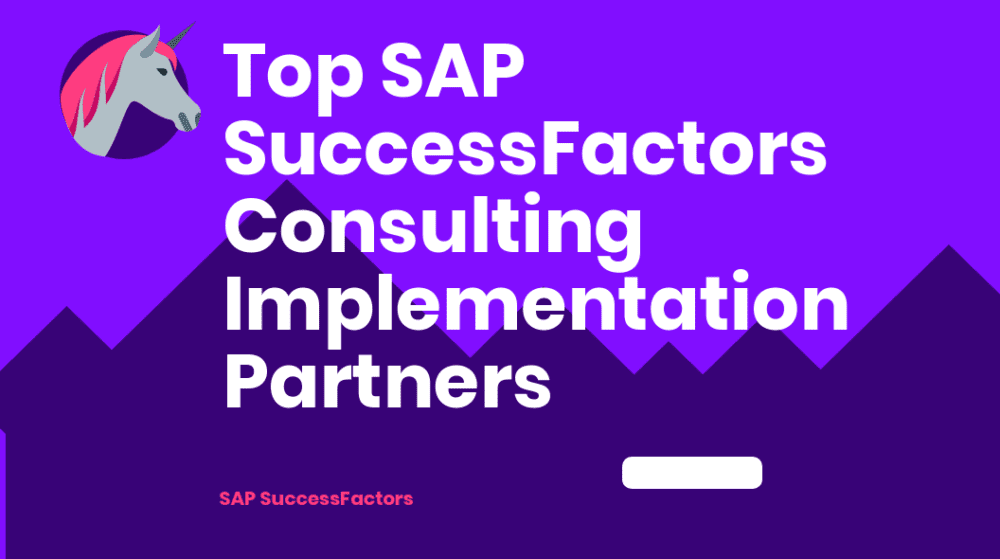 SAP SuccessFactors provides cloud based human resources software seamlessly integrates to create a complete HCM system. SuccessFactors Human Capital Management (HCM) solutions integrates onboarding, social business and collaboration tools, a learning management system (LMS), performance management, recruiting software, applicant tracking software, succession planning, talent management and HR analytics to deliver business strategy alignment, team execution and maximize people performance.
SAP SuccessFactors easily manage global benefits and payroll, improve employee self-service, automate HR processes, and ensure compliance. SAP SuccessFactors solutions can help you streamline everything from time tracking to accruals – and offer insights into areas like labor costs, time theft, and absence trends.The recruiting and onboarding solutions can help you conduct AI-based talent acquisition, improve the candidate and onboarding experience, and more.
Examples of SAP SuccessFactors Consulting Implementation Partners: Yash SuccessFactors, Accenture SuccessFactors, DXC Technology SuccessFactors, Atos SuccessFactors, Blue IT Group, Capgemini SuccessFactors, Deloitte SuccessFactors, Veritas Prime, IBM SuccessFactors, Aasonn, AspireHR, Aspire Systems, Cloud Consulting Partners, AltaFlux, Illumiti SuccessFactors, Beyond Technologies SuccessFactors, KPIT SuccessFactors, Cloudway Consulting SuccessFactors, Seidor, Horizons are some of the Top SAP SuccessFactors Consulting Implementation Partners.
SAP SuccessFactors Implementation partners play a key role in helping organizations by assisting to transform and run their businesses simply. They can help you identify, buy, build, implement, service, support, and run the SAP solutions that best fit to the business needs.
SAP SuccessFactors Implementation partners help on implementing SuccessFactors in your organisation by sharing best practices, exchanging detailed documentation, helping to utilize the features included in your subscription and functional tips on how to optimize all of your business process and enable you with advanced reporting tools to benefit from the implementation.
You may like to read: How to Select the Best SAP SuccessFactors Partner
Top SAP SuccessFactors Consulting Implementation Partners
Yash SuccessFactors, Accenture SuccessFactors, DXC Technology SuccessFactors, Atos SuccessFactors, Blue IT Group, Capgemini SuccessFactors, Deloitte SuccessFactors, Veritas Prime, IBM SuccessFactors, Aasonn, AspireHR, Aspire Systems, Cloud Consulting Partners, AltaFlux, Illumiti SuccessFactors, Beyond Technologies SuccessFactors, KPIT SuccessFactors, Cloudway Consulting SuccessFactors, Seidor, Horizons are some of the Top SAP SuccessFactors Consulting Implementation Partners.
You may like to read: How to Select the Best SAP SuccessFactors Partner
Top SAP SuccessFactors Consulting Implementation Partners
PAT Index™
1
Yash SuccessFactors
As organizations grow, HR strategy execution and full lifecycle employee engagement become key challenges. SuccessFactors HCM suite offers the flexibility of a cloud-based solution and helps organizations align workforce goals and objectives with business strategy. Every phase of employee engagement, from hire to retire, is simplified and optimized with SuccessFactors. It provides a solid foundation that helps the human resources organization to transform and execute strategically instead of just tactically. YASH Technologies is a strategic consulting partner of SAP SuccessFactors and is a recognized leader in advising, deploying, and supporting customers throughout their HR technology transformation initiative. Yash help organization…
Overview
• Flexibility of a cloud-based solution
• Align workforce goals and objectives with business strategy
• Strategic transformation of organization human resources
• Advising, deploying, and supporting customers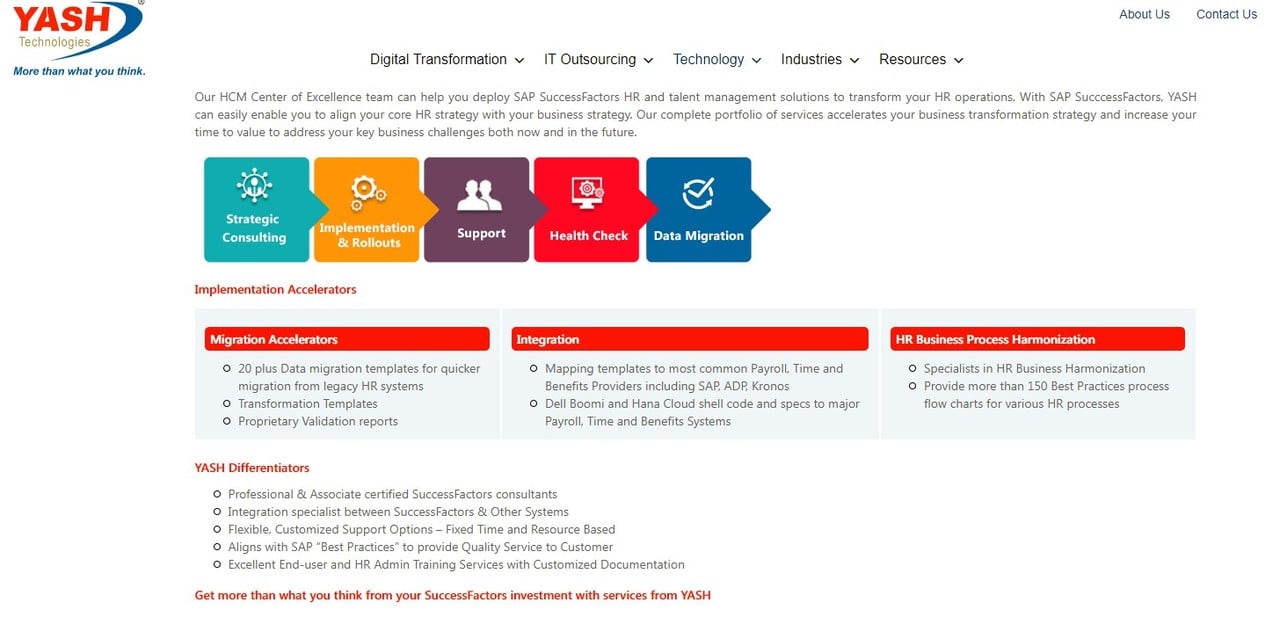 2
Accenture SuccessFactors
High Velocity Talent and HR provides all the standardization needed to implement core SuccessFactors modules rapidly and efficiently. It also contains the complete end-to-end project deliverables required to successfully support all aspects of the SuccessFactors implementation lifecycle. Configured with ready-to-use business processes, it can be implemented in as little as three months—helping HR functions move processes rapidly into the cloud, accelerating time to value and boosting ROI. Accenture research initiative, "Future of HR," aims to help better understand how HR can adapt and deliver greater value to the business. Technology has already altered the way HR functions, and more radical…
Overview
•Accenture research uncovers industry trends and shapes data driven insight
•Accenture ventures partners with and invests in growth-stage companies using an open innovation aproach
•Accenture labs redefine what's possible through apllied R&D
•Accenture studios build innovative solutions with speed and agility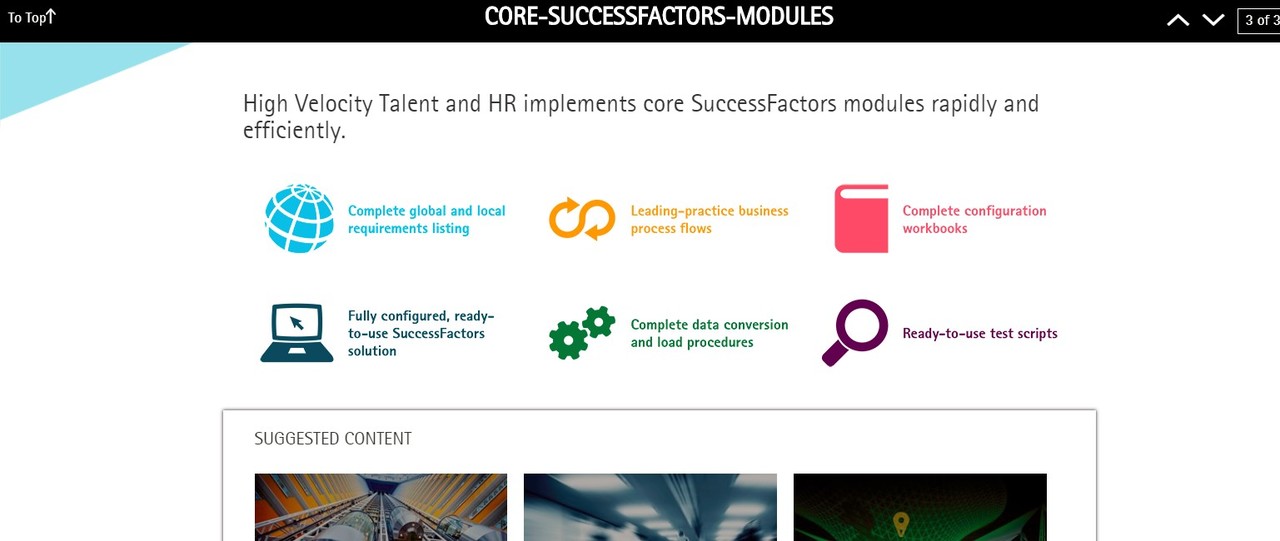 3
DXC Technology SuccessFactors
DXC Technology and SAP work together to deliver industry-specific, end-to-end SAP-based solutions that speed and simplify the path to becoming a true digital enterprise. DXC works with clients to create and execute a roadmap that starts with the business case and goes all the way through solution design and build to ongoing digital operations with intelligent improvement. This strategic partnership can guide and accelerate your transformation while revolutionizing the way you consume SAP. DXC is a vendor-agnostic, one-stop shop for all SAP services; it helps organizations realize the maximum value from their existing and future SAP investments. DXC begins by measuring digital transformation readiness, which entails much more…
Overview
•Proven services and solutions that revolutionize the way you consume SAP and dramatically increase your ability to focus on the business instead of IT
• Accelerated journey to S/4HANA — faster, more secure and less costly than traditional approaches
•Creation and execution of a roadmap that simplifies your path to digital transformation
•Always-on, end-to-end monitoring that automatically predicts, detects and corrects issues before they impact on the business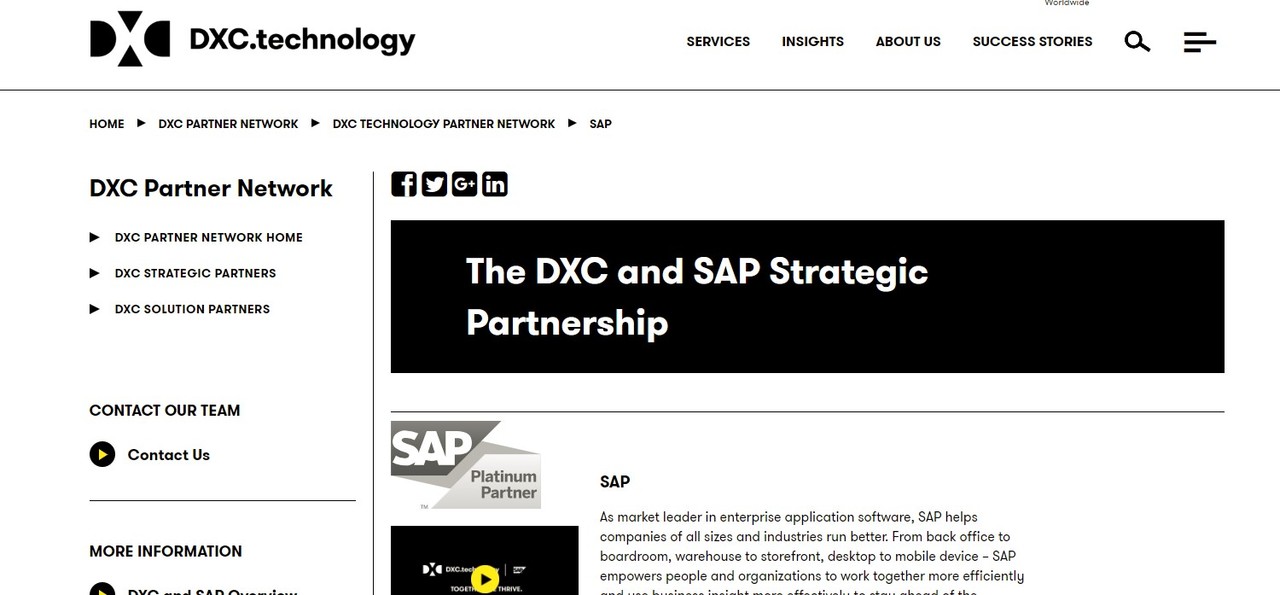 4
Atos SuccessFactors
Atos support over 2,900,000 SAP end-users and have put in place over 6,200 implementations with 12,000 SAP consultants in more than 90 countries. Atos was formed from the merger in 1997 or two French-based IT services companies –Axime and Sligos- each of which had been established out of earlier mergers. Currently, Atos is a leaders in digital services with pro forma annual revenue of circa € 13 billion and circa 100,000 employees in 73 countries, serving a global client base. The company strives to create the firm of the future and believes that bringing together people, business & technology is…
Overview
•Extreme technology reaching new frontiers
•Atos helps delivery of truly digital olympic games
•Atos in North America is a powerful lever of growth in the world's largest and most competitive IT and digital services market
•Wordline pioneering the future of payments and digital services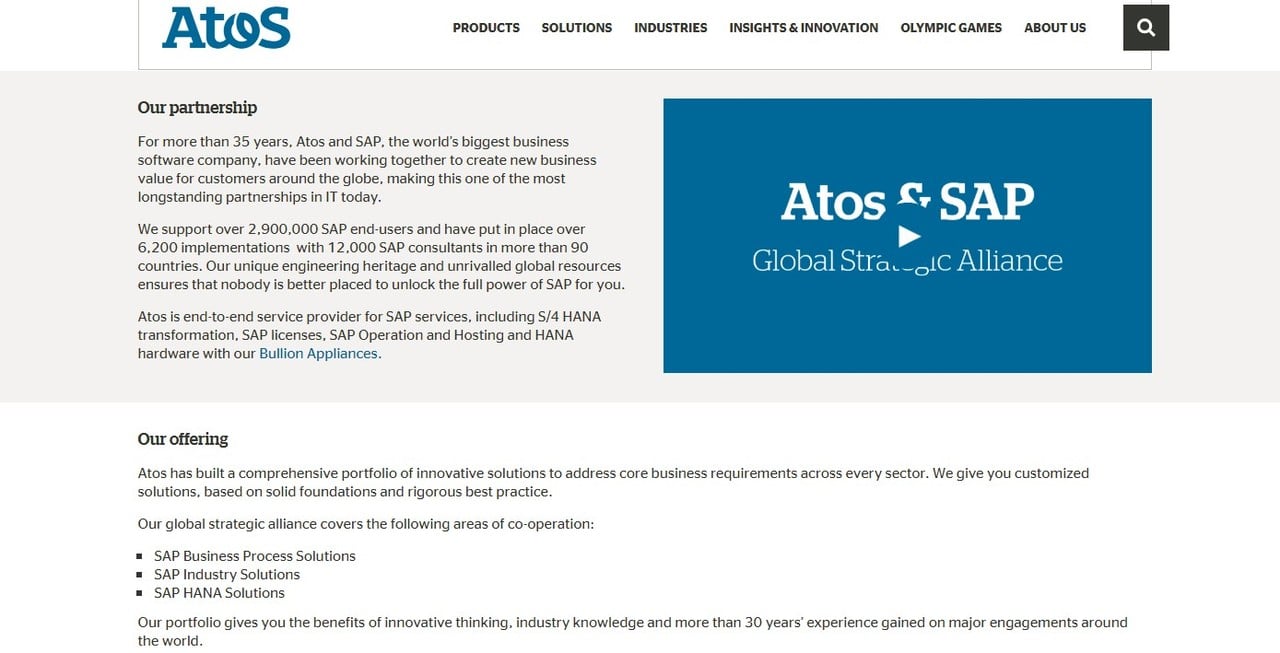 5
Blue IT Group
BLUE IT GROUP is a SAP Gold Partner and are the go-to-partner for Canadian Public Sector Municipal Solutions. Blue IT is a full-service provider of SAP solutions and services. They offer a broad range of software, strategic advice, management consulting, SAP Implementation, SAP Training and SAP Support services for hybrid, SuccessFactors, cloud and or on premise solutions. Their valued clients are leading the way in exploiting new SAP technologies that are powering Digital Transformation, from Big Data and Analytics to Cloud Computing, SAP User Experience (UX) FIORI and the SAP S/4 HANA digital core. They have established strategic partnerships with…
Overview
• Ensure business strategy alignment
• Maximize people performance
• Fast implementation and deployed processes
• Reduced cost of ownership

6
Capgemini SuccessFactors
Capgemini helps HR to deliver strategic value through digital transformation by automating HR systems that span staffing and development to performance management. The company understands the impact of the digital revolution on HR and people management as well as the IT complexity of delivering a transformation project. Capgemini partners with SuccessFactors, an SAP company that offers the SuccessFactors® HCM (Human Capital Management) Suite, to simplify digital transformation for HR departments. This cloud-based HCM suite provides talent management tools, workforce planning, and analytics for HR business strategies. In addition, prior to implementing the SuccessFactors HCM Suite, Capgemini uses its Fast Track…
Overview
•Facing the HR challenges of a digital world
•Simplifying digital transformation
•Experience and proven results
•Talent management solutions across the entire enterprise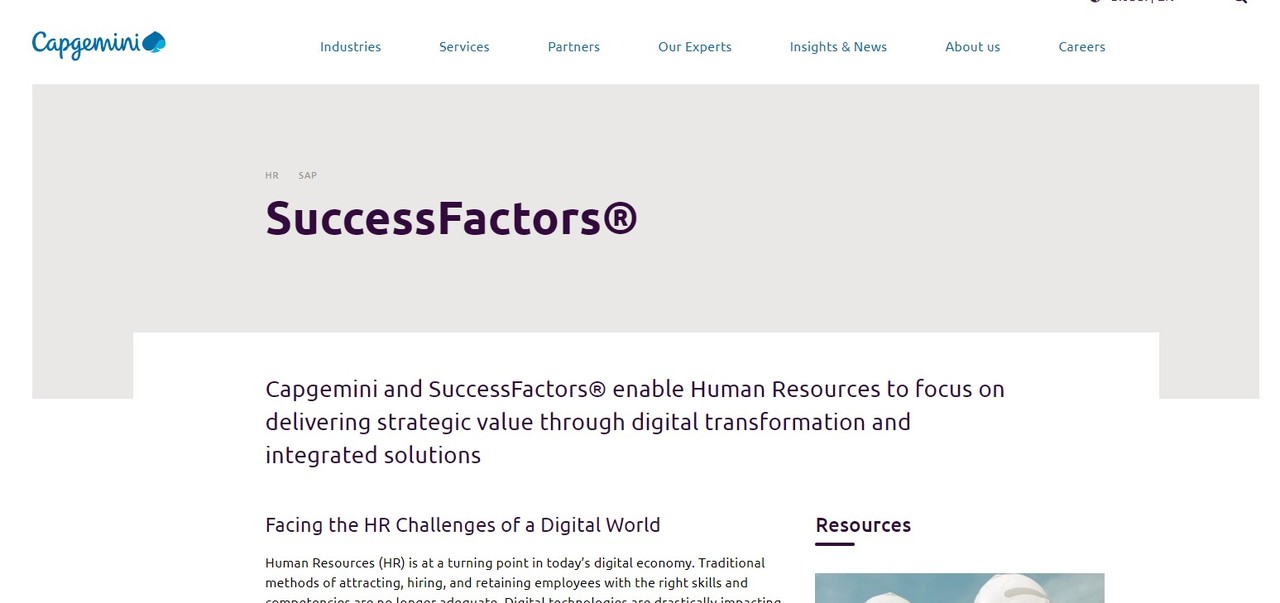 7
Deloitte SuccessFactors
The Deloitte Reimagine Platform delivers a portfolio of solutions developed through co-innovation collaboration between Deloitte and SAP. Deloitte Reimagine Platform offerings leverage the SAP Leonardo digital innovation system and are designed to help organizations build a seamless bridge between operating and innovating—to transform the business and position it to address future challenges head on. To help organizations rapidly address some of tomorrow's most complex challenges and deploy the next generation of intelligent capabilities, Deloitte and SAP have teamed to offer a new portfolio of services and programs for enabling digital transformation. Through the Deloitte Reimagine Platform (DRP) co-innovation initiative, Deloitte…
Overview
•Brings together the full range of services required to increase clients' probability of success with their HR technology strategies
•Comprehensive, end-to-end consulting services to organizations at all levels of HR technology maturity.
• Global HR transformation practice, change management consulting capability, and industry-specific HR expertise
•SaaS innovation for the digital core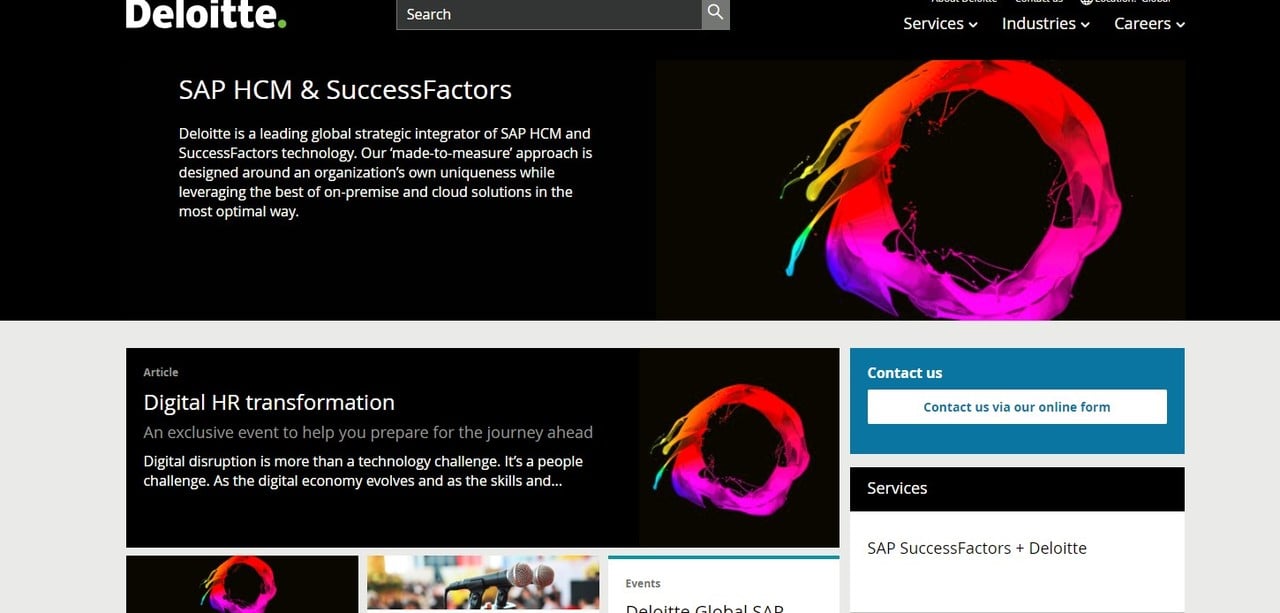 8
Veritas Prime
Veritas Prime, based their core values and principles, means "Truth and Excellence", and is dedicated to giving clients the best service. Veritas Prime are a premier consulting firm specializing in Human Capital Management technology and specifically SAP SuccessFactors software. Veritas Prime was founded by 3 partners who saw a need to deliver a quality product, by top tier consultants. Veritas Prime's founding partners have more than 30 years of combined HR experience, with some of the most respected companies in the world. In addition to running HCM implementations, Veritas Prime also specializes in other key areas within HCM technology, such…
Overview
• Unique customized visual perspective of your data
• Proven expertise and competencies in HR cloud solutions
• Track record of customer success
• Certified individuals with successful project experience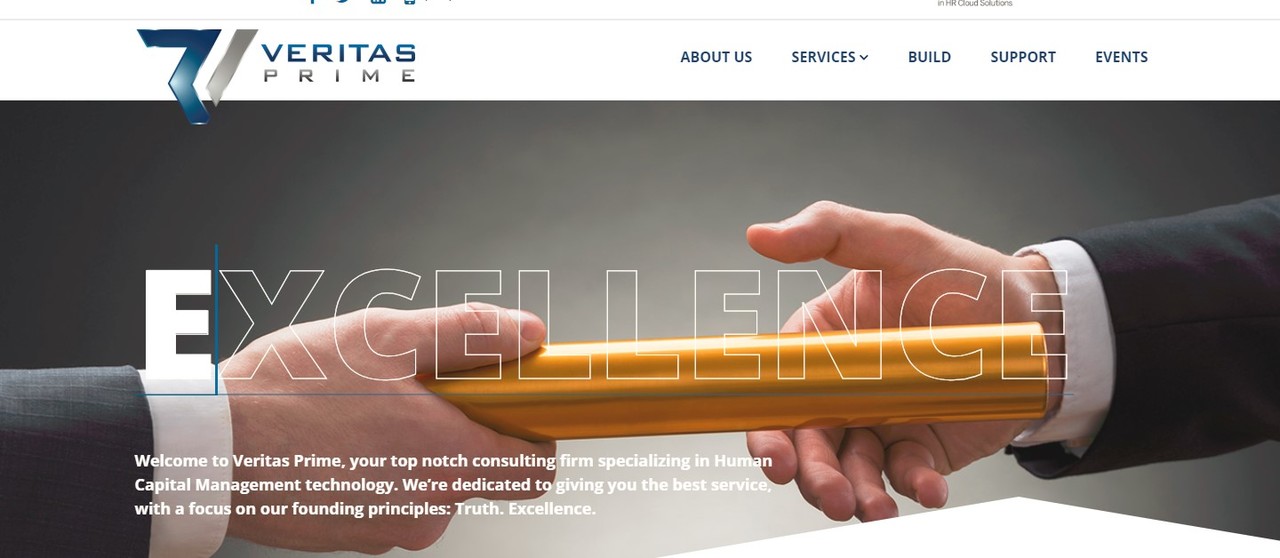 9
IBM SuccessFactors
IBM experts assess your overall HCM capabilities and performance, identifying opportunities for improvement in: human capital strategy, talent management, personnel administration, benefits, compensation, learning and knowledge, performance, and more. IBM helps organizations fundamentally redesign processes, experiences and infrastructure to create new sources of value and drive greater efficiencies through Digital Reinvention. IBM helps clients to apply advanced technologies embedded with AI, automation and analytics to modernize IT infrastructure and optimize operations. In addition, IBM consultants help organization set a strategic course of action that takes advantage of outcome-focused methodologies, domain skills and deep industry expertise. IBM Finance Services combines industry-specific…
Overview
•Optimize SAP SuccessFactors to maximize your investment
•Digitally reinvent your human capital management.
•Procurement and startegic sourcing services
•Talent and organization services
•Mortgage and lending solutions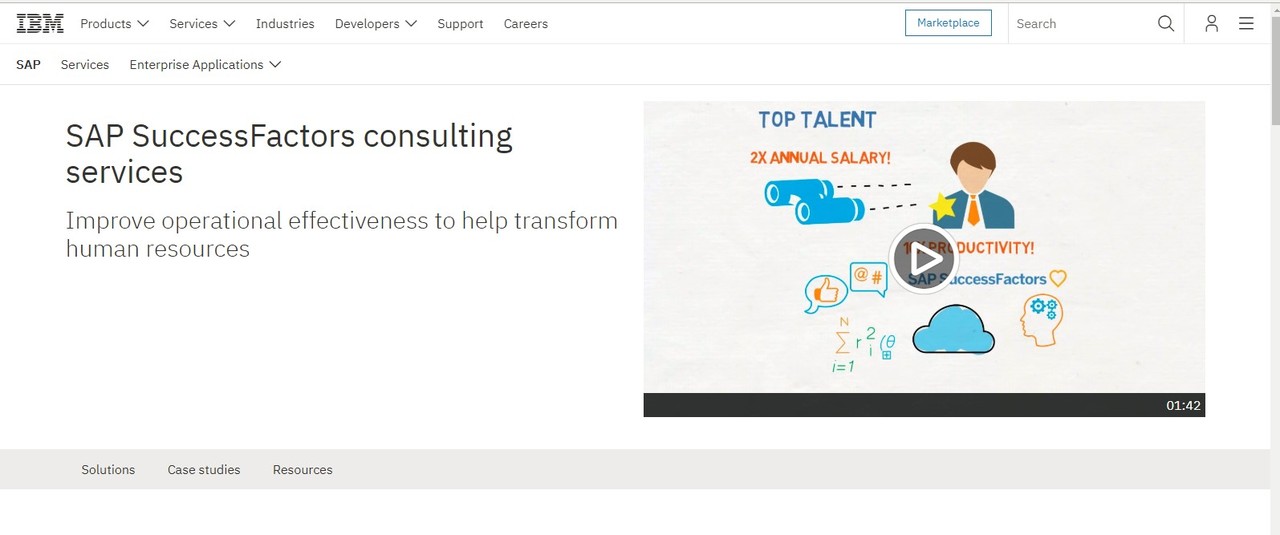 10
Aasonn
Aasonn was born in the cloud. They are one of the only partners solely focused on SAP®SuccessFactors®. Over the years, they have helped companies of all sizes transform HR systems and processes, realize higher returns from their talent management investments and transform their organizations. Aasonn HCM services support acquiring, developing and optimizing your most valued asset – your workforce. By leveraging an integrated platform for efficient management of Core HR, Talent, Payroll, Time and Attendance, you can focus on getting the highest return on your human capital investments and leveraging strategies to drive your workforce competitive advantage. They have tuned…
Overview
• Eliminating resource and budget waste and create operational excellence.
• Aligns your key business drivers for an improved end-user experience
• Developing and optimizing your most valued
• Leveraging strategies to drive your workforce competitive advantage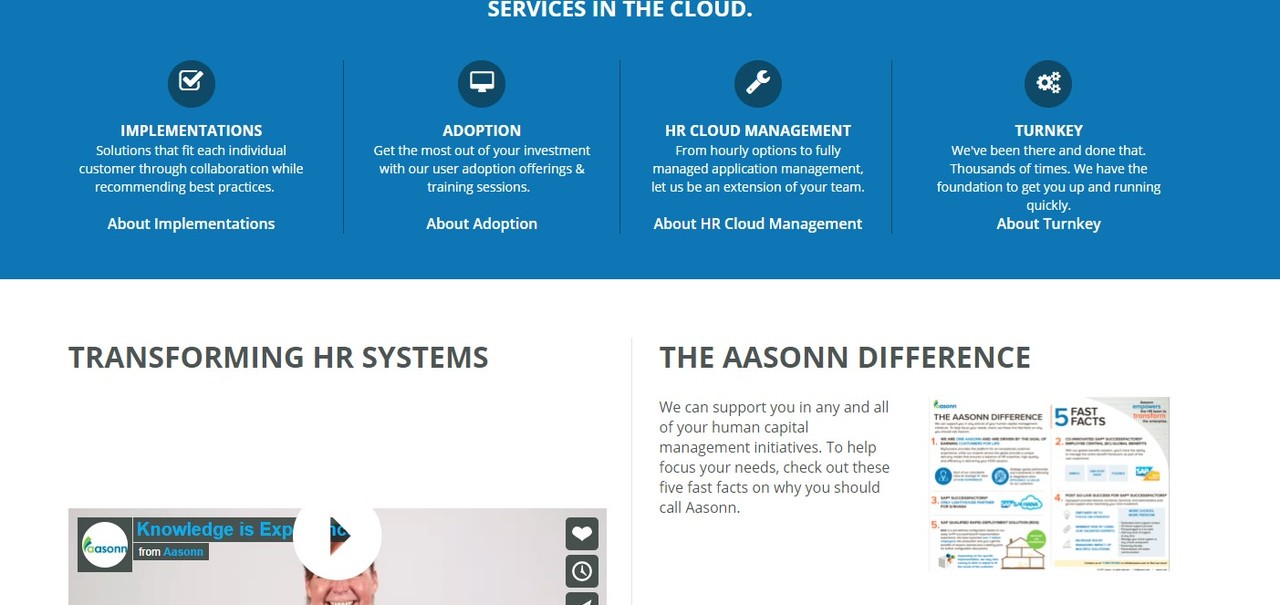 11
AspireHR
AspireHR has established itself as a leader in the HRIS marketplace by providing a wide range of services and software solutions for both the implementation and maintenance of HRIS systems. The AspireHR team provides consulting services at a global level and has built an impressive roster of clients by combining a cost-effective implementation strategy, an innovative approach to HCM technology, and excellent customer service. When considering an SAP SuccessFactors implementation partner, you need a company that understands your project from both a technological level and a people level. You need a partner that knows Human Resources from hiring to firing,…
Overview
• Helps clients increase cost-effectiveness
• Manage regulatory compliance
• Enable self-sufficiency for your employees and managers
• Brings industry best practices to your implementation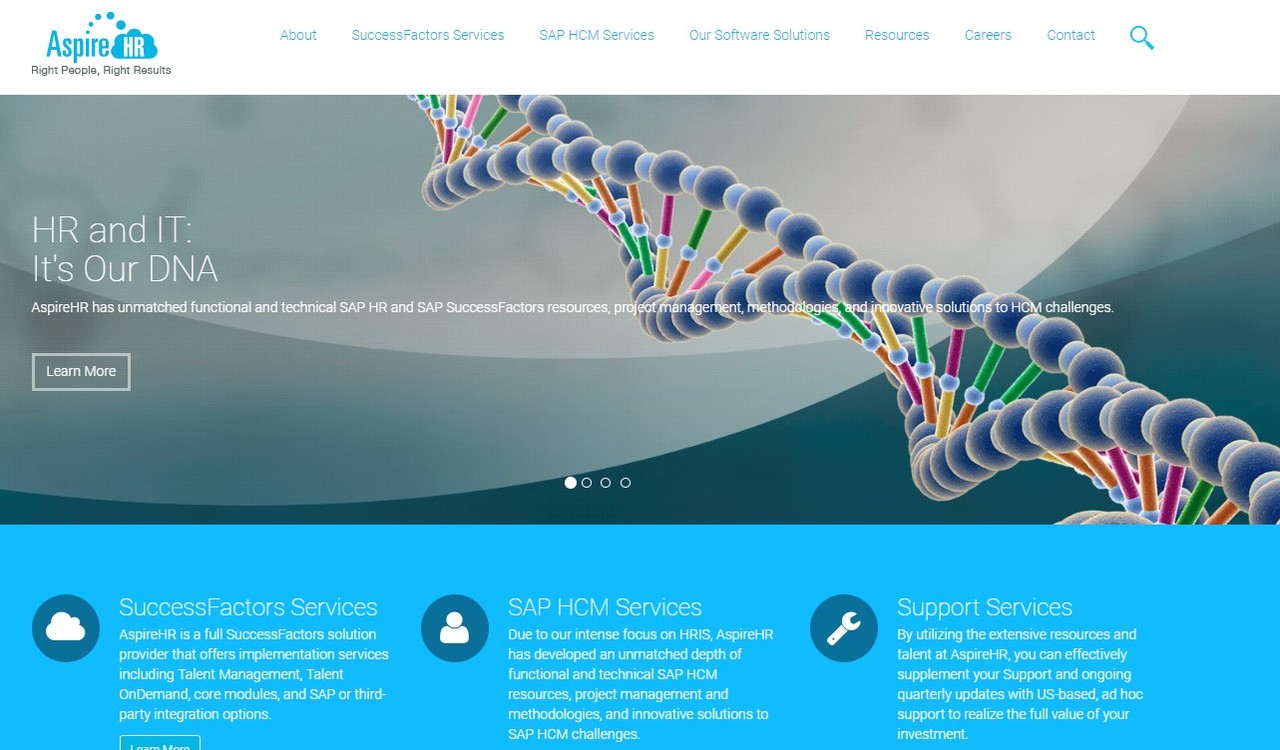 12
Aspire Systems
Aspire Systems is a global technology services firm serving as a trusted technology partner for our customers. We work with some of the world's most innovative enterprises and independent software vendors, helping them leverage technology and outsourcing in our specific areas of expertise. Their services include Product Engineering, Enterprise Solutions, Independent Testing Services and IT Infrastructure Support services. Their core philosophy of "Attention Always." communicates their belief in lavishing care and attention on our customers and employees. Aspire Systems, take immense pride in our reputation for nurturing one of the best Independent Testing Service units in line with the Quality…
Overview
• Provide a simplified Self Service Portal
• Quote-to-Buy features are available
• Comprehensive User Management operations
• Seamless Dashboard with minimal requirements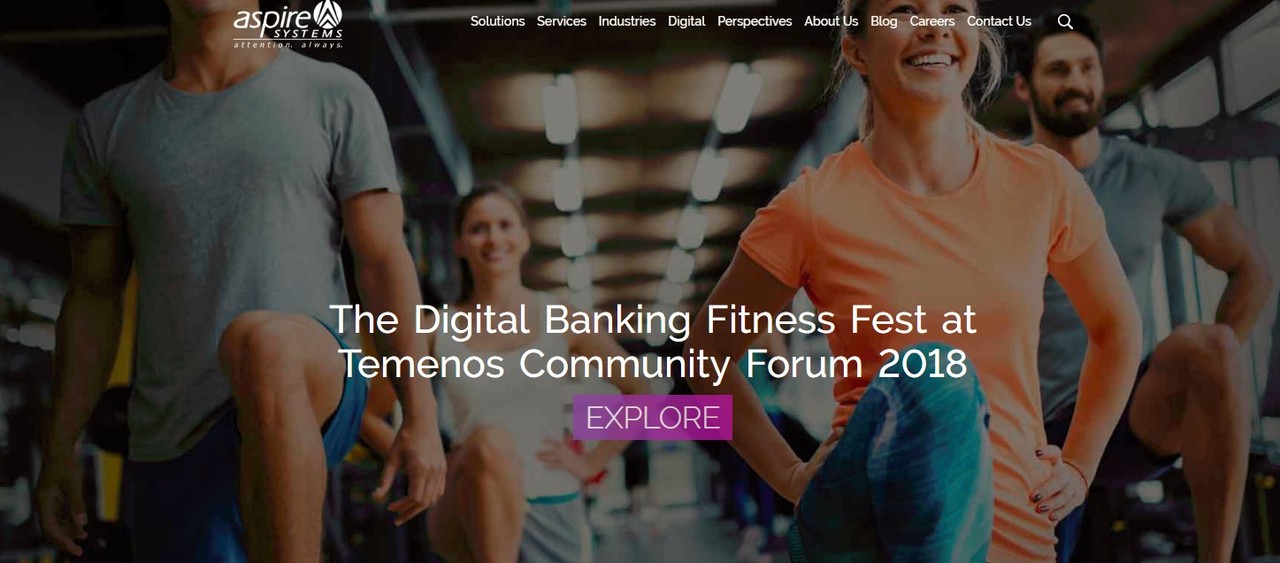 13
Cloud Consulting Partners
Cloud Consulting Partners Inc. are your HR and Human Capital Management (HCM) experts specializing in SAP SuccessFactors HCM Suite. SuccessFactors is a fully integrated cloud-based suite of software (SaaS). Through technological innovation, they help you transform your HR department into a strategic operations center capable of managing a diverse workforce and providing critical information when and where you need it. Just because someone might have worked with the SAP SuccessFactors HCM Suite, that doesn't mean they know HR and HR processes. This knowledge is critical when helping a company build their business process. Cloud Consulting Partners has a team of…
Overview
• Maximize performance from your workforce
• Optimize current solutions
• Help a company build their business process
• Transform HR department into a strategic operations center

14
AltaFlux
AltaFlux is a leading global provider of SAP SuccessFactors solutions and services. Together, they can empower your business by streamlining, transforming, and optimizing your key HCM and talent processes with industry-leading SAP SuccessFactors technology—enabling you to adapt at the speed of change. Unlike traditional consulting firms, AltaFlux focus on delivering SAP SuccessFactors solutions at a pace that will enable you to align your workforce and achieve your business goals sooner vs. later. AltaFlux has built a strong partnership with SAP SuccessFactors and has created a solid team of certified consultants, enabling them to provide the latest and most advanced solutions…
Overview
• Fast issue resolutions and response times
• High quality support & solution consultant knowledge
• Easy Cloud based ticketing tool for a streamlined process
• Employee self-service to all HR, employment, and benefits information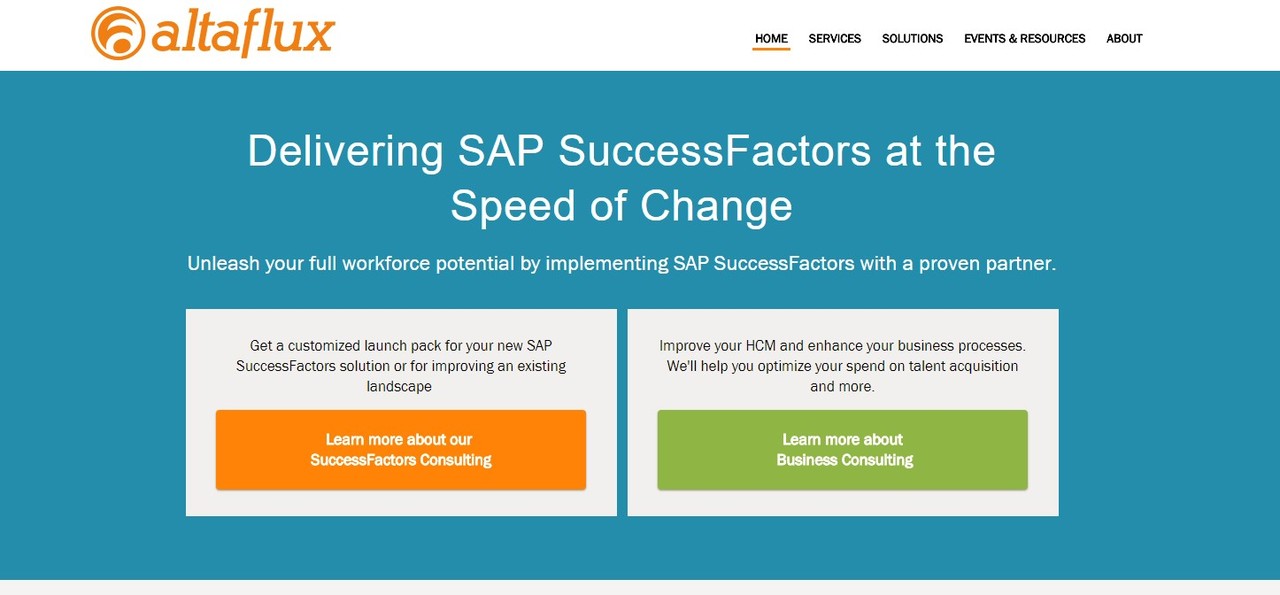 15
Illumiti SuccessFactors
Illumiti team has many years of experience working hand-in-hand with clients around the world to support their HR business transformations . The firm happens to be the only SuccessFactor consulting firm. The firm 'live and breathe' SuccessFactors and is always on top of the latest innovations and best practices needed to help you get the most out of your software solution. With an average of 10+ years of implementation experience, Illumiti team of consultants have the depth of knowledge that is needed to implement best practices. With Illumiti HCM you will never be the victim of "learning on the job"…
Overview
•Success factor specialization
•Deep core HRIS and talent management experience
•Leading best practices
•Great people with indepth knowledge needed to implemet best practices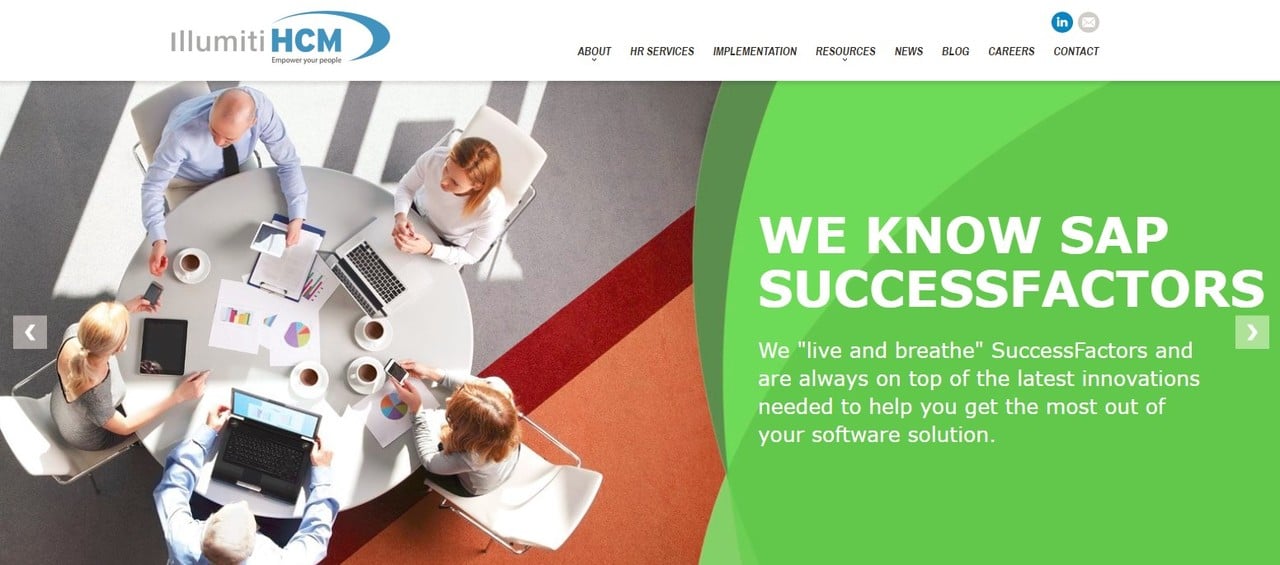 16
Beyond Technologies SuccessFactors
Beyond Technologies is a professional service firm, specialized in SAP solution integration and business process optimization. Their experienced team acts as a natural extension of their clients operations team, dedicated to helping them get the most out of their SuccessFactors applications. Their combination of pragmatism, knowledgeable resources and collaborative business approach makes beyond a long-term partner for all their clients. Beyond Technologies offers insights and best practices on how technology can drive efficient HR operations, optimized workforce performance and satisfaction, and effective talent management. SuccessFactors provides the leading cloud-based HCM Suite, which comprises solutions that are complete, user-friendly, and flexible.…
Overview
• Efficient HR operations
• Optimized workforce performance and satisfaction
• Effective talent management
Beyond Technologies SuccessFactors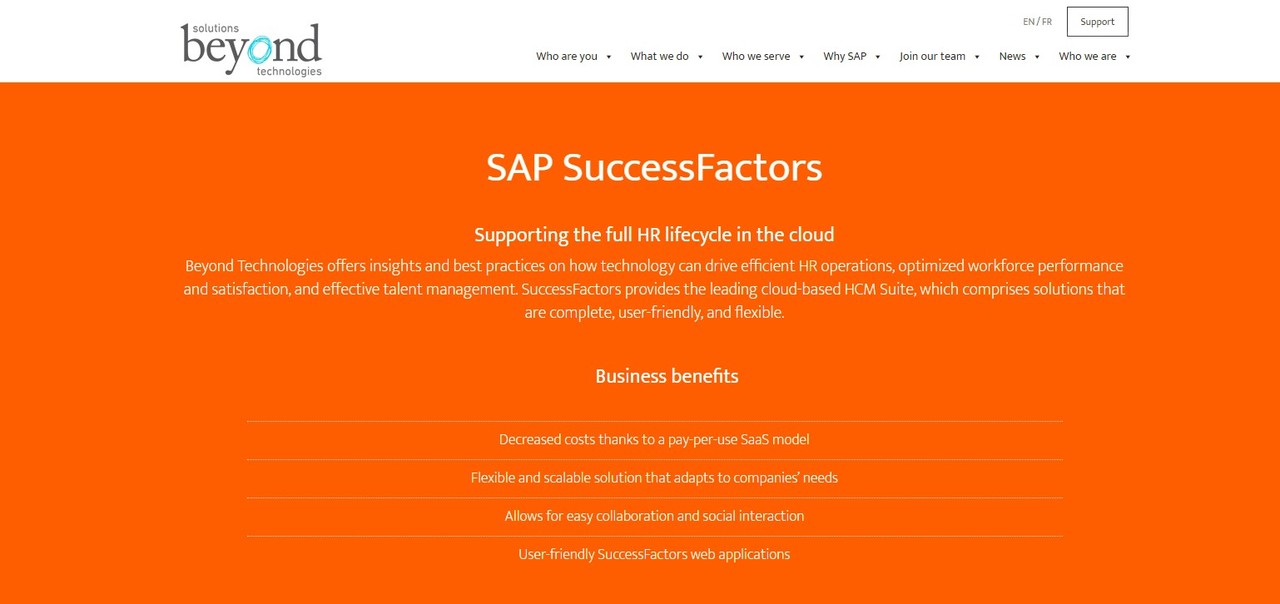 17
KPIT SuccessFactors
KPIT delivers the best of SAP HCM and SuccessFactors cloud technology for today's 21st century workforce. They provide their customers with the right solutions to solve their most complex HR problems from strategy to implementation, enablement & support. KPIT SuccessFactors experts consist of members who were part of the product design team at SAP and multi-certified SuccessFactors consultants with deep product knowledge. KPIT's strategic advisory, combined with SAP HCM and SuccessFactors solutions, are designed to give your organization the tools needed to align your workforce and accelerate business results for a greater return on your investment. KPIT is the partner…
Overview
• Comprehensive security controls across data centers and personnel
• Improve strategic alignment
• Increase efficiency and productivity
• Accelerate business execution results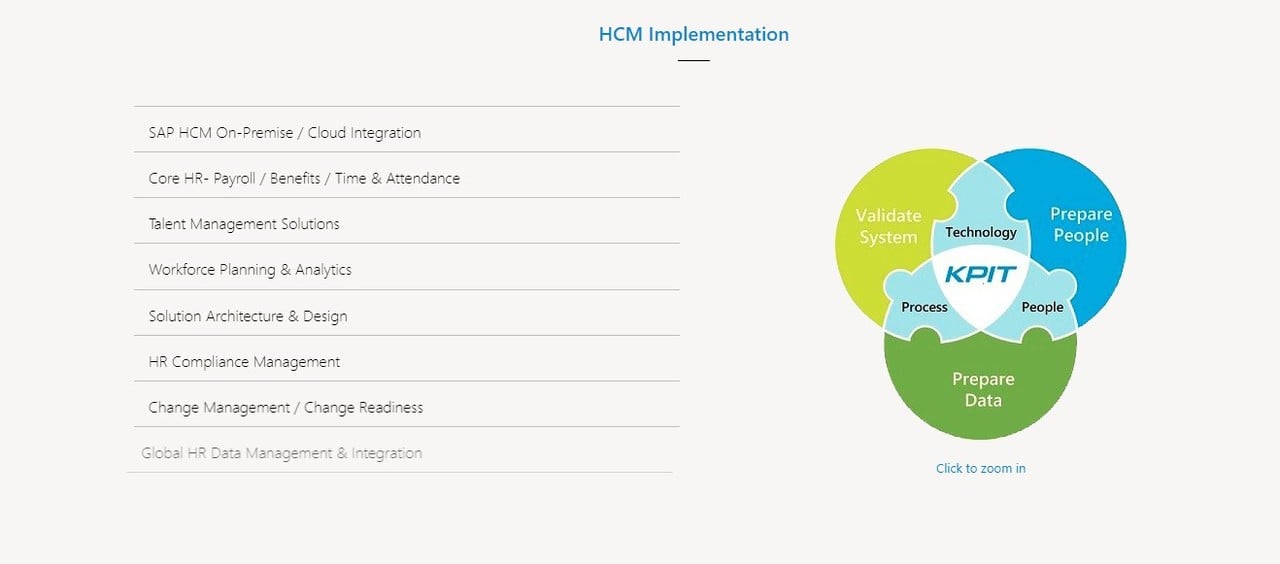 18
Cloudway Consulting SuccessFactors
Cloudway has talented professionals with extensive experience in several multinationals. Team Cloudway focuses on excellence in consulting services with an eye to leverage new technologies in a proven, cost-effective fashion, specializing in the domain of Enterprise Application Services mainly in SAP and Integrated Business Solutions segments. The in-depth knowledge of its highly skilled workforce in this field facilitates Cloudway to attain highest degree of adaptability to specific client needs, and thus bringing out the most innovative solutions in its domain of expertise. Cloudway vision is to create a transparency for every industry vertical, the business idea supports this vision by…
Overview
•Cloudway Consulting brings SAP Ariba SNAP Procurement to transform and digitize your Procure-to-Pay
•The next generation ERP business suite, SAP S/4HANA is designed to help organization run simple in the digital economy
•Ariba Coomerce Automation with Ariba Network integration allows organizations to digitally request price updates from suppliers
•SAP Cloud Platform is the enterprise platform-as-a-service with comprehensive application development services and capabilities
Cloudway Consulting SuccessFactors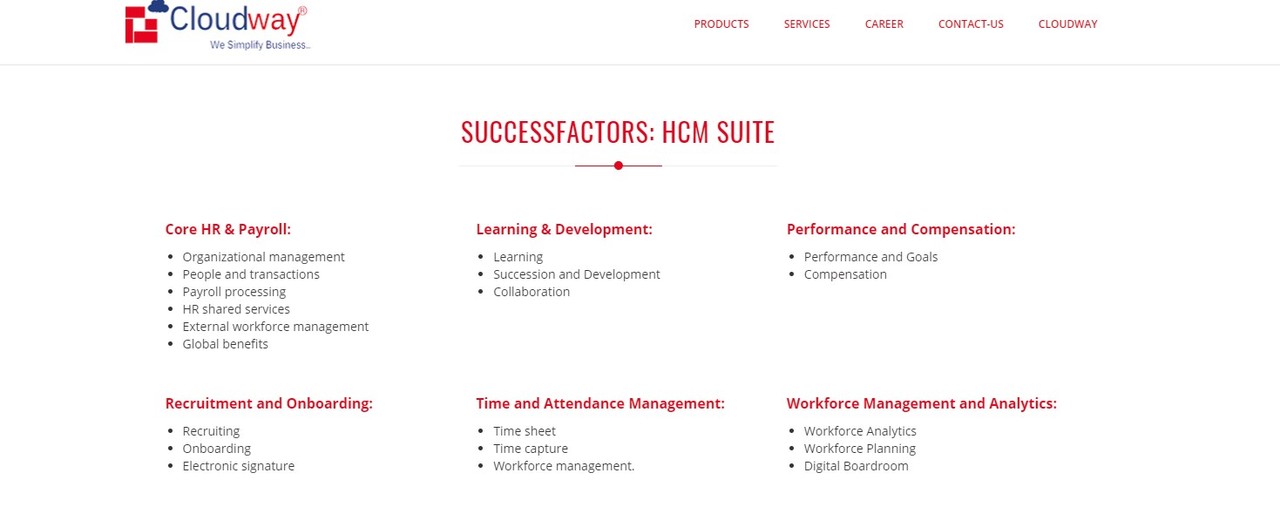 19
Seidor
Beyond the merely administrative functions, personnel management is an aspect which is becoming increasingly more important in corporate strategies. Finding and keeping the best talent enables you to build a solid and experienced team which will also work in line with your business objectives. Seidor can help you efficiently manage the human capital using the SAP Human Capital Management (HCM) tool. This solution is designed to successfully manage all the issues relating to one of the most important business assets: the people that form part of the organization. Seidor products for Human Resources management and performance ranges from customized implementation…
Overview
• Integrate the management processes of the human capital into your corporate strategy
• Have information in real time to accelerate decision-making
• Work with your employees in a collaborative environment
• Quickly find the most suitable person for each project.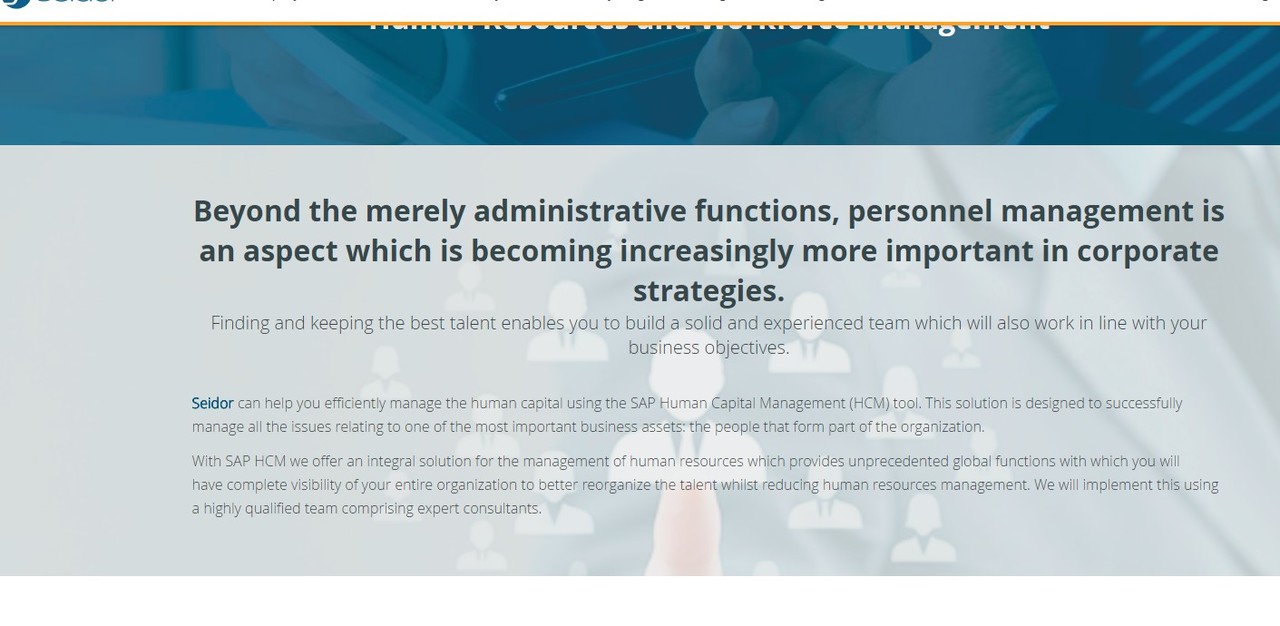 20
Horizons
Knowing where to start and how to maximize your people strategy and systems can be challenging and complex. Whether you need to improve a single process or improve your entire platform, an experienced human capital management software partner with broad and deep experience will make the difference between success, failure, and muddling along. Whether your organization needs help developing a fully-fledged HCM or ITM Program across all your HR programs, or whether you simply want to ensure that broader strategy implications and best practice recommendations are considered in the design of specific point solutions, HRIZONS human capital strategic consulting service…
Overview
• Plan for success for an on-time and on budget project
• Enable teams to drive and maximize end-user adoption
• Optimize SAP SuccessFactors products
• Advanced system administration/configurations and consultation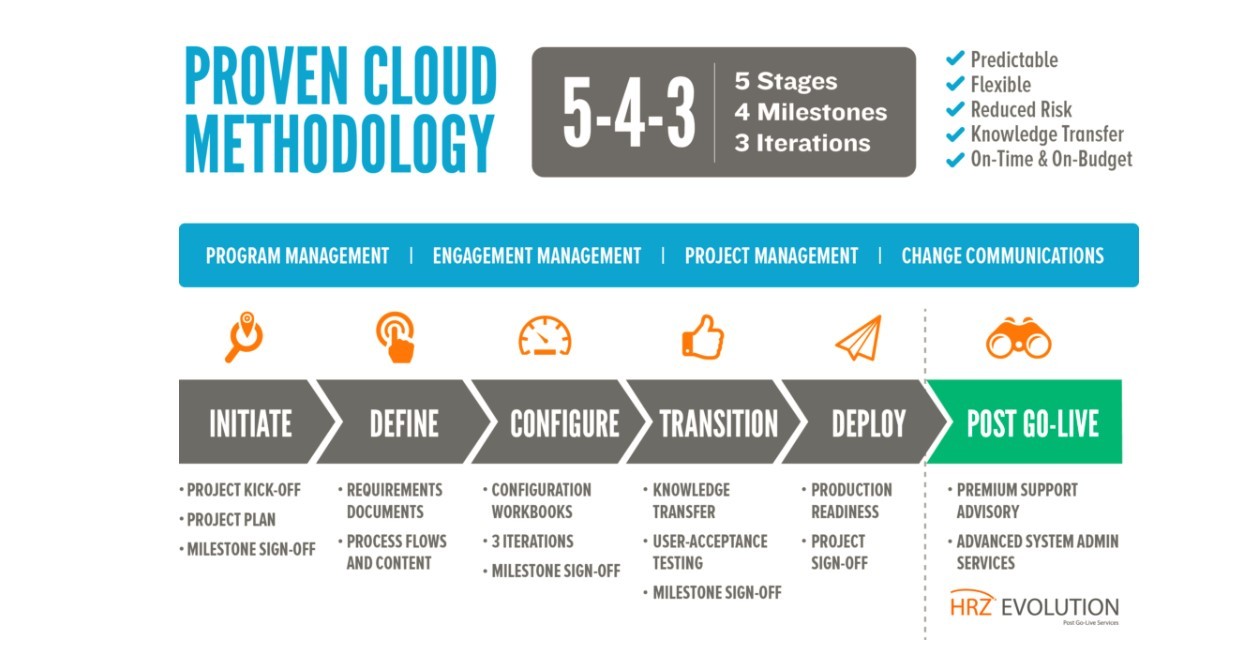 You may like to read: How to Select the Best SAP SuccessFactors Partner