Review
Accenture SuccessFactors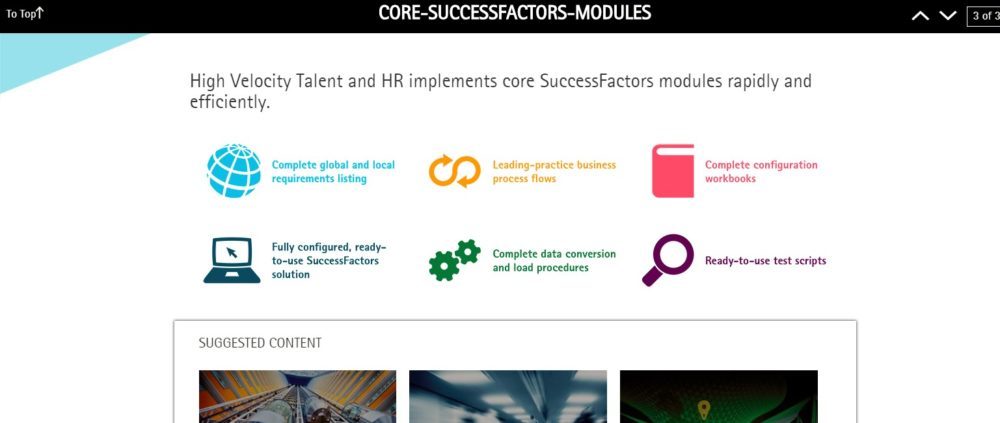 Overview
Accenture solves clients' toughest challenges by providing unmatched services in strategy, consulting, digital, technology and operations.
SAP SuccessFactors Consulting
•Accenture research uncovers industry trends and shapes data driven insight
•Accenture ventures partners with and invests in growth-stage companies using an open innovation aproach
•Accenture labs redefine what's possible through apllied R&D
•Accenture studios build innovative solutions with speed and agility
What is best?
•Faster delivery by using a prebuilt solution based on our leading practices, SuccessFactors experience and industrialized approach.
•Increased flexibility by selecting available add-ons to tailor to specific needs.
•Reduced costs and effort by accelerating time-to-value with a fixed-price, fixed-scope model.
•Reduced risk by leveraging the solution's predictive capabilities and our leading business processes and proven methodology.
What are the benefits?
•Accenture consulting transforms businesses through industry expertise and insights
•Accenture digital Creates value through new experiences, new intelligence and new connections
•Accenture technology Powers businesses with cutting-edge solutions using established and emerging technologies
•Accenture operations Delivers outcomes through infrastructure, security, cloud and business process services
High Velocity Talent and HR provides all the standardization needed to implement core SuccessFactors modules rapidly and efficiently. It also contains the complete end-to-end project deliverables required to successfully support all aspects of the SuccessFactors implementation lifecycle.
Configured with ready-to-use business processes, it can be implemented in as little as three months—helping HR functions move processes rapidly into the cloud, accelerating time to value and boosting ROI. Accenture research initiative, "Future of HR," aims to help better understand how HR can adapt and deliver greater value to the business. Technology has already altered the way HR functions, and more radical disruption looms in coming years. Indeed, Accenture is in the early stages of an era of "digital HR."
With partners at SuccessFactors, Accenture several questions for research which are; what does this shift mean in terms of specific technologies and capabilities? What should HR be doing to make the transformation to digital HR? And how are investments in technology likely to affect the success of tomorrow's HR function?
The research showed that digital technology is driving change in three fundamental ways for HR namely: Enabling new approaches to deliver HR services, driving democratization of talent management, and enabling HR to act more like marketing. From the research with the successFactor, Accenture sketched out a five-point plan aimed at helping HR utilize technology for greatest impact.
These points were: making HR mobile since mobile technology is critical to reaching a constantly moving, dynamic workforce, use analytics for deeper insight by creating and monitoring metrics that clearly measure the effectiveness of HR, leverage social media to get close to employees, Umove to an integrated, consolidated HR platform, and migrate to the cloud for agility and innovation since more companies are using HR capabilities delivered from cloud vendors ''as a service.''
You may like to read: Top SAP SuccessFactors Consulting Implementation Partners and How to Select the Best SAP SuccessFactors Partner