Review
SAVO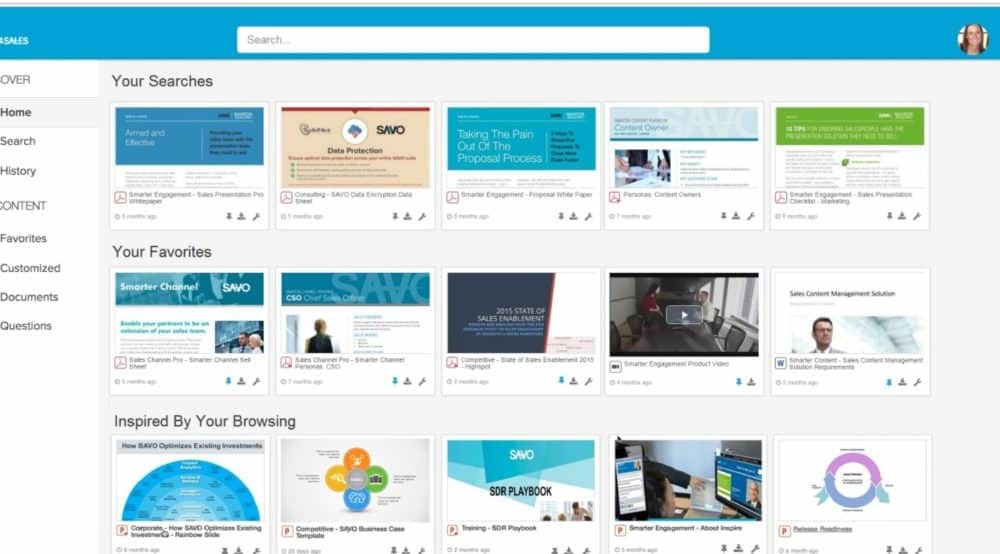 Overview
SAVO is a sales enablement platform that allows salespeople to quickly harness the assets, experts and insights of your organization. Arm your direct and indirect sellers with the prescriptive content, predictable processes, guided selling and customized content creation needed to meet buyer's expectations.
Sales Enablement Platform
• Smarter content
• Smarter execution
• Smarter engagement
• Knowledge Tree integration
• CRM integraton
• Data security
• Sales acceleration tool
• Analytics and Reporting
• Playbooks
Small (<50 employees), Medium (50 to 1000 Enterprise (>1001 employees)
What is best?
• Smarter content
• Smarter execution
• Smarter engagement
• Knowledge Tree integration
• CRM integraton
• Data security
• Sales acceleration tool
Savo provides your sales reps with the mission-specific content, coaching, and process they need to drive impactful sales conversations at every point of contact. This is an important feature because selling in today's markets has become more challenging and complex than ever. Savo lets you unleash the power of your sales, marketing, and operations by streamlining the technology that supports them.
Savo's Aero platform features the most intuitive and frequently used consumer content features and functionality. Its uses machine-based algorithms to deliver predictive recommendations giving users the most relevant content and experience they need. It enables sales reps to work seamlessly across their existing workflow systems and can explore content in the context of their calendar and opportunities.
Savo's smart engagement tools empower sellers to create custom presentations and proposals that provide the answers and insights your customers want. This makes it easy for them to accelerate the buying process through more insightful, more connected conversations. Savo enables you to easily customize and share content with your clients and prospects in real-time.
Savo analytics and reports track and capture how customers are engaging with your content letting you know what works for your reps, your customers, and your brand. This lets you optimize the winning content to increase conversion rates, sales volume, and subsequently return-on-investment. Savo provides playbooks that prescribe the coaching and processes that work best, at the right time in a sales cycle. SAVO's robust reporting makes it easy to evaluate your team's progress and replicate winning strategies.
Savo's CRM integration allows sales reps to create and customize presentations and proposals directly inside the CRM helping them increase their performance efficiency while improving the quality of engagement. Savo integrates with Knowledge tree app helping you surface sales enablement content in reps' workflow via email, CRM, portals, and third-party applications. Savo can be accessed on PC, Tablets, and mobile devices, anywhere, and anytime.
You may like to read: How to Select the Best Sales Enablement Platform for Your Business and Top Sales Enablement Platforms