SAP Merchandise Planning for Retail application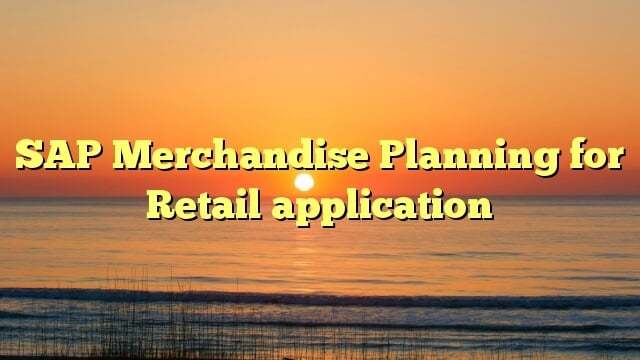 SAP released SAP Merchandise Planning for Retail application, which enables retailers to plan more easily for sales, margin and inventory.The retail planning application runs on the SAP Customer Activity Repository application – a unified data, planning, predictive and analytics platform. The new retail planning software simplifies top-down and bottom-up planning across multiple channels and along the merchandise hierarchy in order to help retailers meet company financial goals.
"With increasingly connected consumers and heightened retail expectations, retailers need integrated, multichannel planning processes to keep up with changes in the marketplace," said Lori Mitchell-Keller, general manager for Global Consumer Industries, SAP. "The new SAP Merchandise Planning for Retail and updated SAP Assortment Planning for Retail are envisioned to allow retailers to simplify the planning process and take advantage of next-generation retail planning capabilities."
The enhancements to SAP Assortment Planning for Retail, part of integrated retail planning software from SAP, help retailers localize product assortments, boosting user efficiency, revenues, margins and customer satisfaction. This latest release also enables easier planning for vertical fashion companies, allows for greater flexibility and advances the software's assortment optimization features to help retailers decide which products to keep or drop and where to put them.
Both SAP Merchandise Planning for Retail and SAP Assortment Planning for Retail run on SAP Customer Activity Repository powered by the SAP HANA platform. They can be deployed either as part of an integrated software set or individually. The repository allows the retailer to perform customer-centric, multichannel merchandise and assortment planning. The repository also offers speed and consistency across planning applications, enabling high-performance planning for large data volumes as well as real-time clustering of stores.