Review
Recurly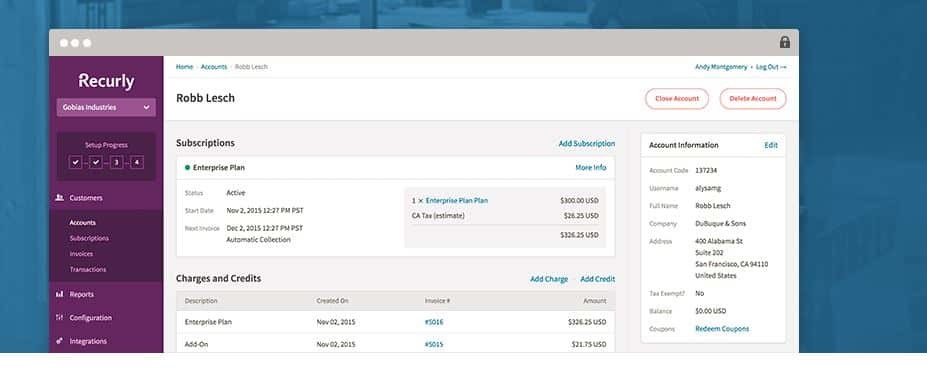 Overview
Recurly's enterprise-class subscription management platform provides rapid time-to-value without requiring massive integration effort and expense.
Subscription Management Software
•One-Time Charge
•Fixed Recurring
•Seat-Based
•Usage-Based
Monthly Fee $99.00 USD
Monthly Fee $299.00 USD
Small (<50 employees), Medium (50 to 1000 Enterprise (>1001 employees)
What is best?
•Fixed Recurring
•Seat-Based
•Usage-Based
Recurly provides enterprise-class subscription management for thousands of businesses worldwide. It helps enterprises to get up and running quickly. Users can choose from multiple billing models, payment gateways, and payment options, and start collecting revenue fast.
The platform ensures that businesses get all the revenue they deserve with Recurly's sophisticated tools for managing subscription plans, promotions, churn, and fraud. It allows users to unleash their revenue possibilities by creating an unlimited number of subscription plans. They may choose to offer a variety of different billing cycles and/or pricing tiers to provide adequate choice for their customers.
As companies' customers upgrade or downgrade their plans or change billing cycles, Recurly takes care of automated customer communications, proration of payments, as well as the management of billing each customer according to plan.
A business's customers can also add or remove add-ons after subscribing, and Recurly will handle the proration of mid-period payments, customer email confirmations and account updates to a company's system. It gives developers the tools they need to quickly integrate and share data with other systems, securely accept payments, and import current subscribers.
Advanced analytics provide meaningful data for key subscription metrics so users can continually optimize their subscription business.Recurly Analytics provides a clear overview of the state of business. Subscriber, plan and revenue data, along with KPIs and trend analysis, surface the insights users need to monitor and take action to improve their business every day.
The Analytics Dashboard gives companies a high-level snapshot of your subscriber base and churn rate, plan performance, billings and revenue—the key metrics that indicate the overall health of their business.Companies can get an immediate gauge of how their most popular plans are performing via the Subscriptions chart, which displays their top five plans and growth trends over time.
You may like to read: How to Select the Best Subscription Management Software for Your Business and Top Subscription Management Software