New Version of SAP Business One Application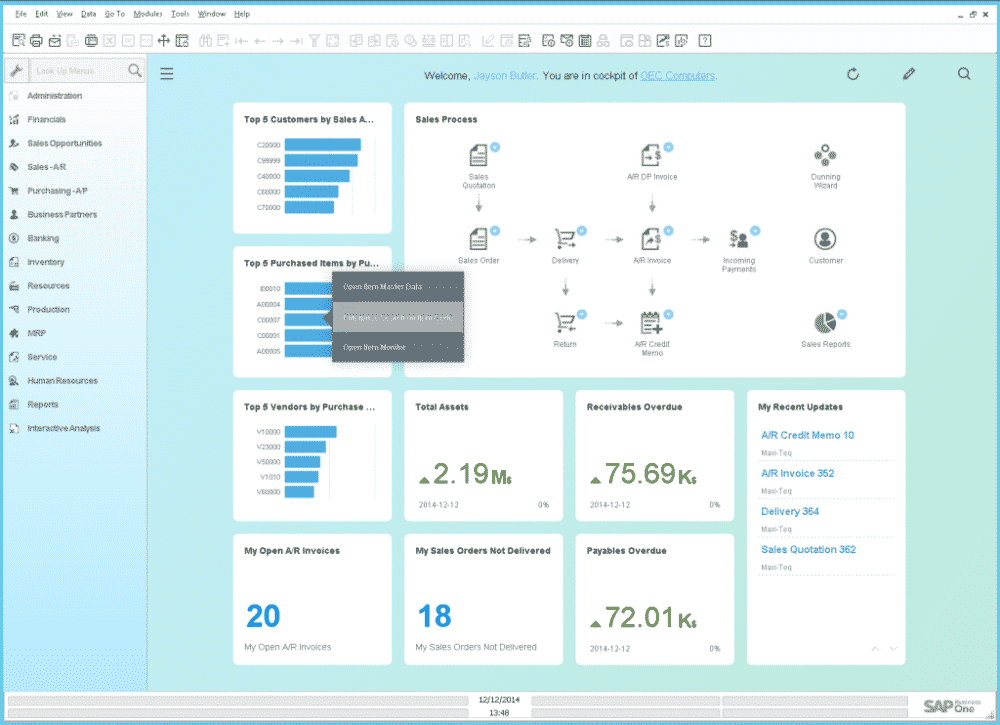 New Version of SAP Business One Application: SAP announced the general availability of the latest release of the SAP Business One application, designed exclusively for small and midsize businesses that want to fully integrate their businesses and grow. Available for deployment on premises or in the cloud and powered by the SAP HANA platform, the new release includes enhanced business processes and simplified user-interface configurability, all while improving ease of use and reducing total cost of ownership.
Customers will benefit from the following:
• New and enhanced business processes: The production module includes support for resources, providing better visibility into and control over resource capacity for a leaner production. Resource costs can be factored into overall product cost. Users can value inventory based on its serial or batch number offering the ability to determine profit margin calculation for a specific number or batch.
• Support for multiple branches or business units: Companies can benefit from sharing relevant data across multiple diversified business units for increased transparency in reporting. For example, a retailer with multiple business units can share customer data between these units for a better customer experience.
• Ease of use: The updated user-interface configuration makes it easy to customize screens by adding, relocating or hiding fields without administrative support. When powered by SAP HANA, the SAP Business One application includes role-based work centers for finance, sales, purchasing and inventory. These work centers leverage HTML5 and are highly flexible, enabling users to view the information that matters most in their day-to-day work and adjust as needed using a widget gallery.
• Streamlined implementation and updates: Pre-set default values and simpler data upload can help to speed up implementation cycles. Along with integrated lifecycle management, it allows companies to spend less time and money on installation, updates and support.
"We invested in SAP four years ago and decided to migrate to SAP Business One powered by SAP HANA with the 9.1 release. Not only is the in-memory technology providing benefit through massive increases in speed, but its analytics features provide up-to-the-minute, actionable and personalized information for all of our employees — whether they are in sales or production," said Axel Zimmermann, president, JAR Systems LLC. "Having an integrated solution that provides real-time visibility into the business is helping us offer even better service to our customers and is supporting our growth."
More than 45,000 small and midsize enterprises (SMEs) are running their businesses on SAP Business One. The application enables SMEs or subsidiaries of large companies to make data-driven decisions at any time and from anywhere, managing critical business processes, such as sales, finance, accounting and inventory. This new release helps customers to further manage every aspect of their operations in real time and centralize many critical processes.