Mintigo's Predictive Campaigns for Omni-Channel Orchestration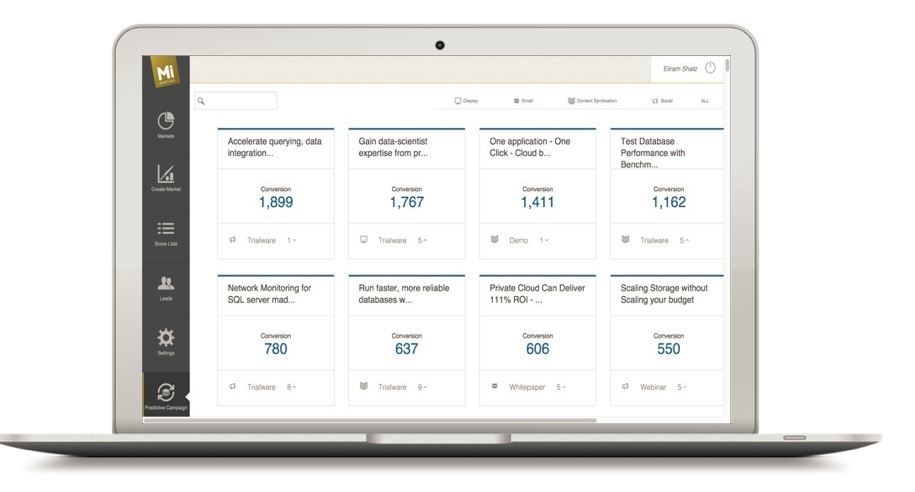 Mintigo Predictive Campaigns allow marketers an unprecedented connection with their target customers.Predictive Campaigns utilize data and machine learning to increase the marketing effectiveness throughout the customer journey with omni-channel orchestration. Through automated nurturing, today's pre-determined customer journeys are transformed into predictive customer journeys. Simply put, this process engages sales prospects with the right message, at the right time, through the right channel – while also arming marketing and sales departments with the deep data needed to break into untapped markets.
Today's marketing automation systems are largely used for "batch and blast" email campaigns, ignoring the reality of the omni-channel consumer (mobile, chat, social, video, rich content, display ads, etc). Messages and content tend to be static and lack customized value to the individual decision-maker. Marketing cloud platforms have spurred the demand for next generation marketing technologies, but the challenges of manually wading through a great deal of data and orchestrating the many marketing technologies to engage the target customers with relevant messages still remain.
"Up until now, campaign automation and nurturing requires too much manual intervention," says Atul Kumar, Chief Product Officer at Mintigo. "Similarly, today's campaigns are based on guesswork and intuition rather than hard data, which prevents personalized and relevant messages to reach relevant prospects at the right phase of the buyer journey."
With Mintigo's new Predictive Campaigns™, marketers can now launch fully automated omni-channel nurturing campaigns driven by predictive intelligence. Predictive Campaigns™ leverage marketing and sales activities and responses with predictive models to forecast the optimal set of campaign actions, increasing sales and conversions.
"Mintigo is uniquely capable of delivering the modern antidote to the problem of uni-channel tools and an omni-channel audience," says Dr. Jacob Shama, CEO of Mintigo. "Its broad intelligence about B2B buyers and their companies, highly scalable learning system, and orchestration layer connected to all channels cause static customer journeys to become dynamic, predictable journeys."