Gainsight New UI and Capabilities for Customer Success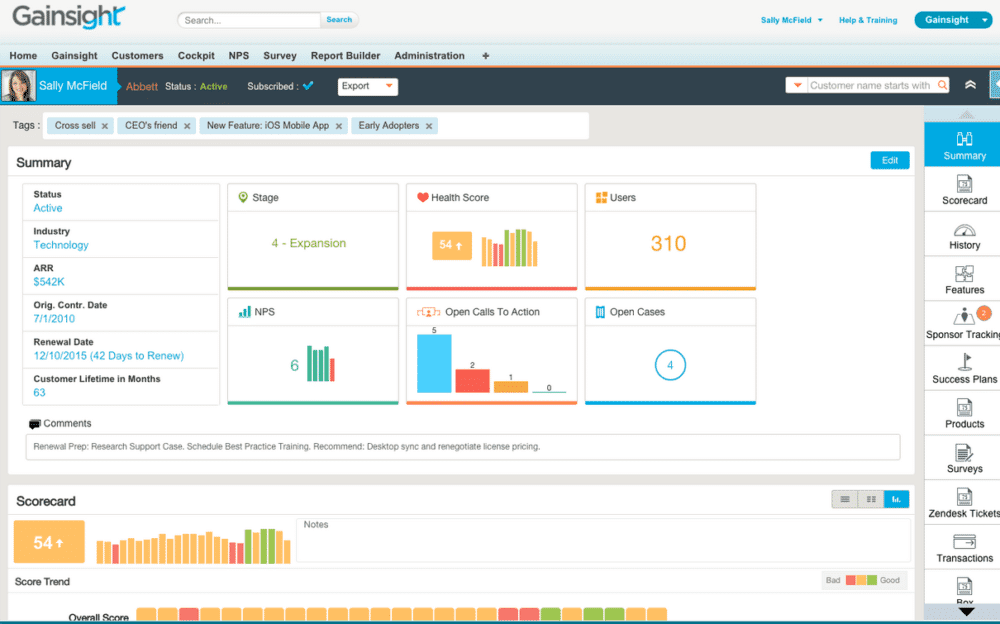 B2C applications like Facebook and Snapchat have set new expectations for easy-to-use interfaces and personalized interactions. Customer Success teams can benefit from adopting similar approaches to their own workflow – to connect with customers in really innovative ways. The platform enhancements are two major updates – a streamlined UI of the core Gainsight product and a video communication product called Gsnap for one-to-one personalized video communications. The product release is anchored by the introduction of a sleek new user interface. It brings an intuitive refresh to Gainsight's core modules, including the Customer360 page, a unified view of the health of the Customer, and Cockpit, a centralized workflow for proactive, automated alerts.
Gainsight's new user interface is compatible with both Salesforce Classic as well as recently released Lightning Experience. With this new release, Gainsight users will experience the same consistent, intuitive user interface, regardless of which Salesforce edition they select.Also included in the new release is a video communications product called Gsnap. Using technology acquired from Vsnap, Gainsight customers can now send a 60 second, personalized video to a customer right from the Gainsight platform. Customer experiences with user-centric apps like Facebook and Snapchat have driven a similar expectation of a responsive, personal experience in the world of B2B customer interaction.
Putting a face to a name establishes the credibility of a seller with a potential buyer and lays the foundation of a personal relationship between Customer Success Manager and valued client. Video communication has already gained traction in the B2B Sales world with vendors like OneMob increasing their momentum in the market.
"Businesses are making their teams and outreach more and more digital, and video is leading the way," says Sati Hillyer, Founder and CEO of OneMob. "We're excited to see Gainsight validate the impact video is having across the entire customer lifecycle. It's clear that customer success is the lifeblood of any organization and the Customer Success team needs to connect in a more personal and engaging way. We believe companies that leverage video centric solutions like OneMob and now, Gainsight's Gsnap, will lead the charge to improve customer experience across business."
Gainsight Vault integrates Customer Success best practices directly within the Gainsight platform. The Vault will continually be updated to incorporate processes contributed by Gainsight and the broader Customer Success community. Gainsight customers can leverage a vast library of customer management practices organized by product areas, industry and use cases.
This release also enhances Gainsight Vault, the Best Practice repository that integrates Customer Success best practices directly within the Gainsight platform. The release adds the capability for Customer Success teams to import pre-built automation rules as well as pre-built reports from Vault into a customer's instance in in a few clicks. Customers can now view best practices proposed by Gainsight and the broader community across various business processes such as managing risk or different stages of the customer lifecycle.