Review
Kzo Drive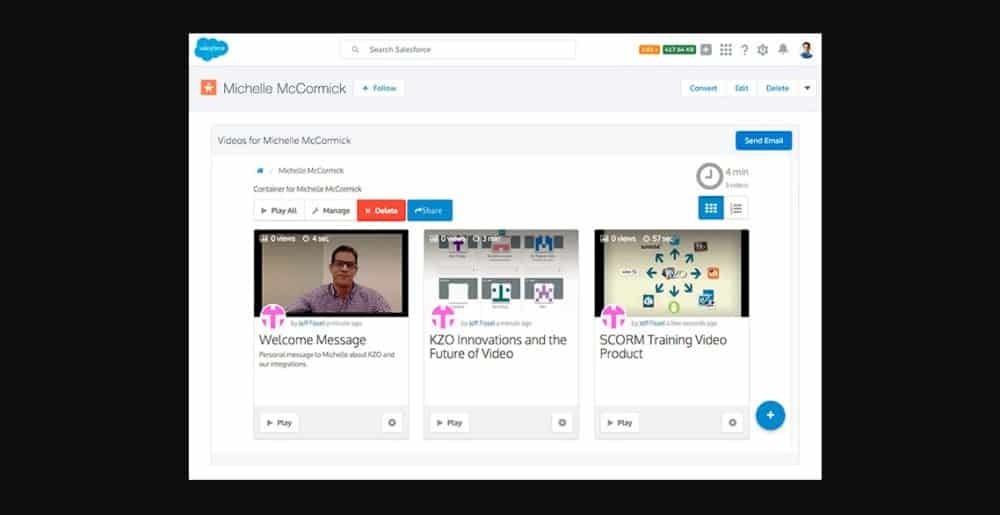 Overview
KZO Drive bridges the gap between today's metrics-driven digital selling techniques and the personalized touch that's needed to land your biggest clients
Sales Enablement Platform
•Personalized video communication
•Integration of detailed analytics to Salesforce.com records
•Based-on-product organized video library
•Video metrics
•Prebuilt email templates designed for video
Small (<50 employees), Medium (50 to 1000 Enterprise (>1001 employees)
What is best?
•Personalized video communication
•Integration of detailed analytics to Salesforce.com records
•Based-on-product organized video library
•Video metrics
KZO Drive bridges the gap between today's metrics-driven digital selling techniques and the personalized touch that's needed to land the biggest clients. Through personalized video communication, Drive allows user's team to capture their prospects' attention, keep them involved in the process, track their engagement, and nurture relationships.
This dramatically increases lead conversation, personalizes the selling experiences, uses deep analytics to understand the prospects' needs and behaviours and increases sales. It is integrated with Salesforce.com. So, it allows enhanced video communication tools without the need to leave the familiar interface, joining all prospect behaviour and data within the existing Salesforce.com records.
Using videos makes the user's company automatically differentiate themselves from the group so they can stand out from their competition. KZO Drive allows users to use their mobile devices and webcams to easily record personalized video messages, which humanizes their outreach and communication. Also, it allows users to store their entire sales and marketing video library right within Salesforce.com.
This can be organized based on product or vertical letting users spend dramatically less time searching for the video they need, making them more productive. Also, it allows customers make comments at moments in time within the videos users send them. Users will be immediately alerted to quickly address their questions. This allows users to engage with their prospect in an asynchronous, text-like manner, collaborate with their prospect immediately and watch engagement soar, and find out what is really important to your customer.
KZO Drive provides detailed viewing and behavior metrics on the prospect communication right within their Salesforce.com record. Users can see when they open an email, when they clicked to play the video, how long they've watched the video, and identify which areas they watched again. In that way, they get a much deeper and meaningful view of what is important to their prospect and helps them leverage built-in-Salesfore.com reporting and dashboards to see video engagement.
Finally, it personalizes email communication, as KZO generates "coded URLs" that allows users to easily send videos from existing email clients like Outlook, GMail and Apple. It embeds large thumbnail images of videos, which perform better than just sending links.
You may like to read: How to Select the Best Sales Enablement Platform for Your Business and Top Sales Enablement Platforms