IBM Watson platform in the Cloud and Applications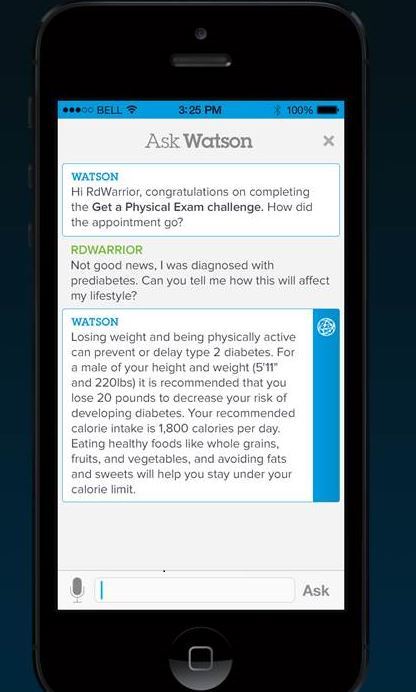 IBM Watson: IBM Watson is a cognitive system capable of answering questions posed in natural language. IBM Watson understands natural language. Using machine learning, statistical analysis and natural language processing Watson find and understand the clues in the questions. Watson then compares the possible answers, by ranking its confidence in their accuracy, and responds with the answers. The process takes three seconds.
IBM Watson in Jeopardy !
Watson, was debuted in a televised Jeopardy !. In February 2011, a cognitive computing system, IBM Watson defeated the two most highly decorated champions of the TV quiz show, Jeopardy !. The show, with its complex, contextual, punning wordplay, was a proxy for the problems that natural language data poses in the real world.
Watson represents a departure from traditional programmatic computing models. Not only can it communicate with people in plain English, but it can also extract knowledge from the same text sources that we humans use to learn and understand. Rather than generating answers defined by static business rules or decision trees, Watson provides confidence rated responses with visibility into the supporting evidence. In addition, and perhaps most significantly, it learns and improves over time.
After the Jeopardy!, IBM began establishing Watson's real world capabilities in healthcare in collaboration with industry leaders like Memorial Sloan Kettering Cancer Center, Cleveland Clinic, MD Anderson Cancer Center and WellPoint. IBM, WellPoint and Memorial Sloan-Kettering Cancer Center have partnered to develop an oncology solution designed to help physicians identify individualized treatment options for patients. Wellpoint also has partnered with IBM to develop a solution that helps facilitate the review process between a patient's physician and health plan, to advance the quality and timeliness of care.
IBM is also partnering with The University of Texas MD Anderson Cancer Center to develop a Watson-powered technology that helps MD Anderson's physicians and researchers expand treatment options, match patients with clinical trials and accelerate novel discoveries into the fight against cancer, starting with leukemia.
In May 2013, IBM unveiled the IBM Watson Engagement Advisor, a commercial breakthrough that helps businesses deepen engagement with customers, by quickly addressing questions, offering advice to guide purchase decisions, and troubleshooting problems.
In the process of putting Watson to work, IBM made significant technology advances such as reducing the number of systems required to operate Watson by 75% while improving its performance by 240%.
Watson is now extended to new markets across industries, addressing the day to day challenges individuals face in interacting with their banks, insurance companies, retailers, telecommunications providers, and many other institutions. Arming contact center agents and empowering individuals with a self-service capability, Watson went to work redefining how individuals and organizations will interact over the lifetime of their relationships.
Newer generations of Watson are of the size of a shoebox and are currently being trained in oncology diagnosis for healthcare professionals, and in customer service as a support representative.
Gartner recently mentioned IBM Watson in its Top 10 Strategic Technology Trends for 2014. Gartner predicts that by 2017, 10 percent of computers will be able to learn as Watson does.
Watson platform in the Cloud
IBM is going to deliver a Cloud-based marketplace, a sandbox of resources for developing Watson-powered apps.The IBM Watson Developers Cloud is going to be a cloud based marketplace for people developing Watson powered applications. It includes a developer toolkit, educational materials and access to Watson's application programming interface (API).Application providers has the option to use their own data, or provide them with access to the IBM Watson Content Store, a cloud-hosted network.
Applications of IBM Watson
These are the three early stage partners that developed Watson powered applications, which are targeted to enter the market in early 2014.
1. Fluid Retail:
Fluid, builds online shopping experiences for retail businesses.Fluid has developed the Fluid XPS (Expert Personal Shopper) powered by IBM Watson to drive customer engagement and conversion. The app calls upon Watson's ability to understand the nuances of human language and uncover answers from Big Data. Consumers who use Fluid's app will interact with rich media and dialogue with Watson,to help them make smart, satisfying purchases.
2.MD Buyline:
MD Buyline is a provider of supply chain solutions for hospitals and healthcare systems. MD Buyline has developed an app to allow clinical and financial users to make real time, informed decisions to improve quality, value, outcomes and patient satisfaction. Hippocrates powered by IBM Watson will provide users with access to a helpful research assistant that provides fast, evidence based recommendations from a wealth of data, to ensure medical organizations are making the best decisions for their physicians and patients needs.
3. Welltok:
Welltok is a pioneer in the emerging market of Social Health Management. WellTok is developing an app that is sponsored by health plans, healthcare systems and health retailers which will create intelligent health itineraries, including personalized activities, content, and condition management programs, for consumers and reward them for engaging in healthy behaviors. Consumers who use Welltok's apps, CaféWell Concierge powered by IBM Watsonwill engage in conversations about their health with Watson. By learning from each interaction with its users, the app will offer insights tailored to their individual health needs.