Free preview of Microsoft Power BI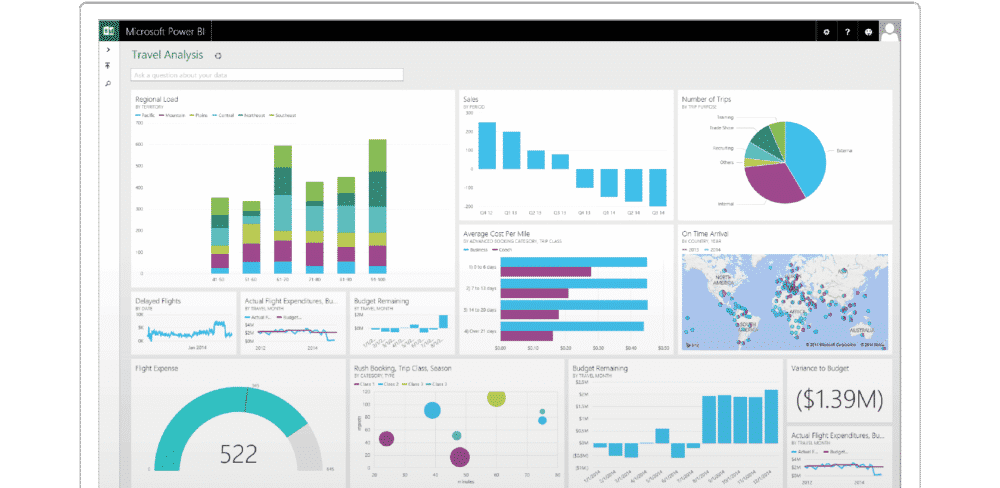 Free preview of Microsoft Power BI : Available in free preview, Microsoft Power BI's new business analytics experience makes it easy for customers to sign up, connect and use. Microsoft Power BI can help every company adopt a data culture with easy to use, accessible tools and innovative technology that lowers the barrier to entry, for all. Power BI, is a cloud based business analytics service, a software as a service for non technical business users. With just any browser or a Power BI mobile app, customers can keep a pulse on their business via live operational dashboards. They can deeply explore their business data, through interactive visual reports, and enrich it with additional data sources. The first version of Power BI was launched last February and since then customers have used it to gain powerful insights, helping them become more productive and competitive.
Anyone with a US business email account can try the preview of the new Power BI for free. Power BI let you connect to your data in minutes, with built in connectors and pre built dashboards and reports from a wide variety of sources including GitHub, Marketo, Microsoft Dynamics CRM, Salesforce, SendGrid and Zendesk. Inkling Markets, Intuit, Microsoft Dynamics Marketing, Sage, Sumo Logic, Visual Studio Application Insights, Visual Studio Online, and many more are planned for future. Power BI is hybrid by design, which enables the customers to leverage their on premise data investments while getting all the benefits of cloud based analytics service.
Power BI Designer allows business analysts to connect to, model and visually analyze their data. They can then effortlessly publish the results to any Power BI customer. Power BI Designer is a dedicated report authoring tool for the Power BI Preview service. The Power BI Designer provides rich data transformation and visual analytics in a unified, seamless experience. The Power BI Designer enables to create impactful reports with state of the art interactive charts, maps, graphs, and data transformations. This enables the business to upload their reports to the Power BI preview and empower others with timely critical insights on any device, anywhere. There is also a preview of Power BI for iPad now available for download from the Apple App Store.
With Power BI customers can bring every drop of value from each byte of their data.Power BI puts visual analytics at fingertips with intuitive report authoring, drag and drop to place content exactly where business want it on the flexible and fluid Designer canvas.