Ohio State University Deploys Oracle Solutions to Help Streamline Compliance and Enhance Self-Service Functionality for Faculty, Staff, and Students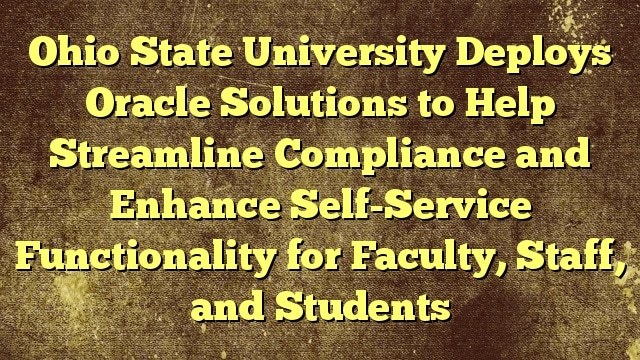 Ohio State University (OSU)—which enrolls more than 65,000 students on its main campus and four regional campuses—upgraded to Oracle's PeopleSoft Human Capital Management 9.2 and PeopleSoft Campus Solutions 9.0, and successfully deployed the PeopleSoft Interaction Hub. These solutions are helping the university automate compliance with the Affordable Care Act and various tax regulations, reduce legacy system customization, and take advantage of new human resources (HR) and student administration functionality.
With Oracle solutions, OSU automated and accelerated core processes, such as benefit plan management, recruitment, and paycheck modeling, which allows employees to quickly obtain accurate answers to paycheck-related questions online. Enabling faculty and staff to perform these activities without the assistance of human resources or IT has helped these departments focus more keenly on mission-critical activities and ways to improve productivity.
"Oracle's solutions help us as we strive to support student success, as well as staff productivity and efficiency," said Dave Keiffer, senior director of enterprise applications, Ohio State University. "Our recent upgrade and implementation enabled us to streamline regulatory compliance, drastically reduce customization, and provide new, useful functionality to our students, faculty, and staff."
OSU improved system access and functionality for more than 110,000 student, faculty, and staff users—including more than 1,000 core staff members—by integrating access to its various HR and student applications into one landing page through the PeopleSoft Interaction Hub. With one central access point, users can more easily find the information they need.
In addition, OSU was able to dramatically lower the level of customizations to its core HCM and student information system software, reducing the time required to maintain these modifications by more than 50 percent. This significant reduction will help the university lower IT management costs, as well as decrease the time required for future upgrades.
"With Ohio State University's most recent PeopleSoft solutions upgrade and portal deployment, it has streamlined compliance and bolstered self-service capabilities for students, faculty, and staff—supporting its mission of providing excellent educational opportunities and improving operational efficiency," said Cole Clark, vice president of education and research, Oracle.
OSU worked with Oracle Consulting and Sierra Cedar, a Gold-level member of the Oracle PartnerNetwork (OPN), to complete the implementation on budget.