How to Select the Best SAP Hybris Partner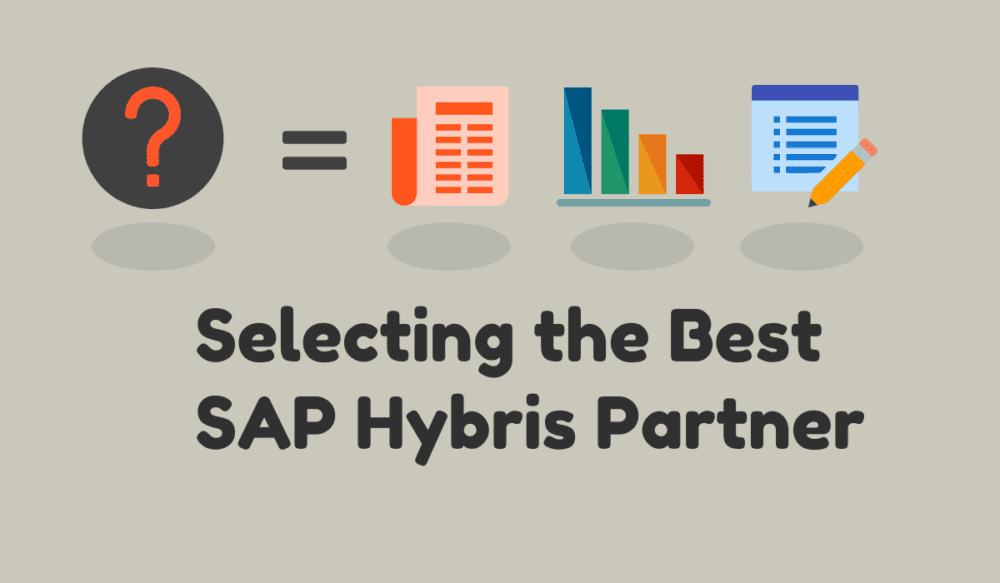 The most important thing to any business is its customers. A business is nothing without customers to purchase its goods or services. It will not be an overstatement to say that businesses live for their customers. Given the importance of customers to a business, it is important to optimize daily operations for them. Businesses have to think of their customers in every single action they want to take.
It is becoming increasingly difficult to do this though as customers have become complex to understand. The advent of the digital age has made customers desire more from businesses. Customers now want to be met at the points of their needs in real time. As a result of this, businesses are now faced with the task of keeping up with their customers while achieving business objectives.
The only way businesses can achieve this is via the use of technology. There have been innovative solutions designed to help businesses understand their customers and stay with them all through the customer lifecycle. The SAP Hybris solution is one such technological platform that offers businesses advanced solutions for their customer relationship.
There are several products for various industries. However, it is worthy of note that if one selects the right SAP Hybris solution partner, that will ensure that you deploy and maintain this platform well, giving you that competitive edge you desire.
You may like to read: Top SAP Hybris Consulting Partners
What are SAP Hybris Solutions?
Products for Commerce: SAP Hybris has great solutions for commerce. This platform can transform your business into a multi channeled one that can attract and interact with customers effectively. The best part is that these channels can be unified to view patterns and make encompassing changes. Products and orders placed can be easily managed with this technological solution. Also, whether you are Business to Business company or Business to Customers, the SAP Hybris commerce solutions can serve you well.
Products for Marketing: Businesses are always looking for new and efficient ways to reach and acquire new customers. SAP Hybris provides a means for doing this and much more. This platform provides real time insights that can be used to better understand potential customers and reduce acquisition cost. Marketing Campaigns, as well as Loyalty and customer attribution programs can also be well managed with SAP Hybris.
Products for Billing: Billing can often prove to be difficult to manage, especially when you have several customers. SAP Hybris handles all your subscription orders and can help with automatic invoice generation, ensuring billing problems are a thing of the past.
Products for Sales: Your business amounts to nothing if you cannot close sales. SAP Hybris is very well aware of this and helps discover new channels via which you can sell your goods and services. Lead generation and management, collaborative sales, as well as sales performance management can be done with the use of the innovative SAP Hybris platform. All of this ensures that there is a reduction in sales costs and increases productivity of your sales staff.
Products for Service: SAP Hybris provides solutions for customer and field services. This means that you have constant and relevant information across all your engagement channels. The performance of call centers and the management of field services can also be handled seamlessly.
Products for Customer Data Management: We have all head about how data is the new oil. Businesses need to tap into data from their business operations to stay ahead of the pack in this competitive digital age. The best place to start from is customer data. SAP Hybris provides solutions that can effectively and efficiently handle customers' data. Everything from securely storing to analyzing the data can be performed on this platform.
You may like to read: Top SAP Hybris Consulting Partners
How to Select the Right SAP Hybris Implementation Partner?
Now that we know all the products SAP Hybris offers, we need to understand how to implement these solutions. The most important element of the implementation of SAP Hybris is the SAP Hybris partner.
This is why the selection of an SAP Hybris partner is something you need to take very seriously. There are a number of SAP Hybris partners out there and many businesses do not know how to separate them and select the best one for their business. It is worthy of note that different  businesses can be better suited for different partners, so there is no one size fits all solution here.
However, there are some generic factors that can be considered and should be considered in your quest for an SAP Hybris partner. These factors will be carefully explained here, providing you with information to help you discern on the best SAP Hybris partner for your business.
Independent oversight: The right SAP Hybris partner usually has independent oversight over the deployment of your business solutions. This will guarantee robust and accurate implementation of the solutions you require.
Proprietary methodologies: This is an important thing to look for in an SAP Hybris partner. Quality partners always have uniquely developed methodologies. This is opposed to the generic and ubiquitous methodologies that is prevalent in the industry. A partner with a proprietary methodology is most likely experienced and skilled enough to handle complex projects. The best part about these proprietary methodologies is that they can be tweaked and designed to suit your business. This gives you a personalized solution as opposed to what you will find amongst competitors. A good SAP Hybris partner gives you this.
Breadth of global experience, presence and resources: The best SAP Hybris partners have a wide reach of experience and global presence. Partners with these wealth of information and resources are definitely better than those without it. A global SAP Hybris partner will have experience working in various industries and climates. This will mean the partner has been exposed to many projects and challenges. They can then bring this experience to your implementation, ensuring you avoid all the hitches they have experienced in the past.
Solution expertise: The solution you are looking to deploy should guide your choice of SAP Hybris partner. You should go for a partner with adequate wealth of technical and information expertise in the deployment of that particular solution. For instance, if you want to deploy a solution for customer attribution, then it is best to look for a client that has expertise in the implementation of customer attribution solutions.
Industry expertise: The business aims and objectives vary from industry to industry. This is why it is very critical that you select an SAP Hybris partner that understand the industry you are in. This will help them design and advise a deployment solution that will push you ahead in the industry. The SAP Hybris partner should also understand your competitors in the industry. This way, they can deploy solutions that will give you competitive edge and help position you as an industry leader.
Business Size expertise and experience: This is a very important factor to consider when you are looking to select the best SAP Hybris partner for you. An SAP Hybris partner that has the right expertise and experience working with your size of business should be given preference. The last thing you want a partner that cannot deploy a scalable and robust solution for your business size.
Cultural fit: In the end, it is all about the people. Your SAP Hybris partner will be working with your staff to understand your exact needs. It does not just stop there as they will also work on the implementation and deployment of the SAP Hybris solution. The migration from your current platform to the new one will be done via collaboration between your staff and your partner. After sale services as well as maintenance will also be performed via collaboration. All of these go to tell you that it is critical that you select an SAP Hybris partner that will fit in perfectly with your company culture so as to ensure smooth interaction and collaboration with your staff.
Total Cost of Implementation: The cost of any project is important to any business. Hence, you should consider the total cost of implementation which is being charged by an SAP Hybris partner. Do not just consider the hourly charge, but the overall implementation cost. SAP Hybris partners that offer discounts and added services for affordable costs should be considered over those that do not. It is however important not to compromise on quality of implementation because of cost.
Domain Subject Matter Expertise: A SAP Hybris partner that has a wealth of expertise on the domain subject should be given preference. If you are looking to implement a marketing solution, then it is advisable to look for an SAP Hybris partner that has expertise on the domain subject which is marketing.
Similar Clients Reference: It is a good idea to look for similar clients that have performed similar projects and utilized similar solutions as yours. References from such clients on SAP Hybris partners should really be considered. Proven track record of successful deployment is one thing to look out for in your SAP Hybris partner and a similar client referral covers this adequately.
You may like to read: Top SAP Hybris Consulting Partners
Top SAP Hybris Partner
PAT Index™
You may like to read: Top SAP Hybris Consulting Partners