Review
Fat-Free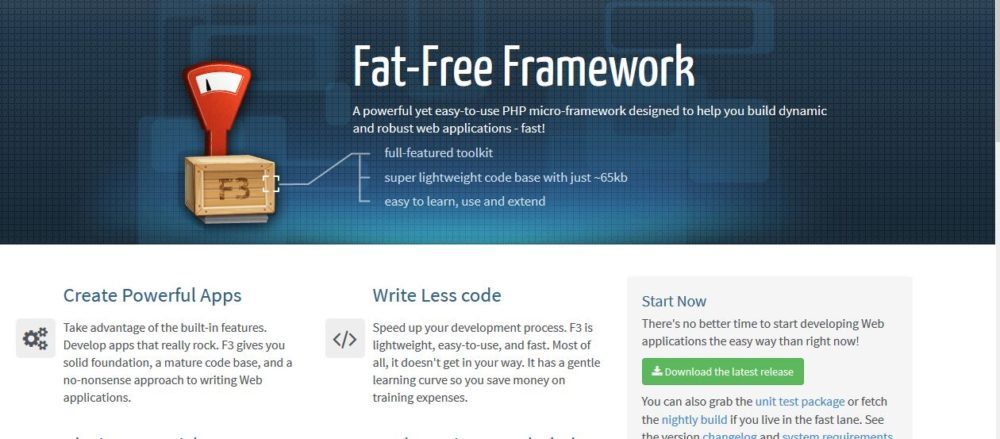 Overview
F3 supports both SQL and NoSQL databases off-the-shelf: MySQL, SQLite, MSSQL/Sybase, PostgreSQL, MongoDB and its own lightning fast Flat-File DB (we call it Jig). It also comes with powerful object-relational mappers for data abstraction and modeling that are just as lightweight as the framework. No configuration needed.
PHP Web Framework Software
Fast
Easy to use
Easy to learn
Small (<50 employees), Medium (50 to 1000 Enterprise (>1001 employees)
Fat-Free Framework is a powerful yet easy-to-use PHP micro-framework designed to help users to build dynamic and robust web applications - fast! It comes with a full-featured toolkit, super lightweight code base with just ~65kb and it is easy to learn, use, and extend.
Users can take advantage of the built-in features and develop apps that really rock. F3 gives a user a solid foundation, a mature code base, and a no-nonsense approach to writing Web applications. Whether the user is a novice or an expert PHP programmer, F3 will get them up and running in no time.
There are no unnecessary and painstaking installation procedures, complex configuration required, and convoluted directory structures. Users can speed up their development process. F3 is lightweight, easy-to-use, and fast. Most of all, it doesn't get in a user's way. It has a gentle learning curve so users can save money on training expenses. Under the hood is an easy-to-use Web development tool kit, a high-performance URL routing, multi-protocol cache engine, built-in code highlighting, and support for multilingual i18n applications.
There's no better time to start developing Web applications the easy way than right now! Users can also grab the unit test package or fetch the nightly build if they live in the fast lane.