Review
DNSimple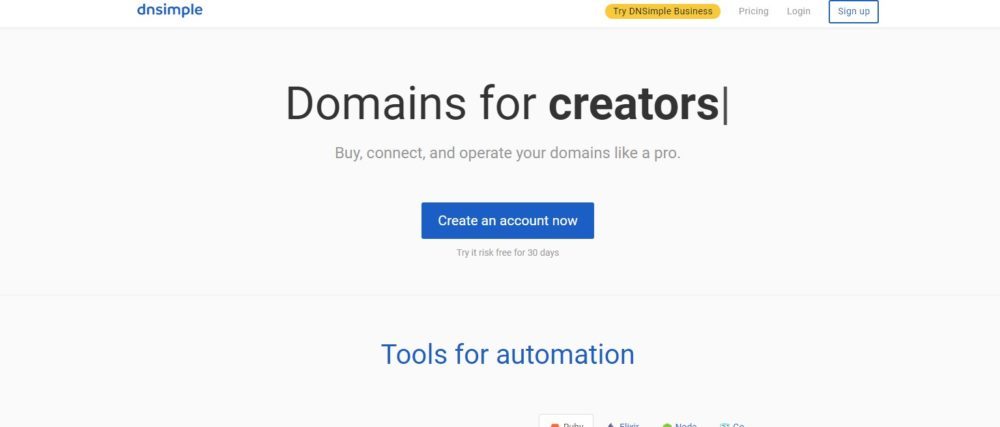 Overview
DNSimple provides the tools your need to manage your domains. Offer both a carefully crafted web interface for managing your domains and DNS records, as well as an HTTP API with various code libraries and tools.
Domain Registration Providers
Multi-Layer DDoS Defense
Unlimited Users
Anycast DNS
Unlimited queries
Secondary DNS
Full API Access
Personal - $5 monthly
Professional - $25 monthly
Business - $250 monthly
Small (<50 employees), Medium (50 to 1000 Enterprise (>1001 employees)
Buy, connect, and operate domains like a pro with DNSimple. It provides users with the right tools for automation to make the process simple and smooth operation.
Its powerful domain and DNS API allows the users to get more things done with DNSimple's API. They support 4 official API clients such as Ruby, Elixir, Node and Go. These are robust; battle tested and well documented APIs that provides better experience for the customers.
DNSimple maintains a repository for every language that they support with a large amount of examples so that users can get started even faster. It supports multi account where in customers can register and update any domain under their own team or personal account.
With this feature, users will be able to transfer existing domains to DNSimple, access full list of records from any of the user's domains, get CloudFlare, GitHub pages and Shopify running on their domain fast and be able to receive notifications on events as they occur via HTTPS POSTs. With DNSimple's DNS-based domain validation, and auto-renewal feature, users will be able to obtain their next Let's Encrypt SSL certificate is a breeze.
Customers do not need to go through for manual intervention. DNSimple take care of the domain validation automatically, using the DNS-based validation, which also means no more emails to wait for and approve. DNS automation with Chef is a feature from DNSimple to make DNS configuration with an ease. This is an Open source platform where in users will be able to contribute and help the cookbook improve. And since it is available all the time, customers will be able to run it quickly.