Review
BIRT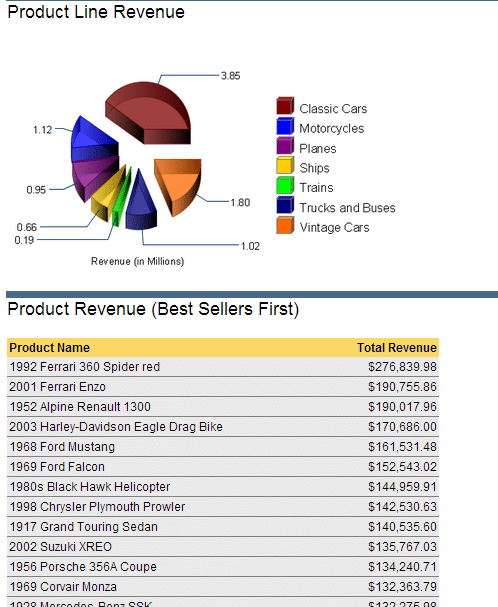 Overview
BIRT is an Eclipse-based open source reporting system for web applications, especially those based on Java and Java EE. BIRT has two main components: a report designer based on Eclipse, and a runtime component that you can add to your app server.
Reporting Software, Dashboard Software
• Build reports on XML data sources
• Used to build reusable component report libraries
•Allows run time modification of Data Source and Data Set public properties
https://www.eclipse.org/birt/
BIRT is an open source business intelligence technology platform which are used to create data visualizations and reports. BIRT Business Intelligence platform includes BIRT Designer, BIRT Designer Pro, BIRT iHub F-Type and BIRT Analytics. These reports can be embedded into rich client and web applications. BIRT is a software project within the Eclipse Foundation, which is an independent not-for-profit consortium of software industry vendors and an open source community and the project is sponsored by Actuate along with contributions from IBM, and Innovent Solutions.
BIRT has two main components, a visual report designer and a runtime component. The visual report designer is used for creating BIRT Designs. The runtime component is used for generating those designs that can be deployed to any Java environment. The BIRT project also includes a charting engine that is both fully integrated into the BIRT designer and can be used standalone to integrate charts into an application. BIRT designs are persisted as XML and can access a number of different data sources including JDO datastores, JFire Scripting Objects, POJOs, SQL databases, Web Services and XML.
BIRT Business Intelligence platform includes BIRT Designer, BIRT Designer Pro, BIRT iHub F-Type and BIRT Analytics.
The BIRT Report Designer is used to create BIRT report designs. These designs are stored in an open XML format. The Designer can be downloaded as a Rich Client Platform (RCP) application, a set of plug-ins to enable the Designer perspective within an existing Eclipse build or as an all in one download that includes Eclipse. The Design Engine is responsible for creating and modifying report designs. The Design Engine API (DE API) wraps the functionality of the design engine and is available for use within any Java/Java EE project. The BIRT Report Designer uses this API internally to construct the XML designs. The Report Engine uses the report design files to generate and render reports. Using the Report Engine API (RE API) the engine can be embedded within any Java/Java EE application. The BIRT Web Viewer uses this API to execute and display reports. The Charting Engine is used to design and generate Charts either in standalone or embedded within BIRT reports. The Charting Engine API (CE API) allows Java/Java EE developers to add charting capabilities to their applications. The Design and Report Engines make use of this API to deliver Charts.The BIRT Viewer provides a sample "viewer" that is used to preview reports within Eclipse. BIRT includes an Apache Tomcat server invoked each time you preview your report.
BIRT Business Intelligence
BIRT Business Intelligence platform includes BIRT Designer, BIRT Designer Pro, BIRT iHub F-Type and BIRT Analytics.
BIRT iHub F-Type brings the next generation of interactive reporting and information visualization technology to BIRT developers worldwide, completely free for business use.
BIRT Designer is an open source Eclipse based designer that equips developers with everything they need to access data sources; transform, integrate and apply business logic to data; secure, filter, format and present the resulting reports to users.
The BIRT Designer Pro extends the capabilities of the Eclipse open source BIRT designer by adding hundreds of HTML5 charts, gadgets and maps; commercial data drivers; a metadata layer, impact analysis; and cube design and caching features for creating interactive and analytic content.
BIRT Analytics is a Visual data mining and predictive analytics tool that put statistician's power in the hands of business users for identifying customer insights within the organization.
BIRT Business Intelligence
You may like to read: Top Embedded Analytics Business Intelligence Software and How to Select the Best Embedded Business Intelligence Software for Your Business