Review
ReportServer Community Edition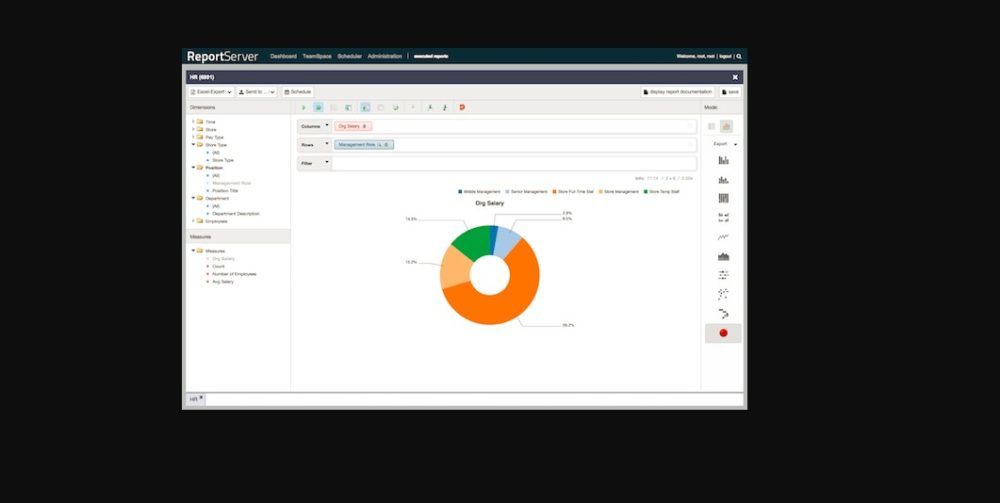 Overview
ReportServer integrates the best reporting engines of different providers under a single user interface. Always choose the right tool for your current task.
Business Intelligence Open Source
• Eclipse BIRT
• Ad-Hoc Reporting
• Jasper Reports
• OLAP & Mondrian
• SAP Crystal Reports
• Office Templates
• Script Reports
Small (<50 employees), Medium (50 to 1000 Enterprise (>1001 employees)
What is best?
•Powerful tool for the ad-hoc generation of list-like reports
•Supports various output formats from Microsoft Excel over PDF to XML
•Comes with audit-proof documentation
•Store your analysis as a report variant
What are the benefits?
•Variety of parameters to allow for customization of reports
•Present all key performance indicators on a single page
•Unlimited dashboards per user
•Freely configurable by the user
•Integrate any report on your dashboard
•Fast access via bookmarks
•Integrate Micro-Apps via HTML5
ReportServer is the modern and versatile business intelligence (OSBI) platform for users' company. ReportServer Community Edition is open source software under the aGPL. Pixel-perfect reporting, ad-hoc analyses, Excel and Word reporting or multidimensional OLAP analytics: ReportServer comes with a great selection of powerful tools.
ReportServer's Dynamic List is a powerful yet intuitive tool to create and manage ad-hoc analyses. The Dynamic List is the preferred method in ReportServer for fast and user specific analyses of data. The real data (i.e., the raw data) for user reports is usually stored within in tables (aka. lists). With ReportServer's Dynamic List users can directly access this data and compile and configure it in various different ways.
Dynamic Lists can be used for individual data processing (e.g. with Microsoft Excel) or converted to various output formats (e.g. XML, CSV, PDF). By employing Templates users can also load specific data directly from user dynamic lists into predefined Excel or Word documents. This way many steps of individual data processing become redundant. From the simple selection of data by column selection and filters, via sorting, grouping or sub totals through to complex analytic functions - nearly every analysis request can be carried out by the Dynamic List.
Once configured, analyses may be stored as so-called report variants which can then be scheduled to be executed at recurring intervals (and, for example, delivered via email), shared with user colleagues and further utilized within the TeamSpace. ReportServer completes the BIRT toolset by providing user with a powerful environment to manage and distribute user BIRT reports. To add an existing BIRT report to ReportServer simply upload the corresponding .rptdesign file, configure the report parameters and user are good to go.
You may like to read: Open Source, Free and Top Dashboard Software and How to Select the Best Dashboard Software for Your Business
ReportServer Community Edition Videos