Argix Logistics Improve Execution and Enhance Service to Retailers with Descartes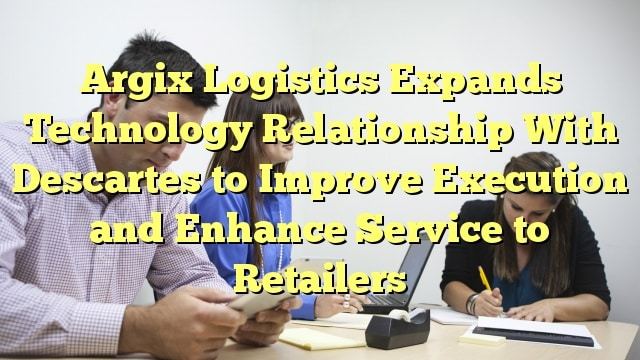 Argix Logistics, a leading provider of logistics and supply chain services to high-profile retailers, is expanding its relationship with Descartes by deploying enhanced real-time mobile and dispatch capabilities with Descartes' Route Planner On-demand. "In today's dynamic omni-channel retail environment, we're constantly challenged to exceed customer expectations, from meeting tighter shipping windows to providing real-time order status," said Nino Silvano, CIO at Argix. "Since 1993, we've worked with Descartes to regularly implement new technology that provides our customers with better information and better service. With Descartes Route Planner On-demand's mobile and dispatch solutions, we will gain advanced real-time capabilities to help enhance our execution and service. The new solution also complements Descartes' BearWare mobile carton-level tracking solution, which we have deployed across nine terminals."
Descartes Route Planner On-demand is an integrated cloud-based delivery route planning, execution and mobile solution that combines sophisticated functionality with the simplicity of technology built for the web. It offers advanced capabilities at an affordable cost, optimizing both static and dynamic routes, tracking and monitoring driver performance, and capturing proof-of-delivery information in real-time. The solution includes Descartes Mobile™, a family of GPS-based mobile applications that improve driver productivity and automate paper-based delivery processes, and Descartes Dispatch™ which facilitates the assigning of new orders, managing exceptions and communicating with drivers in real-time.
Descartes' BearWare solution uses mobile technology to scan cartons at each milestone point in the distribution center to storefront process. This carton-level tracking complements shipment-level tracking and helps identify potential inventory replenishment for each store, reduces theft and claims for lost cartons, and streamlines shipment payment. The solution also supports pool distribution, which helps retailers to reduce logistics costs and minimize store disruptions by eliminating unconsolidated direct shipments from suppliers and retailer distribution centers into stores.
"We're excited to provide our long-time customer Argix Logistics with advanced technology that helps the company continue its legacy of delivering superior customer service," said Eric Bossdorf, Vice President at Descartes. "Descartes Route Planner On-demand is an excellent solution for service-driven companies, such as Argix Logistics, that face the constant challenge of balancing daily service requirements with operational constraints. By adding BearWare to the Descartes family, we look forward to growing our relationship with Argix Logistics and working together to enable them to continue offering exceptional service to retailers for many years to come."