Review
Nette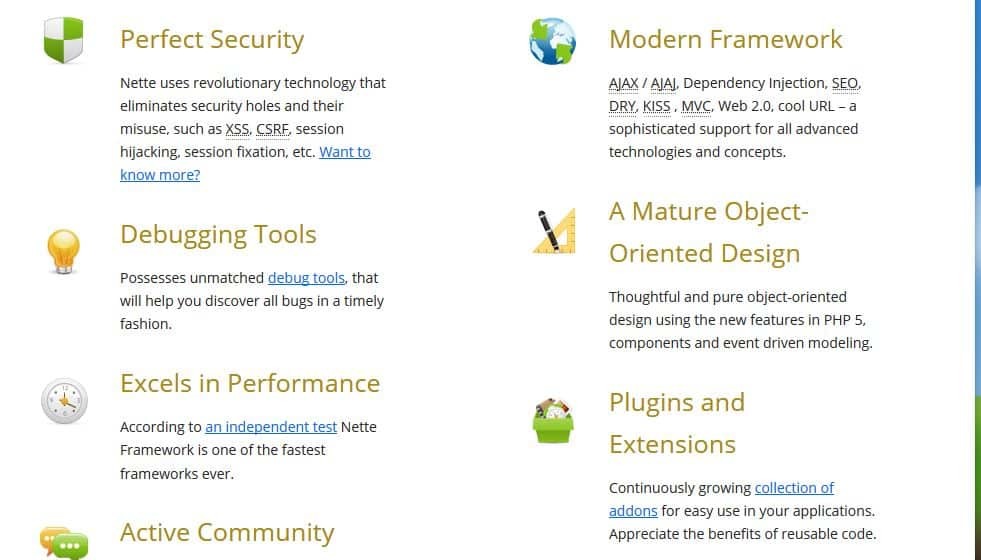 Overview
Nette is a set of decoupled and reusable PHP components that will make your work easier. You can use any of these components independently from the rest of framework.
PHP Web Framework Software
Perfect Security
Modern Framework
Debugging Tools
A Mature Object-Oriented Design
Excels in Performance
Plugins and Extensions
TeamworkActive Community
Active Community
Open Source License
Easy Learning Curve
Small (<50 employees), Medium (50 to 1000 Enterprise (>1001 employees)
Nette Framework lets developer work more effectively, focus on what's important and makes the code more readable and well-structured in the process.
Nette Framework lets developer focus on the creative part of being a developer. It's built to be extremely usable, friendly and a joy to use. Nette comprehensible yet efficient syntax, a cutting edge debugger and industry-leading security features let one write e-commerce sites, wikis, blogs, CMS or anything one can imagine faster and better than ever.
Nette Framework is used by major companies, such as T-Systems, GE Money, Mladá fronta, VLTAVA-LABE-PRESS, Internet Info, DHL, Logio, ESET or Actum. Nette currently propels the website of the former president of the Czech Republic Václav Klaus. In the poll held by Zdroják it was awarded the prize of The most popular and the most widely used framework in the Czech Republic.
Nette uses revolutionary technology that eliminates security holes and their misuse, such as XSS, CSRF, session hijacking, session fixation, etc. Nette Framework will lead to well designed applications with emphasis on future extensibility. Nette Framework does not limit the developer.