Review
Kellton Tech S/4HANA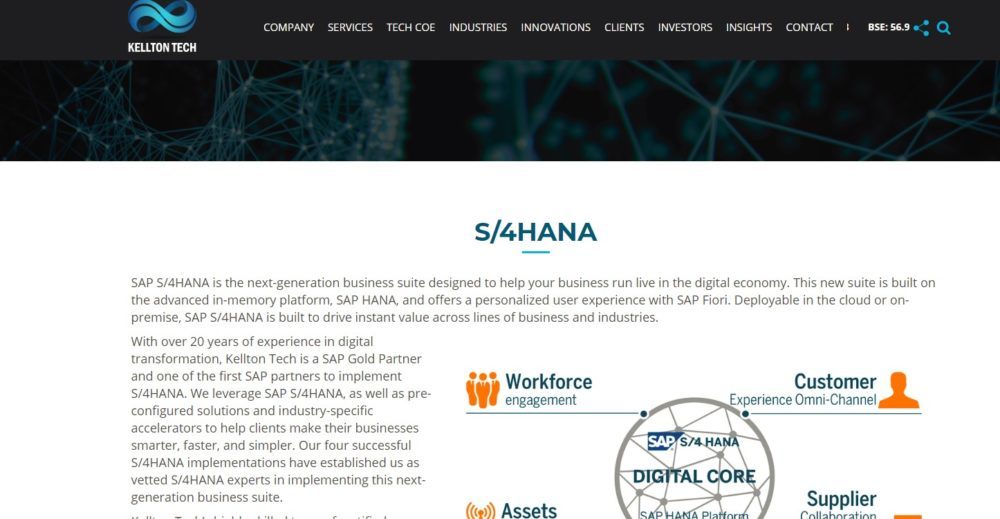 Overview
Kellton Tech is a publicly listed, CMMI Level 5, and ISO 9001:2015 certified global company, providing cutting-edge digital transformation solutions and services in strategy, consulting, digital, and technology
• Instant implementation and alignment of business processes
• Quick business decisions based on real-time data
• Simplification of application and system landscapes
• Redundant data feeds
What is best?
• Instant implementation and alignment of business processes
• Quick business decisions based on real-time data
• Simplification of application and system landscapes
• Redundant data feeds
What are the benefits?
• Access and capitalize instantaneous data from a wide array of sources
• Predictive analytics to create new business model breakthroughs and innovations
• Eliminating complex databases with aggregates
• Help their clients achieve accelerated business operations.
SAP S/4HANA is the next-generation business suite designed to help your business run live in the digital economy. This new suite is built on the advanced in-memory platform, SAP HANA, and offers a personalized user experience with SAP Fiori.
Deployable in the cloud or on-premise, SAP S/4HANA is built to drive instant value across lines of business and industries. With over 20 years of experience in digital transformation, Kellton Tech is a SAP Gold Partner and one of the first SAP partners to implement S/4HANA.
They have leverage SAP S/4HANA, as well as pre-configured solutions and industry-specific accelerators to help clients make their businesses smarter, faster, and simpler. Their four successful S/4HANA implementations have established them as vetted S/4HANA experts in implementing this next-generation business suite.
Kellton Tech's highly skilled team of certified S/4HANA consultants ensures revolutionary results for their clients As a technology leader offering extended SAP and industry expertise, their S/4HANA certified implementation experts help their clients achieve accelerated, agile, and smooth business operations in today's digital economy.
You may like to read: How to Select the Best SAP S/4 HANA Implementation Partner and Top SAP S/4 HANA Implementation Partners