Review
CardioLog Analytics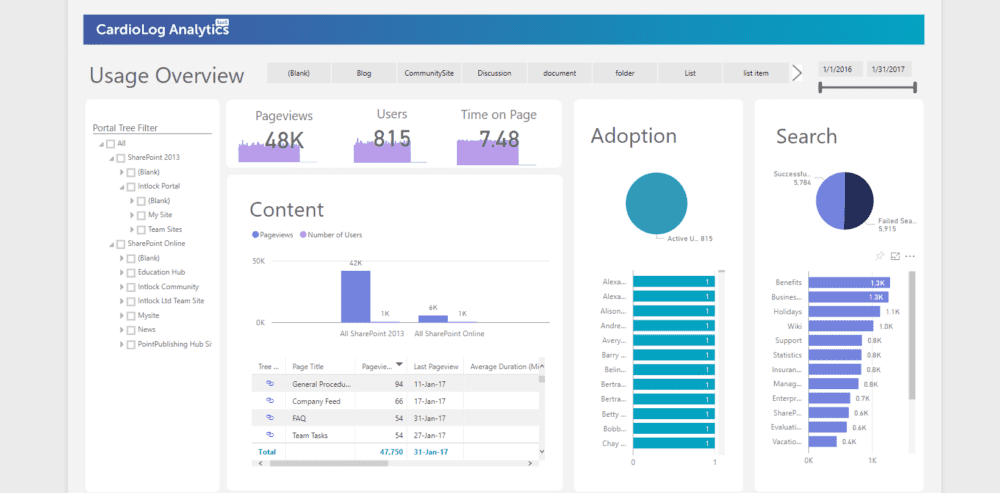 Overview
Cardiolog Analytics is a Saas and On-Prem analytics solution that is tailored to fit all versions of SharePoint and Office365, offering a wide range of detail-oriented metrics that track portal activity down to the specific user.
•Tracking. Targeting. Optimizing. Monitoring.Increase Adoption.
•SharePoint Social Reports
•Yammer Social Reports – All The Rage
•Custom Dashboards
•Content Drilldown
•Cardiolog Analytics Satrting Prices//On Prem Analytics - SharePoint, Office 365: $18.5 K (Professional Edition) $35 K(Enterprise).
•On Prem Yammer, Social, Sitron: $12K (professional Editon) $18K (Enterprise Edition)
•Saas- SharePoint, Office 365 & yammer: $299/mo (Professiona Edition) $899/mo (Enterprise Edition)
Perpetual & Subscription Based Model
Free support is available during the installation and configuration of the CardioLog Analytics Trials. Support Packages are determined by Service Level Agreement
What is best?
•Built specifically for SharePoint & Office365.
•Saas & On-Prem solutions.
•Integrated with Power BI.
•Intelligent engagement tool with automated channels.
•Actionable reports to improve adoption, boost productivity & ease migration.
•Real-time reporting
Intlock, developer of CardioLog Analytics, has been a leader in the field of analytics for SharePoint, Office 365 and Social Platforms for over 10 years. CardioLog Analytics – provides web-analytics and online marketing solutions for SMB and enterprise-level intranet portals and websites. CardioLog Analytics delivers deep insights into the performance of portal, web and social platform initiatives through testing, tracking and targeting, ultimately enabling organizations to optimize their portal's impact and maximize their return on investment. The solution is available for both On-Premises and SaaS deployments.
Intlock is led by a team of experts in the fields of application development, knowledge management, web analytics, portal monitoring and control, and software engineering. Its products and solutions are installed in organizations from various industries, including financial services, government, telecommunication, entertainment services and others.
Intlock firmly believes that partner alliances are a beneficial way to help enhance the product as well as strengthen alliances within the SharePoint and Office 365 communities. By working together, cost effectiveness and ease of implementation are greatly improved. Partner alliances shorten implementation times and enable the adaptation of the products to any technological environment a customer may have.