Review
SocialOomph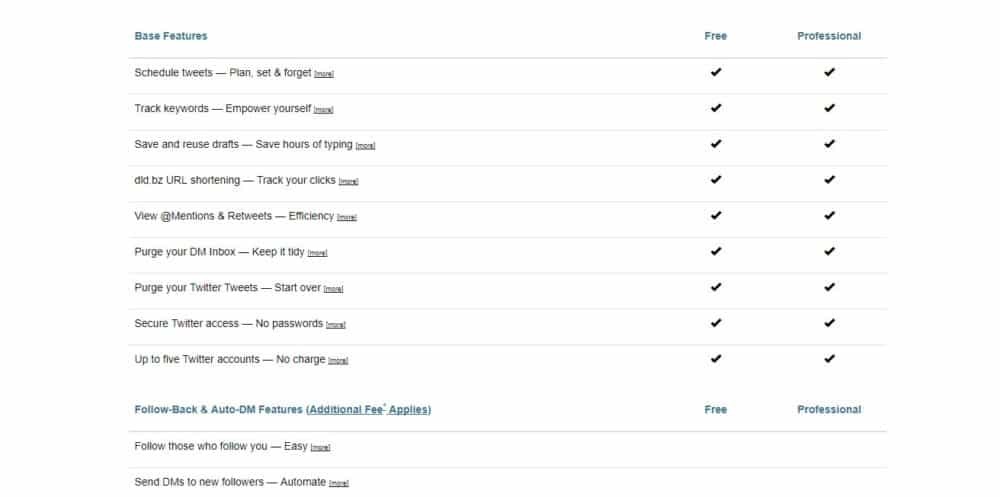 Overview
Boost your social media productivity -- it doesn't have to be a manual time-consuming process! Twitter, Facebook, Pinterest, LinkedIn, Tumblr, RSS feeds, blogs, and Plurk
Social Media Analytics Software Free
• Secure Twitter access — No passwords
• Up to five Twitter accounts — No charge
• Free account – sign up
• SocialOomph Professional - $17.97
• SocialOomph Twitter Unlimited - $6.97
Small (<50 employees), Medium (50 to 1000 Enterprise (>1001 employees)
What is best?
• Schedule tweets — Plan, set & forget
• Track keywords — Empower yourself
• Save and reuse drafts — Save hours of typing
• dld.bz URL shortening — Track your clicks
• View @Mentions & Retweets — Efficiency
• Purge your DM Inbox — Keep it tidy
• Purge your Twitter Tweets — Start over
What are the benefits?
•Boost your social media productivity
•Easily schedule updates
•Find quality people to follow
•Monitor social media activity
SocialOomph.com is a social media management tool to effectively automate social media platforms and is highly capable of managing all activities in Twitter, LinkedIn, Pinterest, RSS feeds, Tumblr, Plurk, App.net, and Facebook where it can even go as far as handling users' blog activity. SocialOomph.com has features such as tweet scheduling, status and scheduling update, keyword tracking, blog posts scheduling, auto rss feeds, url shortener, follow-back and auto-dm, blog post creation, shares scheduling and automated update removal.
SocialOomph gives information about users' followers such as the ratio of accounts that they follow in comparison to the users and amount of status that they update among others. SocialOomph allows users to manage multiple twitter accounts and helps them find the right people to follow on twitter with its advanced search tools and its very handy keyword search feature.
SocialOomph lets messages be removed from a user's inbox after a certain time period such as unneeded or outdated Tweets and Facebook feeds through a pre-set schedule. Socialoomph has a queue reservoir which is a collection of tweets where users specify when they want SocialOomph to dip into the reservoir to pick out the next tweet in the queue and send it out. SocialOomph lets users send emails from their personal email account and can be converted into updates across all social media platforms. SocialOomph can also be used for writing blog posts and getting them published to different blog platforms where users have the option to set up automated social media network updates and blog postings from RSS feeds.