Zype uses BIME and BigQuery for Next Generation Video Publishing and Distribution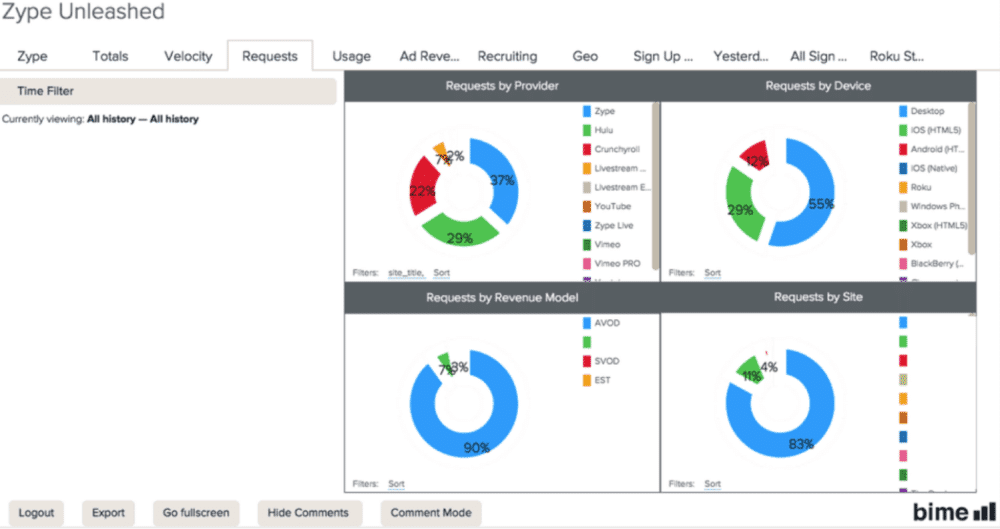 Zype uses BIME and BigQuery for Next Generation Video Publishing and Distribution : Zype is a cloud platform for video publishing and distribution. Zype had accumulated millions of rows of valuable video performance data, including revenue partners, devices, geography, and even metadata about the videos themselves such as actors, directors and plots. Disseminating this data in a repeatable, reliable, and scalable fashion for their enterprise customers was already time consuming and expensive. Zype's existing system, is a collection of reports written directly to a MongoDB database and a third-party log management system, wasn't able to meet the demand for scalable data collection. And to create reports for stakeholders, developers had to copy databases and run queries manually, which took valuable resources away from core product development. Zype required a single, scalable database, one with powerful analytical and reporting tools and they needed it fast.
Zype evaluated several analytics and reporting options and choose BIME to integrate with all of the various data production points Zype used - BigQuery, Intercom, MongoDB, Google Sheets - and also didn't require a lengthy onboarding process. In addition, BIME's per-user pricing allowed Zype to start with a low-risk, low-cost entry point and grow from there. Working directly with BIME Analytics as well as experienced customer success leaders at Google, Zype put together an integrated Google BigQuery and BIME solution for data collection and reporting. This team was able to quickly build a reliable ETL (Extract, Transform, and Load) process from core MongoDB, Intercom.io, and Google Analytics databases, construct reliable reports in familiar SQL language in BigQuery, and design compelling visualizations for customers. All ETL processes run on an "as available" or "on schedule" basis, taking data from ad revenue partners, CRM systems, and core analytics databases and importing them into BigQuery. From there, Zype is able to build a series of dashboards in BIME to query this data.
By using Google BigQuery (and planned use of Google BigTable), Zype now has up-to-date analytics and reports available to key stakeholders both inside and outside of the company. In just a few weeks, Zype was able to solve a key customer pain point – access to detailed video performance metrics without having to divert resources or outsource a complex analytics development project.
"Zype is a great example of how today's modern companies are leveraging cloud BI not only as an internal gauge of their business, but as a crucial value-add service to their end-customers," said Jim Lysinger, Vice President, North America at BIME.
Using the combined BIME and BigQuery solution, Zype also has built several customer-facing dashboards. These dashboards fulfill customers' key data requirements, such as global video revenue, engagement and performance across web, mobile, and set top devices. Business executives and customers are also able to design and execute reports without having to use precious product development resources.