Zoho CRM Zia, AI-powered sales assistant, SalesSignals Platform and Blueprint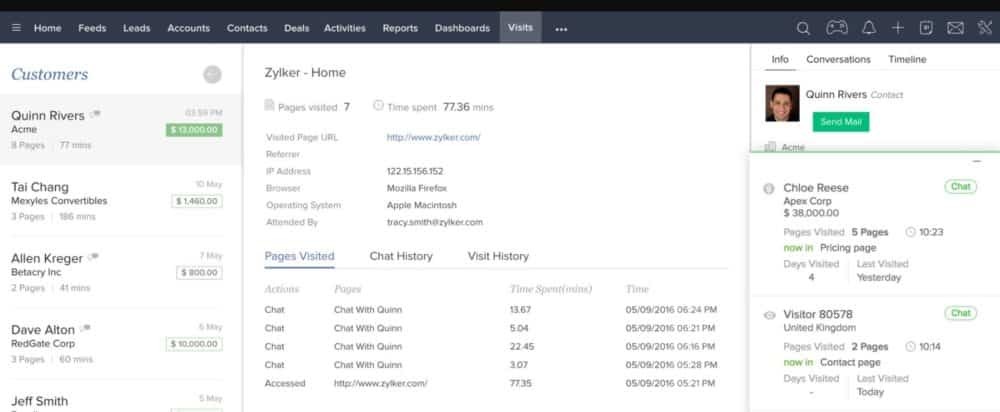 Zoho CRM Zia is Zoho CRM intelligent sales assistant, powered by AI, that detects anomalies, suggests workflows and macros, and advises salespeople the best time to contact a prospect. Zoho Blueprint, is a Zoho CRM tool for building and implementing business processes. Anomaly detection: Zia analyzes the CRM usage of salespeople to identify sales patterns and predict where an anomaly may occur. This feature lets salespeople know when they're doing well, and when they're not. Macro/Workflow suggestions: Salespeople can automate tasks that they manually do every day by creating macros and workflows. Now, Zia notices the repetitive tasks for them and suggests macros and workflows, which they can create in a click.
Best time to call: Zia studies CRM data and customer interactions to let salespeople know the best time to contact a prospect. This feature saves them time and increases their chances of closing deals.
SalesSignals Platform: Signals keep salespeople informed in real-time about customer actions at various touchpoints like social media, satisfaction surveys, and support tickets, helping them act in time and make speedy sales. What's better? Signals can now be obtained from third-party applications. With this launch, SalesSignals platform will support ten out-of-the-box integrations - SurveyMonkey, Eventbrite, SMS Magic, DocuSign, and others. The platform can be extended to receive signals from any third-party application making CRM the central hub to capture all customer activity.
Scoring Rules: Salespeople can now configure rules for assigning scores to leads through various parameters. The CRM then prioritizes the leads based on their scores. This feature enables salespeople to focus on the most important lead first, and make faster conversions. This is ideal for businesses working with a large number of leads.
Blueprint: For larger organizations, making everyone follow the same sales process without constant monitoring is where the biggest challenge lies. Blueprint in Zoho CRM helps build and execute sales processes from within CRM. This ensures compliance from the entire team, making the process both systematic and repeatable.