Zoho Cloud Accounting Software for small business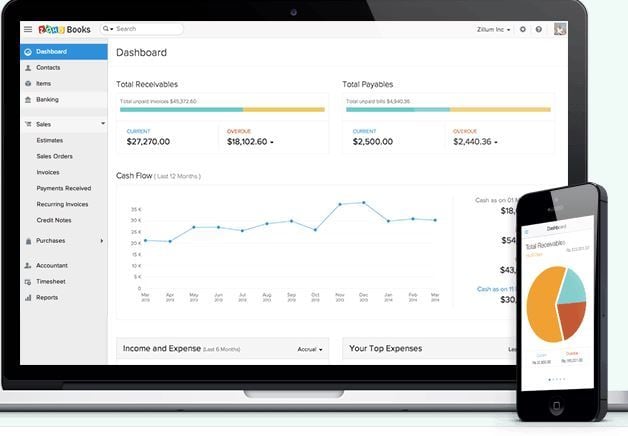 Zoho Cloud accounting software for small business : The new edition of Zoho Books offers an approach to accounting previously unavailable to small businesses in the UK. For the first time SMEs can link cloud based accounting software to CRM and invoicing. Sales teams can gain insight into their customer's payment history and credit status, and Finance can see the status of sales transactions in process.
The powerful accounting software includes additional functionality such as VAT returns and supports VAT MOSS, for businesses selling digital services. It can automatically make adjustments for VAT in different regions, eg for businesses billing clients in European countries.
"It's important for business owners to adhere to the tax laws in their country to avoid penalty and lose time on paperwork. In the UK, filing VAT returns quarterly (or monthly) is a herculean task and having to do it manually is downright painful." said Raj Sabhlok, president of Zoho Corp. "Our aim was to reduce the time business owners spend on paperwork and needless worry, so they can spend more time growing their business. No software in this price range offers this functionality."
"I've used Zoho Books to produce great looking invoices for my engineering activities," says Tim Netherwood, Consultant at Doro AB & Project Specialist at Sekel. "With the new UK VAT available, I've switched to Zoho Books for all my accounting needs and I'm amazed at how simple it is to use. I've been able to generate a perfect VAT return, balance my books and bank! I am so impressed by the ZOHO guys that I am looking at some of their other business applications as well"
Zoho Books provides a one stop solution for business owners to access critical information about their business finance on the cloud. With key features like inventory, user level permissions, powerful integration with Zoho apps and more, it is slowly emerging as the backbone of the modern day back office providing relevant information to business owners for making key business decisions. Here are few of the highlights of Zoho Books for the small businesses in UK.
Zoho Books is designed keeping small business owners in mind. Right from recording basic bookkeeping aspects of a business including invoices, estimates, purchase orders to managing the complex inventory, reports and automating business processes, Zoho Books covers it all. It allows customers to accept online payments and reduces the process of reconciliation by automatically importing bank statements using Bank Feeds and categorise them using Bank Rules.
Business owners have the freedom to work from anywhere, while still remain connected to their business finances through their mobile apps. Zoho Books is the only accounting software in the market that is now available on all major mobile platforms - iOS, Android and Windows. The recently launched iPad app has become a handy tool for business owners to send invoices, track expenses and log time on the go. Users can also invite their clients to view the transactions, make online payments and communicate real-time using the Client Portal.
Zoho Books is tightly integrated with Zoho CRM and Zoho Subscriptions. These app break the silos between various business functions by seamlessly syncing information with each other and reducing the re-keying of data. Zoho Books is built on the robust REST API which are open to the world. Integration with third party applications like PayPal, Authorize.Net and Worldpay allow business owners to accept online payments quickly.
A VAT registered business in UK using Zoho Books has less to worry now as the accounting software will automatically apply the relevant tax rates on the transactions created. Be it the Standard rate or the Zero rate, appropriate tax handling is now possible with Zoho Books. It also takes care of the Acquisition VAT and reverse charge in case of goods or services imported from within EU countries. Business owners can generate VAT reports in Zoho Books instantly and use it to file their return with HMRC. Zoho Books also supports the new EU place of supply rules applicable for businesses selling digital services.