Review
Zettair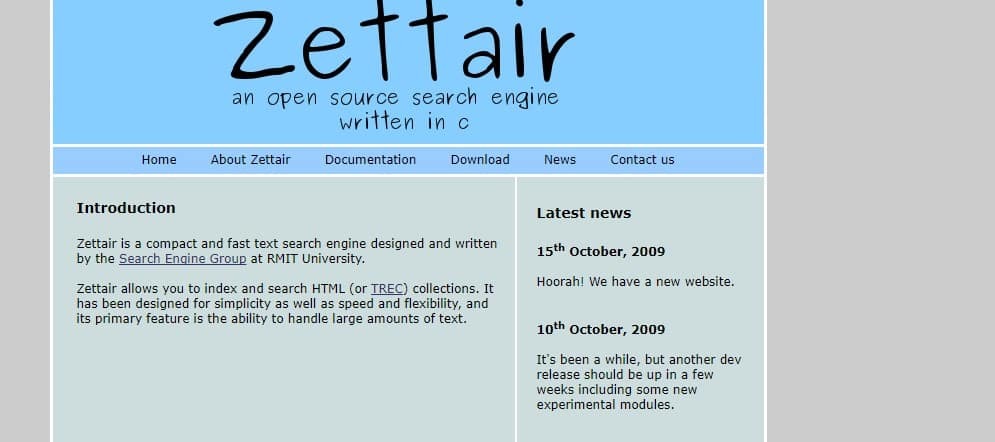 Overview
Zettair is a compact and fast text search engine designed and written by the Search Engine Group at RMIT University
Search Engine Server Free
• Speed and scalability
• Boolean, ranked and phrase querying
• Modular C API for inclusion in other projects
• Native support for TREC experiments
Small (<50 employees), Medium (50 to 1000 Enterprise (>1001 employees)
What is best?
• Speed and scalability
• Boolean, ranked and phrase querying
• Modular C API for inclusion in other projects
• Native support for TREC experiments
Zettair is a compact and fast text search engine designed and written by the Search Engine Group at RMIT University. It was once known as Lucy. Zettair allows users to index and search HTML (or TREC) collections. It has been designed for simplicity as well as speed and flexibility, and its primary feature is the ability to handle large amounts of text. It has a single executable file, which performs both indexing and searching. When an index doesn't exist, Zettair will create one for the users based on the parameters the users provide, and when users do have an index, Zettair will use that index to search the indexed data. It has a simple command-line interface, and supports ranked, simple (non-nested) Boolean, and phrase queries.
Zettair's HTML indexer will work over text data as well (things that look like markup may be ignored). Users has to simply index their text data as HTML and search as normal. The users can use common filters such as Antiword and ps2ascii to convert Microsoft Word documents, PostScript and PDF files into text data suitable for searching with Zettair. Zettair was written in C and is licensed under a BSD-style license. Zettair contains Search Engine Group research contributions primarily from Justin Zobel, Hugh Williams, Falk Scholer, John Yiannis, Steffen Heinz, Nicholas Lester, William Webber, Alistair Moffat and Anh Vo. Zettair contains source code contributions from Nicholas Lester, Steven Garcia, Hugh Williams, Justin Zobel, Falk Scholer, Dirk Bahle, John Yiannis, Bodo von Billerbeck, and William Webber.