Review
ZetaBoards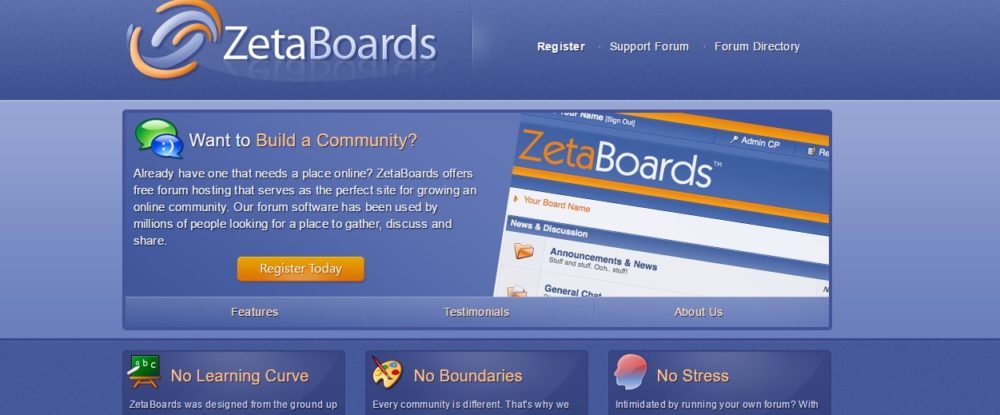 Overview
ZetaBoards was designed from the ground up to offer a simple platform for building your free forum.
Online Community Management Software
•Forum Builder
•Advanced security
•Extensive BBcode
•Support for custom domains
•Forum customization
Contact for pricing information.
Small (<50 employees), Medium (50 to 1000 Enterprise (>1001 employees)
What is best?
•Forum Builder
•Advanced security
•Extensive BBcode
•Support for custom domains
•Forum customization
ZetaBoards is a free software designed for hosting and building online communities with no hidden charges or forum limitations. The software was built from scratch to offer a simple platform for building a free forum.ZetaBoards comes loaded with powerful features, to get things started as soon as installation is complete.
Features that will allow unlimited modifications and changes, to truly fit a user's preferences and specifications.ZetaBoards software requires no intensive training before it can be utilized to produce an outstanding result, no need to worry about the software's documentation or manual first, as it is very easy to work with.
Customization of forums using the ZetaBoards is relatively easy to execute. Customizing the look, feel and features that will benefit any forum hoping to thrive in a pool of forums online today.Unlike other free platforms, ZetaBoards provides unlimited access to bandwidth, topics that should be posted, the number of members allowed to register per user, etc.
ZetaBoards is said to be stress-free when brought in comparison with other known free forum software.It is less stressful compared to other free services out there. The software is simple and very easy to the eyes. And should a user ever run into unforeseeable errors, ZetaBoards has a team of well-learned individuals always on ground to render assistance; another free service this company offers to her users.
ZetaBoard incorporates an integrated automatic spam prevention, a feature that is called into action every time spam is detected. Without bothering members, it will automatically delete spam posts.
With ZetaBoards, advanced account security. The software will help to protect and safeguard members with the most secure possible way.