Review
ZAP Business Intelligence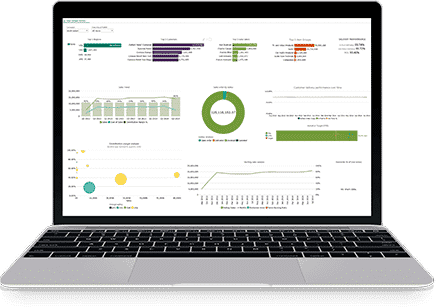 Overview
ZAP delivers data automation, data modeling, and data visualization solutions that support governed and trusted data outputs from a central point in the business, allowing organizations to better manage their business through enhanced insight whether On-Premise, Cloud or even Hybrid.
Business Intelligence Software
•Data Automation
•Data Modeling
•ZAP Data Visualizations
•Sage Data Management and Modeling solution to all of their Sage X3 customers.
•Powerful apps for Microsoft Dynamics AX, CRM and NAV users
Small (<50 employees), Medium (50 to 1000 Enterprise (>1001 employees)
ZAP Business Intelligence
What is best?
•Data Automation
•Data Modeling
•ZAP Data Visualizations
What are the benefits?
• Simplifies data modelling, reporting and analytics.
• Supports a wide range of data sources.
• Very friendly for non-technical users.
• User-friendly interface
• Instantly profiles data according to types, key elements and relationships
ZAP Business Intelligence manages organizations by integrating, modeling and analyzing data using just one tool to view everything. Managing business outcomes and insights has never been effective while still making sure that they are with governed and trusted outputs from a central point within the organization.
With Data Automation from ZAP Business Intelligence, integrating multiple data from different sources can be used to generate and support complex analytical scenarios can be done in an easy way. This promotes better understanding and utilization on information that are necessary in order to achieve better output.
With ZAP Business Intelligence's out of the box data models, data modeling solution takes the integrated output from the automation process and allows the creation of repeatable and managed data models that are consumed by the business in a trusted manner knowing that the company's data is consistent and governed. ZAP Business Intelligence includes pre-packaged analytics and visualizations that provide business intelligence solution for organizations with systematic outcomes and reports for the business.
Ensure everybody in the company is delegated with tasks and that they are being worked on effectively by receiving reports as well as all information that matters from day one. Users of ZAP can also take advantage of Sage as they have started working together and bring more value to Sage X3 ERP solution. On the other hand, ZAP Business Intelligence applications made for Microsoft Dynamics AX, CRM and NAV are now made more powerful which enables users to implement and integrate rapidly, with reduced risk and at a fraction of the cost required to build traditional BI solutions.
You may like to read: Free and Top Self Service Analytics Software and How to Select the Best Self Service Analytics Software for Your Business