Review
XLReporting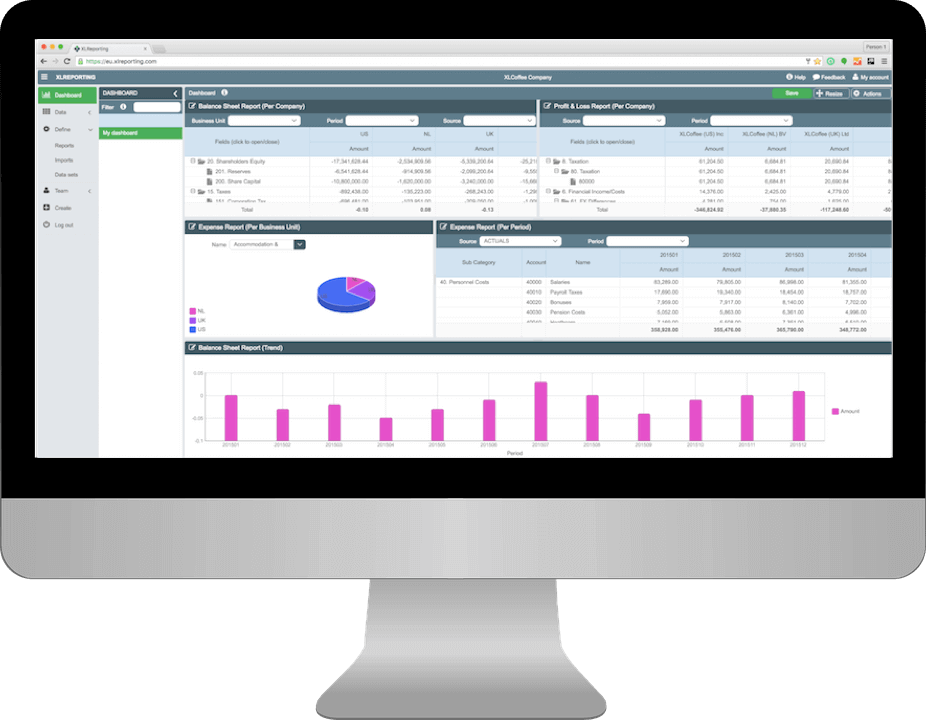 Overview
XLReporting is web-based, integrated with Excel, and easy to configure. Fully hosted, so no setup.
Business Intelligence Software
•Define your structure
•Import your data
•Report and analyze
•Personal US$ 99 per month
•Team US$ 149 per month
•Business from US$ 399 per month
Small (<50 employees), Medium (50 to 1000 Enterprise (>1001 employees)
https://www.xlreporting.com/
What is best?
• Pre-defined structure, demo data, examples, and a suite of report
• Define objects with just a few clicks, and change them whenever needed.
• Use our default templates, or create your own structure from scratch.
• Filter, transform, consolidate, and validate data, apply lookups and calculations, and use scripts
What are the benefits?
• Import data from your accounting system using our standard connectors, or create your own
• Import data from multiple sources into one single database, and tie the information together
• Create reports, pivot tables, charts, sparklines, KPI's, hierarchies, and interactive dashboards
• Streamline your financial reporting, consolidation, and budgeting in one single system
• Protect your data with user roles and permissions
• Do less manual work
XLReporting simplifies reporting and consolidation. It focuses more on analyzing the data and has all the features necessary for statistical representation and analysis of data. It can import data from multiple sources and merge it all under one database.
Pivot tables, charts and interactive dashboards can be created through this software and the best part is that it is very easy to configure. Just follow 3 simple steps and the data will be configured and analyzed for usage. Define the structure and gathers up all the raw data that defines the business such as the companies, business units and currency rate exchanges.
It also creates lists and charts to collect information under one forum. Import data, after the collection, it imports the data to be ready for analysis and reporting. It also gives a link to Dropbox, One Drive, Google Drive etc. it can connect to any other system through API's. make the report and analyze, once the data is imported, it creates powerful web-based pivot reports, charts, models with just a few simple steps. Reports can have multiple predefined layouts and multiple filters, which users can change at runtime.
The simple configuration takes only up to an hour and if one is going through the exaggerated procedure of importing the data and creating reports it will take as long as 24 hours maximum. The best part is the data can always be edited even if there is a slight mistake or change in it. it can be exported to excel workbooks.XLReporting is very cost efficient and requires only $99 per month for standard package and $149 for enterprise package.
You may like to read: How to Select the Best Business Intelligence Software for Your Business and Top Excel based Business Intelligence Software
XLReporting ScreenShots