Review
WP Engine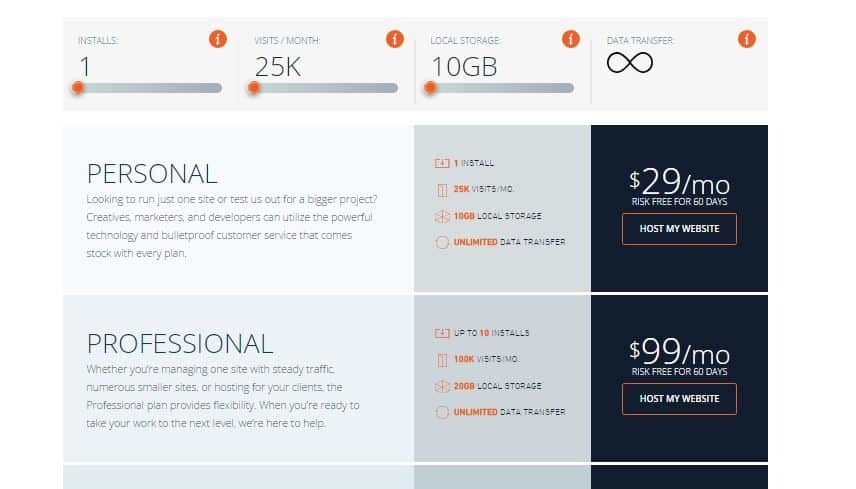 Overview
WP Engine powers amazing digital experiences on WordPress. We deliver the performance, reliability and security required by the biggest brands and agencies in the world, while remaining affordable and intuitive for smaller businesses and individuals.
•Real time Security threat Detection
•Highly Scalable Architecture
•24/7 Support
•Up to 1TB Local Storage
•Unlimited Data Transfer
•PERSONAL $29/mo
•PROFESSIONAL $99/mo
•BUSINESS $249/mo
Small (<50 employees), Medium (50 to 1000 Enterprise (>1001 employees)
What is best?
•Real time Security threat Detection
•Highly Scalable Architecture
•24/7 Support
•Up to 1TB Local Storage
WP Engine provides best-in-class customer service on top of innovation-driven technology. It provides the ability to thrive amid high-traffic demands, suddenly changing markets, and unforeseen conditions. Create robust and reliable websites with direct SFTP, Git version control, built-in CDN, enhanced security, and one-click staging and restore.
WP Engine provides faster technology when it comes to using a particular company's website. It runs four to six times faster with WP Engine's unique front-end technology than on another environment. Every WP Engine customer benefits from the same robust, enterprise-grade software technology stack. So whether the users have a personal account or a dedicated enterprise solution, they always get an efficient, scalable, secure WordPress experience.
WP Engine is specifically designed for scalable WordPress hosting, its proprietary front-end is built on thousands of carefully-designed rules that they continually audit and adjust for maximum performance. These rule sets determine how they serve content for fastest load times and which traffic WP Engine blocks for security reasons.
WP Engine caching mechanism also dramatically reduces server load. Instead of serving company's static content from the backend, which can be slow, WP Engine serve this content from its front-end system, which can handle high levels of concurrent traffic. WP Engine ensures that the user's site is running the most current version of WordPress. It automatically upgrades Company's installs whenever minor patches are released.
When a major update is released, WP Engine thoroughly tests it before recommending to its customers upgrade. Its proprietary, adaptable intrusion detection and prevention system dynamically detects and blocks malicious behavior such as JavaScript/SQL-injection attacks and even more sophisticated attacks such as XML-RPC attacks.