World's Largest Data Warehouse record -12.1 PB from SAP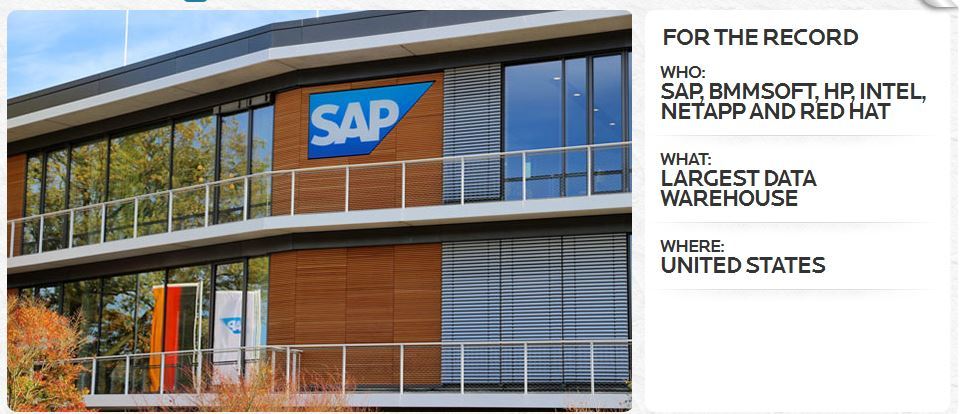 World's Largest Data Warehouse record -12.1 PB from SAP: SAP along with technology partners, from BMMsoft, HP, Intel, NetApp and Red Hat, has created the new world record for the world's largest data warehouse. This data warehouse contains 12.1 petabytes (12,100 terabytes) of raw data.This is done using the SAP HANA platform and SAP IQ software. This has been recognized by Guinness World Records, and is four times larger than the prior record. SAP made the announcement during a press conference held March 5 in Palo Alto, California."Setting a new world record with the combination of SAP HANA and SAP IQ was a 'moonshot' challenge I had laid out for our engineering team," said Dr. Vishal Sikka, member of the Executive Board of SAP AG, Products & Innovation.
"Our goal was to set new limits in bringing Big Data together with fast, ad hoc and scalable analytics. SAP has shown the ability of our platform to achieve such an incredible result, demonstrating a cost-effective and high-performance approach toward solving extreme problems in Big Data and analytics."
SAP HANA
SAP HANA is an implementation of in-memory database technology, consisting of a database, a server for storage, client software and extract/ transform/ load middleware, which allows for the processing of massive quantities of real-time data in the main memory of the server. Main memory databases are faster than disk optimized databases since the internal optimization algorithms are simpler and execute fewer CPU instructions. Data access in memory reduces the I/O reading activity when querying the data which provides faster performance than disk. The data access is more than a hundred thousand times faster than access from a hard disk, and a thousand times than access from a flash technology storage.
SAP HANA thus provides current insights almost immediately and opens up the possibilities for news ways of conducting business. SAP HANA integrates a number of SAP components including the SAP HANA database, SAP LT (Landscape Transformation) Replication Server, SAP HANA Direct Extractor Connection (DXC) and Sybase Replication technology. This is delivered as an optimized appliance. This preconfigured Appliance consists of in memory software bundled with hardware delivered from the hardware partner such as HP, IBM, CISCO, Fujitsu etc
HANA SPO was launched on 20 November 2010. In 2010 the biggest HANA hardware configuration available was 2TB of memory with 512GB per node. At SAPPHIRE 2012, SAP hardware partners presented a 16 node HANA system with 16TB Memory with 1TB per node. SAP showcased at SAPPHIRE 2012 a custom HANA system running 4000 cores with 100TB of Memory.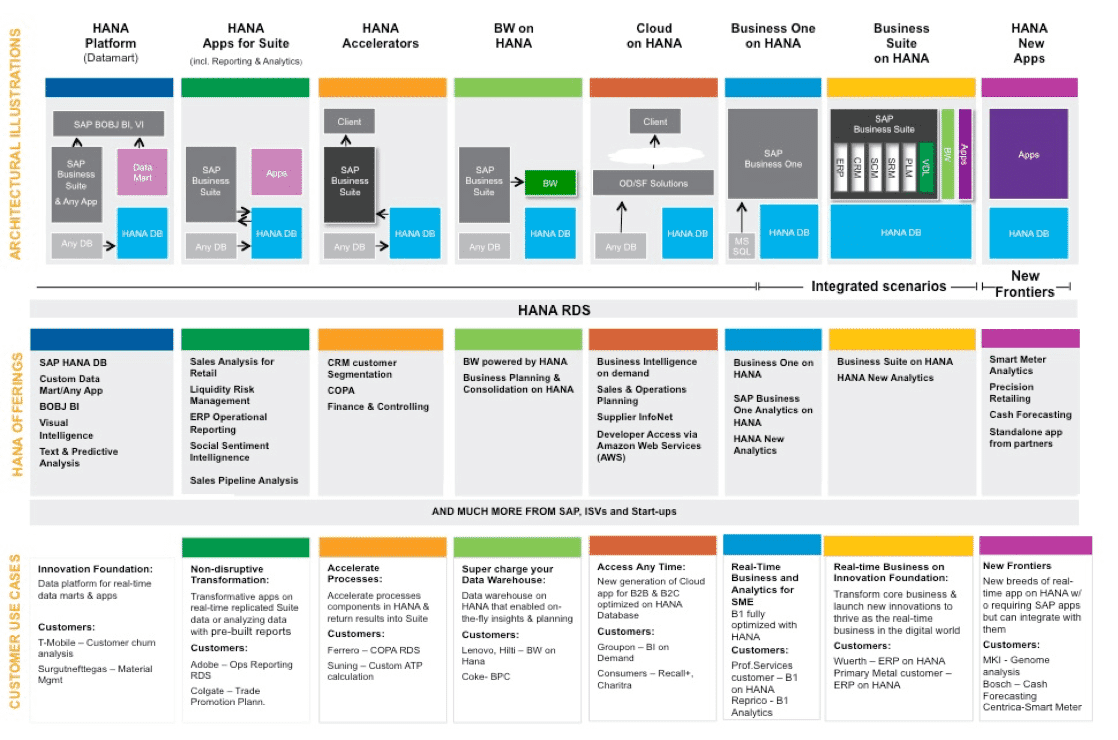 The memory products SAP have introduced prior to SAP HANA are APO livecache, TREX, SAP BI Accelerator, SAP Business Objects Explorer Accelerated and SAP Business Objects Accelerator.
World's Largest Data Warehouse record -12.1 PB from SAP
This new world record demonstrates the ability of SAP HANA and SAP IQ to efficiently handle extreme-scale enterprise data warehouse and Big Data analytics. SAP and its partners had previously set a world record for loading and indexing Big Data at 34.3 Terabytes per hour.
A team of engineers from SAP, BMMsoft, HP, Intel, NetApp and Red Hat, built the data warehouse using SAP HANA and SAP IQ 16, with BMMsoft Federated EDMT running on HP DL580 servers using Intel Xeon E7-4870 processors under Red Hat Enterprise Linux 6 and NetApp FAS6290 and E5460 storage. The development and testing of the 12.1PB data warehouse was conducted by the team at the SAP/Intel Petascale lab in Santa Clara, California, and audited by InfoSizing, an independent Transaction Processing Council certified auditor.