Review
Wizdee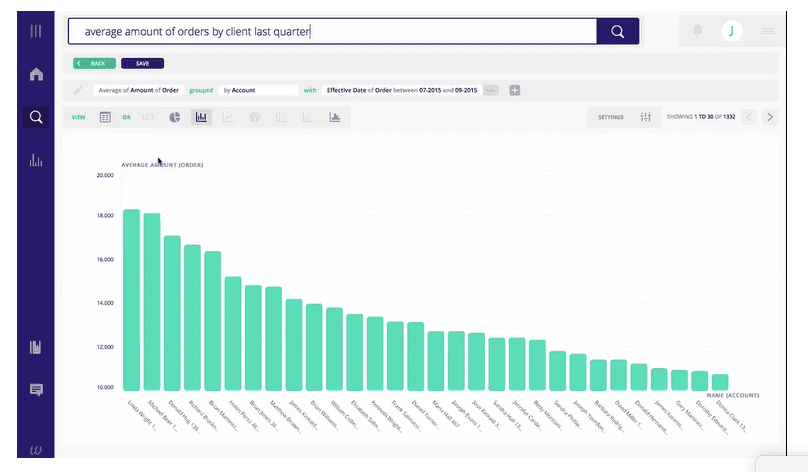 Overview
Wizdee lets to explore data from multiple sources using everyday language. Just enter your queries in a search box to analyze your business data and get instant visual answers
Business Intelligence Software
•Dashboard
•Data analysis
•Data visualization
•Performance metrics
•Predictive analytics
•Profitability analysis
•Trend / problem indicators
•Security at every level
•Natural language processing and AI
•Machine learning
Small (<50 employees), Medium (50 to 1000 employees), Enterprise (>1001 employees)
What is best?
•Dashboard
•Data analysis
•Data visualization
•Performance metrics
•Predictive analytics
•Profitability analysis
•Trend / problem indicators
•Security at every level
•Natural language processing and AI
•Visual data
What are the benefits?
• Explore data from multiple sources
• Analyze your business data
• Get instant visual answers
• Create powerful and well prepared workforces
• Give instant and updated information anywhere, anytime
Wizdee lets to explore data from multiple sources using everyday language. Just enter your queries in a search box to analyze your business data and get instant visual answers.Wizdee allows users to freely explore data by themselves just by dictating or typing queries in a search box using everyday language.The search engine interprets your queries, analyses information from your data assets and returns answers in seconds.
Wizdee offers a disruptive business intelligence platform that allows business owners to make business queries in natural language. Users can analyze business data just by speaking or typing queries using everyday language. The software defines queries using Natural Language Processing and AI to analyze data and gives answers.
Dashboards present various visualized results that users can alter. Users can monitor products, assess risk, customer behavior, production, shipping and profits. Users can access, create or edit new dashboards on multiple devices. Additionally, the solution enables many levels of access for users and groups to have security at each level.
Users can use text or voice search to get instant answers in any device. The platform is scalable and can manage one data source to multiple assets. Ultimately the platform identifies patterns, analyzes data and unveils hidden opportunities.
Wizdee automatically chooses and presents the best visualization.Wizdee connects and allows access all customers' data in one place and create a single source of information from: Salesforce CRM, Salesforce Wave, CSV, Oracle, MySQL, PostgreSQL, SQL Server, JIRA, Bitbucket, SAP, Excel, Splunk, etc.Customers can create powerful and well prepared workforces by letting users explore data by themselves and giving instant and updated information. Wizdee adjust to organizations' needs and returns immediate answers. The customers can define levels of access to users and groups.
You may like to read: Open Source, Free and Top Dashboard Software and How to Select the Best Dashboard Software for Your Business