Review
Wit.ai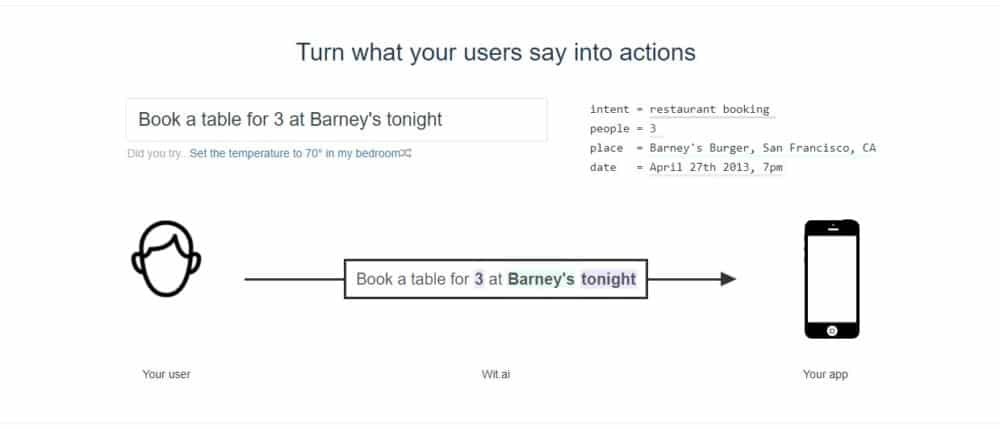 Overview
Wit.ai makes it easy for developers to build applications and devices that you can talk or text to. Wit.ai learns human language from every interaction, and leverages the community: what's learned is shared across developers.
• Bots
• Mobile Apps
• Home automation
• Wearable devices
• Robots
Small (<50 employees), Medium (50 to 1000 Enterprise (>1001 employees)
What is best?
• Bots
• Mobile Apps
• Home automation
• Wearable devices
• Robots
Wit.ai is a platform that enables developers build applications that users can talk to or text to. Wit.ai uses an extensible natural language platform that empowers developers to build those applications.
Wit.ai is able to learn human language and interaction and leverages the community. Wit.ai enables developers create text or voice based bots. Through Wit.ai, humans can now easily chat with bots on any messaging platform they prefer. Hands-free mobiles are now taking over the normal mobile phones and preferred mostly by humans. This is because humans can have the mobile experience while doing other activities such as cooking, working out and driving.
This is made possible by Wit.ai which allows developers to easily build a voice interface for any app in the mobile. No hands will be required, only your voice. Wit.ai facilitates home automation. Through development of natural language, humans can easily control any computerized thing in the house. Through Wit.ai, the home set temperature can be adjusted once the occupants say that the home temperature is a bit high or low.
Also Wit.ai can help when one cannot reach the remote while sitting on their couch. Wit.ai is important while developing wearable devices. Through Wit.ai, makers of the wearable devices that come with tiny screens are able to build their own must have voice interface.
Developers can also contribute in making the wearable devices by also building their own preferred must have voice interface. In the digital world, robots are used in many industries such as the automobile industries. This means that they interact more with humans. Wit.ai not only facilitates the understanding humans by robots but also enable humans discover the unforeseen needs of humans.