Review
Wise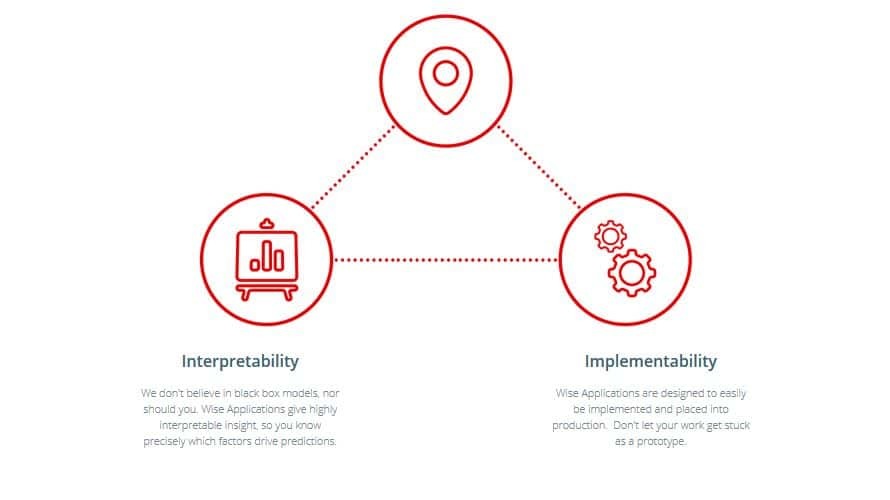 Overview
Wise.io provides predictive intelligence to help your agents be more productive and focus where customers need them most.
Predictive Lead Scoring Software
•Allow customer acquisition and retention
•Foster revenue growth
•Enable smart routing
•Generate recommended responses
•Create automated replies
Small (<50 employees), Medium (50 to 1000 employees), Enterprise (>1001 employees)
What is best?
•Allow customer acquisition and retention
•Foster revenue growth
•Enable smart routing
•Generate recommended responses
What are the benefits?
• High performance machine learning
• Massive value in data and crunching
• Sophisticated ML systems
• Better customer experience
• Vastly derived quantities of industrial data
• Well redsourced platform
Wise.io is a predictive intelligence tool. It allow users to keep track of customers and to know them deeply. The software allow users to manage customers and identify their needs. It helps agents to be responsive towards customers. Agents can be more productive and focused towards what is needed by customers the most. The software maintains data regarding customers' behaviors. The software helps agents to deflect tickets. The agents can lower their response time. Agents are more responsive to customers' problems and issues using this particular software. Issues of custo0mers are identified instantly. These issues are addressed by agents in minimal time period. The software enables triage free routing. Under this agents or groups of individuals are identified who might receive new tickets. The software provides templates to design response towards issues. Agents can make use of these templates to design their best response towards problems and issues of customers. The software enables users to manage responses and issues of customers effectively. Customer problems are addressed by the agents in the most perfect way. The software delivers automated replies towards issues of customers. The software is fast, quick and efficient in delivering responses to customers. The software empowers users to manage their customers in a better way. Users are identified with the best responses. Recommendation for responses to customer problems are outlined by the software. Revenue growth is fostered by matching customers with personalized issues. Customers are attracted and retained by the software. Marketing activities are directed towards acquisition of customers and high risk customers are responded immediately to stop them from leaving.