Why Small Businesses Need Business Intelligence Software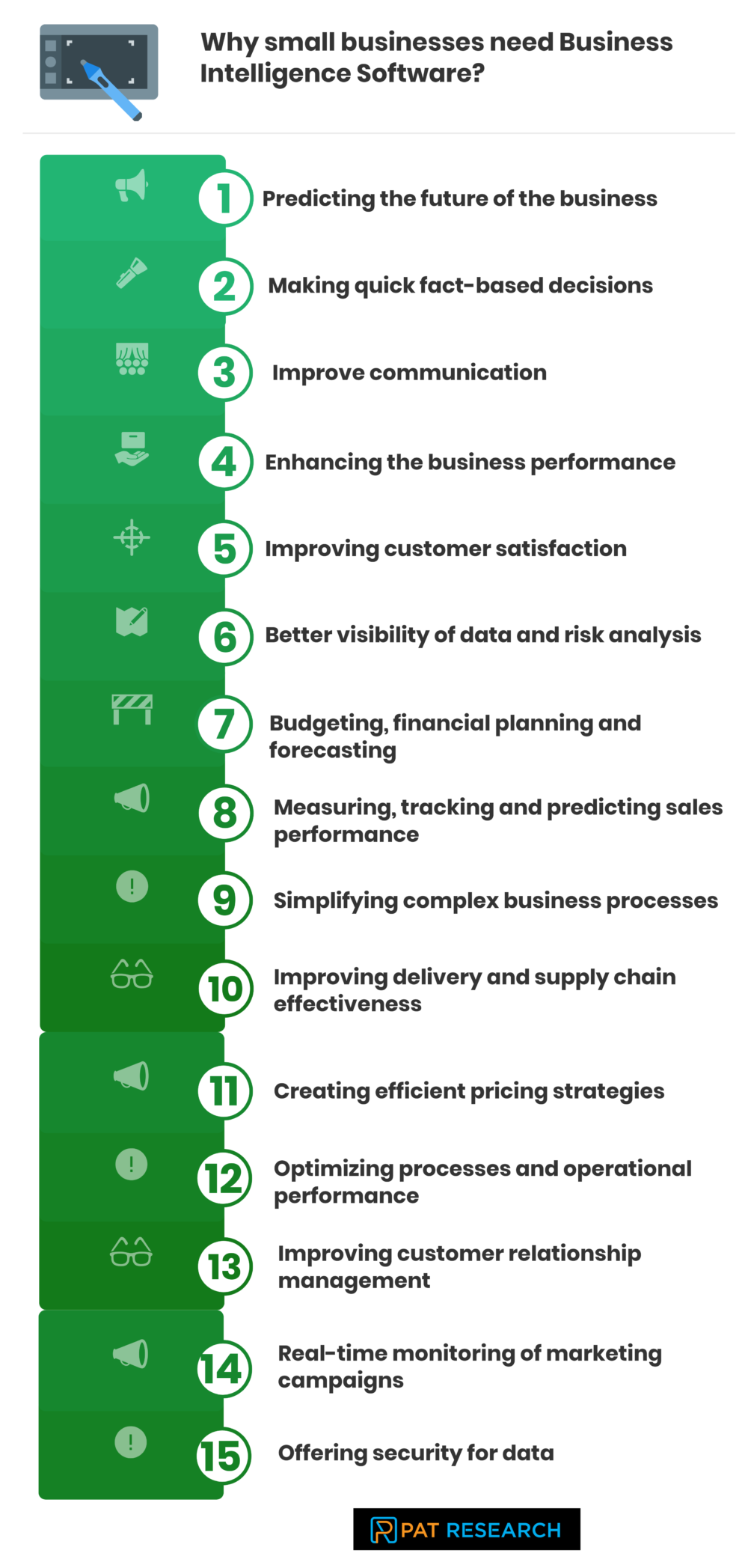 Business Intelligence is a combination of approaches for assembling, analyzing and storing data. It makes the process of generating, measuring and analyzing a significant amount of data easy, fast and accurate. Once the data is collected, organized and analyzed, it gives the crucial insight into the consumers of the business and its performance. This information is relevant to the business regardless of its size in making timely fact-based decisions.
It is vital for small businesses always to find a way of reducing operational risks, increasing revenue, lowering cost, and delivering better business outcomes. Business intelligence solutions have helped to achieve drastic cuts in the price and size of business analytics solutions.
With increasing demands from customers and stakeholders, businesses need to be more responsive. Today, small businesses have access to software solutions that are affordable and reliable, and which aid the collection, reporting, and analysis of data to determine the state of the business. Business intelligence tools give businesses a 360-degree view of customers' activities enabling them to track the profitability of each individual customer and their navigation path on their website.
You may like to read: Business Intelligence Tools and the Types of Business Intelligence Software
When small businesses are searching for ideal Business intelligence software to buy and adopt, there are several factors that they need to consider. It is essential to outline specific business requirements, users of the solution, data analytics capability, and how often the processed data will be needed. It is essential to also consider whether it will be able to accommodate the future needs and changes in the business. They should not also forget the fact that the software ought to be user-friendly and one that can be implemented without interfering with normal business operations.
Another vital factor to consider is the choice of the Business Intelligence solution provider. The management should ensure that the provider has a highly skilled support team that is ready to assist in issues or new developments at short notice. The provider must also be flexible to offer the solution both as web-based software and on-premise solution depending on the dynamic needs of the business.
You may like to read: Top Agile Business Intelligence Best Practices
Reasons why small businesses need Business Intelligence Software?
Small businesses need Business Intelligence (BI) software to make informed decisions and stay competitive. BI software provides a centralized platform for data integration, analysis, and visualization, helping small businesses gain valuable insights and make data-driven decisions. This can lead to improved decision making, increased efficiency, better customer understanding, improved financial performance, and enhanced competitiveness. BI software can help small businesses monitor key metrics, identify trends and patterns, and make informed decisions to drive growth and success. In today's highly competitive business environment, having access to data-driven insights is crucial for small businesses to stay ahead and succeed in the long term.
A while back, only big corporations could afford to implement Business Intelligence solutions. However, advancements in technology have enabled even small businesses to take full advantage of BI solutions. Below are the various ways that small businesses can benefit from the use of Business Intelligence solutions.
Predicting the future of the business: Business Intelligence solution offers small businesses the ability to forecast as it can help in the identification of patterns and trends. Processed historical data can help small businesses to position themselves to cater for the future demands of their customers with insights obtained from business patterns, trends, and behavior.
Making quick fact-based decisions: Better analytics offered by Business Intelligence software enables small businesses to make quick fact-based decisions regarding sales efforts, manufacturing processes and staff performance. This is made possible by insights derived from collected data, which is analyzed and transformed into charts, graphs reports, etc. This can reduce the amount of time that is spent on manual data entry, performing calculations and reports generation.
You may like to read: Top Best Practices for Business Intelligence Software Implementation
Improve communication: Business Intelligence software helps in sharing sensitive data and maintaining communication 24/7. BI solutions ensure that confidential business information is secure and sound even if a user's computer is stolen or lost. Such systems also allow users to access data anytime and from wherever, and thus every user can be in constant knowledge of current status of the business. This can increase cooperation, communication and collaboration among all stakeholders, which can help to accelerate business growth.
Enhancing the business performance: Business performance has a huge say in the profitability of a business. A Business Intelligence solution enables small businesses to obtain accurate insightful data into industry trends and helps in spotting marketing opportunities that otherwise could have been missed. BI tools help in monitoring the tasks, output, and overall performance of employees based on predefined key performance indicators. This can help to identify processes and areas that need streamlining, making operations more efficient and thus improve business performance.
Improving customer satisfaction: BI software can make it easy to learn what customers need and want from the business. This information can help the business redesign its processes and key strategies to cater for the needs of both existing and prospective customers. This can improve customer satisfaction, which could then translate into increased sales and profits.
Better visibility of data and risk analysis: Business Intelligence software requires no programming or coding to access data. Data is readily available whenever and wherever needed. In addition, data is accurately organized and easily accessible. Readily available data can help the management of small businesses to have a quick understanding of risks involved in the day to day operations of the business. This can help businesses to make smarter decisions thereby reducing costly mistakes.
Budgeting, financial planning and forecasting: Business Intelligence solutions help to derive information that can be critical in maintaining a healthy cash flow for a business. It has a budgeting tool that assists in the automatic adjustment of budgets on an ongoing basis to keep the bottom-line at an acceptable level and to monitor expenditure.
You may like to read: Open Source, Free and Top Dashboard Software
Measuring, tracking and predicting sales performance: Business Intelligence solutions help small businesses increase their market share. Through monitoring of products, trends and customer feedback, it is possible to estimate competitors' strengths and identify the areas to improve on while targeting to increase market share. Business Intelligence tools can also give insights into the cost of acquiring new customers and the relationship between such costs and sales performance.
Simplifying complex business processes: Business Intelligence tools can help businesses in sorting out valuable information from general data and output reports that can give ideas on how to streamline complex business processes. The software can automate some of the business operations while enabling integration with existing systems. This can create time for both the management and staff to focus on more demanding business processes.
Improving delivery and supply chain effectiveness: Increased demand for business products and services implies that an increasing number of customers require to be served, and thus there is sustained pressure on the supply chain. Business Intelligence software provides insights on how business can manage and respond to a high number of customer orders, requests and queries. It can analyze customer data in a certain locality to uncover external factors that may influence customer behaviors in that area, and help businesses to better attend to them.
Creating efficient pricing strategies: Business Intelligence software helps in data segmentation which assists in having efficient pricing strategies. The information provided helps the small business to have a better understanding of various factors affecting prices, such as marketing campaigns, location, season, and so on. By analyzing market trends and patterns, small businesses can lead in the pricing games.
Optimizing processes and operational performance: Business Intelligence tools help the small businesses gain insight into the areas and processes that are ineffective and inefficient. This could be brought about by bad procurement practices, poor inventory management, non-delivering marketing strategies, etc. Improving performance on such areas can result in increased opportunities for growth.
You may like to read: Top Benefits of Business Intelligence Software
Improving customer relationship management: Business Intelligence solution helps the small business collect data from the customers regarding the products they use, where they shop, the services they are interested in, and their service/product challenges. With this crucial information, the business can understand its customers better and improve customer service by offering personalized experiences. BI tools enable the management to identify which areas require immediate attention to offer better customer service.
Real-time monitoring of marketing campaigns: Business Intelligence solutions help small business owners to track revenue growth, profitability, customer satisfaction and sales in real-time. For example, one does not have to wait for reports at the end of marketing campaigns to ascertain whether a campaign or a product performed as per expectation. It is possible to view in real time how campaigns are progressing and make informed decisions to rectify a potential profit-decreasing scenario.
Offering security for data: Malware attacks and data breach are some of the most common online threats faced by small businesses. Business Intelligence solutions have advanced security and authentication protocols, which are designed to protect the business from malicious attacks and hackers.
You may like to read: Cloud BI – SaaS BI– OnDemand BI Top Business Intelligence Software
Conclusion
All businesses, large or small, need Business Intelligence solutions to analyze all aspects of the business, from customer relations to budgeting. However, they need to do enough research to ensure they implement only the right BI software – one that suits the needs of the business. The right BI solution can ensure that the business enjoys the full benefits of the system leading to improved business growth.
There are a variety of BI software solutions that are not overly expensive for small businesses, and which are easy to use without the need for further programming. With advancements in technology, small businesses need to take advantage of technologies that make it easy to collect, monitor, and analyze data, aiming at increasing business revenue.
What is Business Intelligence Software for Small Business?

Small Businesses have access to software solutions that are affordable and reliable, and which aid the collection, reporting, and analysis of data to determine the state of the business. Business intelligence tools give businesses a 360-degree view of customers' activities enabling them to track the profitability of each individual customer and their navigation path on their website.

Why Small Business need Business Intelligence Software?

Small Business need Business Intelligence for predicting the future of the business, making quick fact-based decisions, improve communication, enhancing the business performance, improving customer satisfaction, better visibility of data and risk analysis, budgeting, financial planning and forecasting and many more.