How to Select the Best Mind Mapping Software for Your Business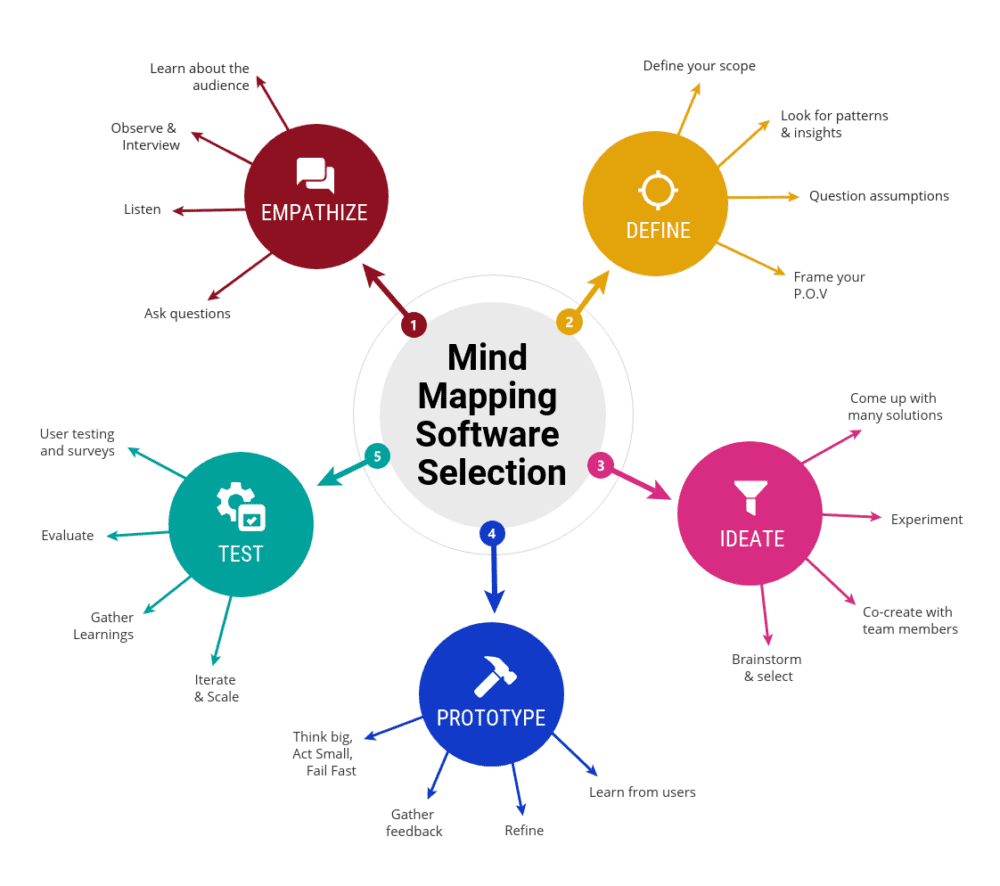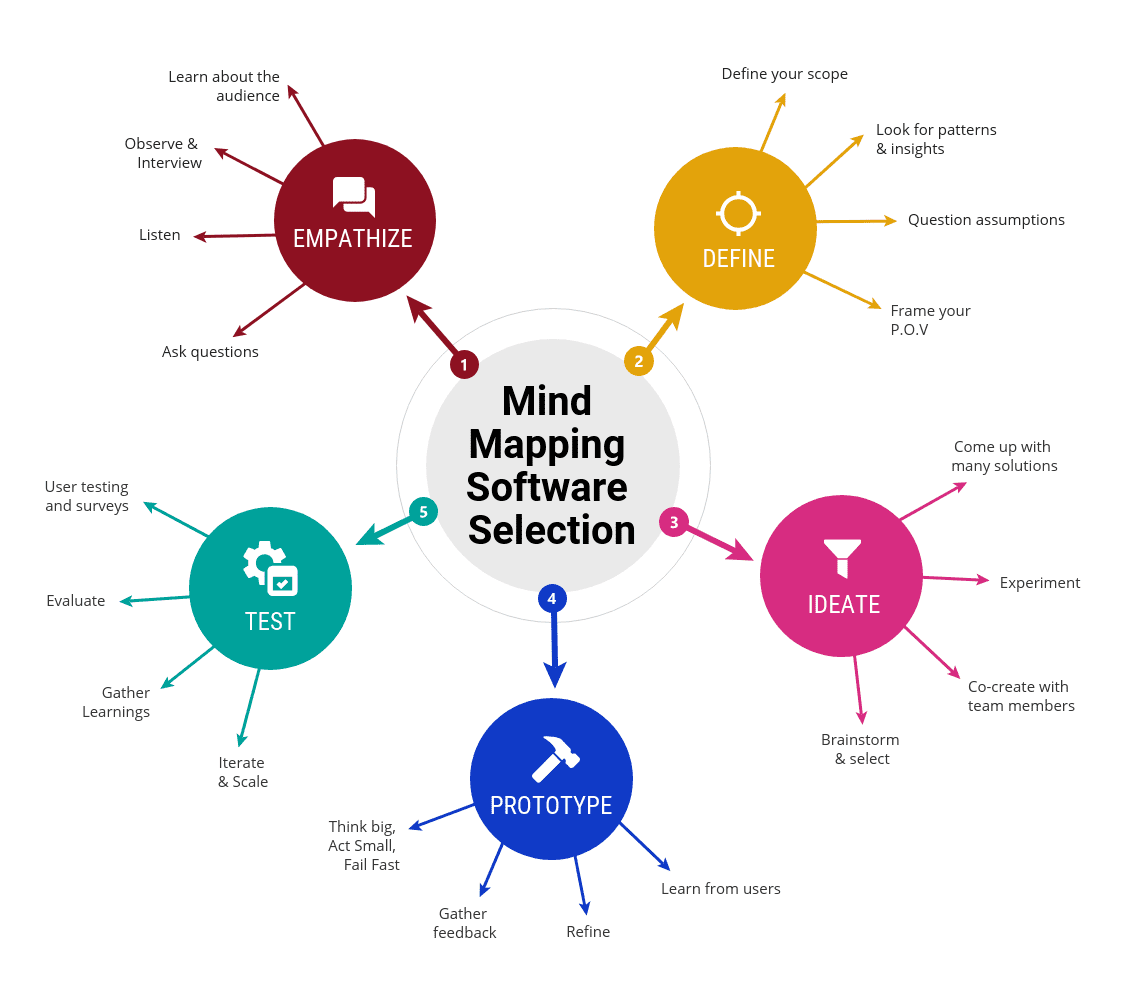 Mind Mapping Software provides a series of techniques and the core elements required to draw a mind map. A mind map is a visual representation of theories, ideas and concept. These maps help people grasp knowledge and comprehend ideas from their counterparts easily. Mind Mapping Software are computer tools that help to organize your thoughts and also enable you visualize them in executable steps.
If you can relate to getting lost in a host of ideas or half-baked thoughts and ideologies during a brainstorming session, then you might need to consider getting a Mind mapping software. For companies that generate a lot of ideas that have to go through multiple departments, a mind mapping software is a necessary computer tool that will help to improve inter departmental understanding. A good mind mapping tool not only allows you create multiple maps and charts to drive decision making, it also allows you to identify content related to those ideas, thus influencing decisions in the firm.
This tool can be useful in various instances such as forecasting, planning an office event, outlining the steps for a hiring interview, charting product sales, marketing and development.
A good mind mapping software is built such that it can produce an ordered mind map from the most complex of ideas during a brainstorming session. Besides being able to provide visual relationships between concepts and information, these computer tools also help solve problems, map out resources, make decisions and uncover new ideas in different ways.
Companies need to exploit the creativity this software provides as it works in real time and it's the perfect tool for long distance brainstorming. A Mind Mapping Software is built with a presentation function that allows you to display complex ideas in a way that is great for strategy development. This tool is becoming more and more relevant on a daily basis as its beginning to feature several innovations and improvements.
You may like to read: Top Free & Premium Mind Mapping Software
What are the Features of Mind Mapping Software?

There are several features that highlight the importance of the mind mapping software to various organizations, these features are consistently being improved upon making this software indispensable. Keeping your needs front and center, here is a list of features to look out for, they are project planning, idea collection, Concept Organization, brainstorming, presentations, collaboration, template variety, mobile support, offline capabilities, Fluidity, import and export options.
KPI's and Metrics: This feature helps you to monitor key company activities and how they relate to company goals in a manner that is clear and actionable.
Collaboration: This is a very important feature for companies that have long distance brainstorming sessions as this feature helps to create mind maps with other colleagues no matter the distance.
Template Variety: with various templates, it is easier when a mind map is created around common organizational processes; use of templates during brainstorming saves you a lot of time.
Fluidity: Writing tools are easiest tools used for create mind maps, thus, the fluidity feature is of utmost importance as it helps the software represent thoughts on screen rapidly.
Importing: Where mind maps are created using several tools, this is a necessary feature of a mind mapping software as it allows importation from other file formats.
Exporting: This feature is as important as the import feature because it is necessary to have your documents in various file formats as this helps with document integration
Offline Capabilities: In situations where you do not have access to the internet, mind mapping software are developed with offline capabilities that help you visualize concepts without access to the internet.
Concept Organization: With this feature; concept, ideas and theories are easily stored, organized and retrieved especially when there is need to reference this information in public.
Project Planning: This is one of the most important feature of a mind mapping software as it is highly resourceful during the planning phase of a project; it combines all the various mind maps that have been created in relation to a particular project
Idea Collection: Another important feature of this software is that it can be used to collect ideas during brainstorming or individually in most cases.
Mobile support: This is one of the more recent features of mind mapping software, they are being developed to work on all platforms; more recently mobile devices.
Real time operations: this is another important feature of a mind mapping software; this way visual representations are created immediately the software collects ideas.
What are the Types of Mind Mapping Software

There are different types of Mind Mapping software, each type used in mapping information in different instances. They are discussed below;
Problem- Solving Mapping Software: This type of mind mapping software is used during problem solving sessions. The problem is recorded and as team members participate with comments and contributions, the software collects this information, organizes and provide the team with a map that facilitates the problem-solving process.
Project Mapping Software: This software is used to plan an event which could be a product launch, closing a large sale and other company activities. This software is developed with features that let you make changes to plans and also keeps record of past events
Knowledge Mapping Software: Mind maps describing company processes, sometimes including checklist are created using a knowledge mapping knowledge.
It should be noted that there are several Integrated Mind mapping software that can perform the function of all three types.
You may like to read: Top Free & Premium Mind Mapping Software
What are the Key Performance Indicators (KPI's) of Mind Mapping Software

Downtime: The availability of a mind mapping software which is a function of the offline capability of that software is one of the ways by which we measure its performance.
Idea Generation: One of the ways of measuring the performance of a Mind Mapping Software is how well it represents ideas collected in a visual format.
Cost Reduction: It is cost effective to purchase a software that is in line with your organizations economic goal.
Project Management: This software is designed to create, assign and track tasks easily. How well it performs this task is an indicator of its effectiveness.
Presentation: A good mind mapping software should be able to present ideas and concepts to clients in a manner that is understandable.
Creativity: Mind Mapping Software should provide creative approach to visualizing quality processes, they should also visualize data in a manner that helps you to make conclusions and see how your business can improve.
What are the Benefits of Mind Mapping Software
There are several benefits that come with using a mind mapping software, these benefits are listed below.
Saves Time: Mind mapping software collects and organizes information faster when they are done manually
Look and Feel: Mind maps created using mind mapping software have the best aesthetics appeal.
Improved Brainstorming sessions: Having a software that immediately converts concepts and ideas to maps in executable format, definitely improves brainstorming.
High Staff Morale: The Mind Mapping Software even goes as far as providing a power point presentation from ideas collected, this feature increases the morale of the staff in an organization as it reduces workload.
Improved Efficiency: This tool improves the efficiency in a workplace as employees can focus their time and energy on other aspects of the business.
What are the Latest trends in Mind Mapping Software

The Mind Mapping software is constantly being developed thus it is necessary for organizations to be above these trends so as to exploit the full capability of the software.
Cloud Based Storage: It involves storing files in a place other than your computer's hard drive usually on the cloud providers servers; This way, it is easy to access the files and information generated on the software on any device connected to the internet.
Artificial Intelligence: Artificial Intelligence has taken the world by storm and Mind Mapping Software developers are not left out, as they incorporate built-in search capabilities that find related images and videos that further improves your visual representations.
Communication Platform: New Mind Mapping tools lets you make comments on mind maps, chat with potential clients and view revision history, therefore, improving its collaboration capability especially when working with a large team.
You may like to read: Top Free & Premium Mind Mapping Software
 How to choose the right Mind Mapping Software

There are several Mind mapping software available and these tools all have distinctive attributes that make them all different from each other. Below is a list of several factors that need to be considered before deciding which tool is the best for you.
Budget: it is necessary to know the size of your pocket when deciding which mind mapping software to purchase although there are free ones.
Interface: A good Mind Mapping Software should be built with user friendly interfaces to make sure the software is easy to use.
Requirements: Make sure you are aware of any specific requirements your business team is having and priorities the requirements
Functionality and Features: It is necessary to dig deep into your software requirements to determine which mind mapping software provides the best software solution in terms of features and functionality.
Ease of use: Settle for an easy to use software as you can avoid the training cost for the employees.
Top Mind Mapping Software Free
You may like to read: Top Free & Premium Mind Mapping Software
Top Mind Mapping Software Free
PAT Index™
Top Mind Mapping Software
You may like to read: Top Free & Premium Mind Mapping Software
Top Mind Mapping Software
PAT Index™