What is Inventory Management Software?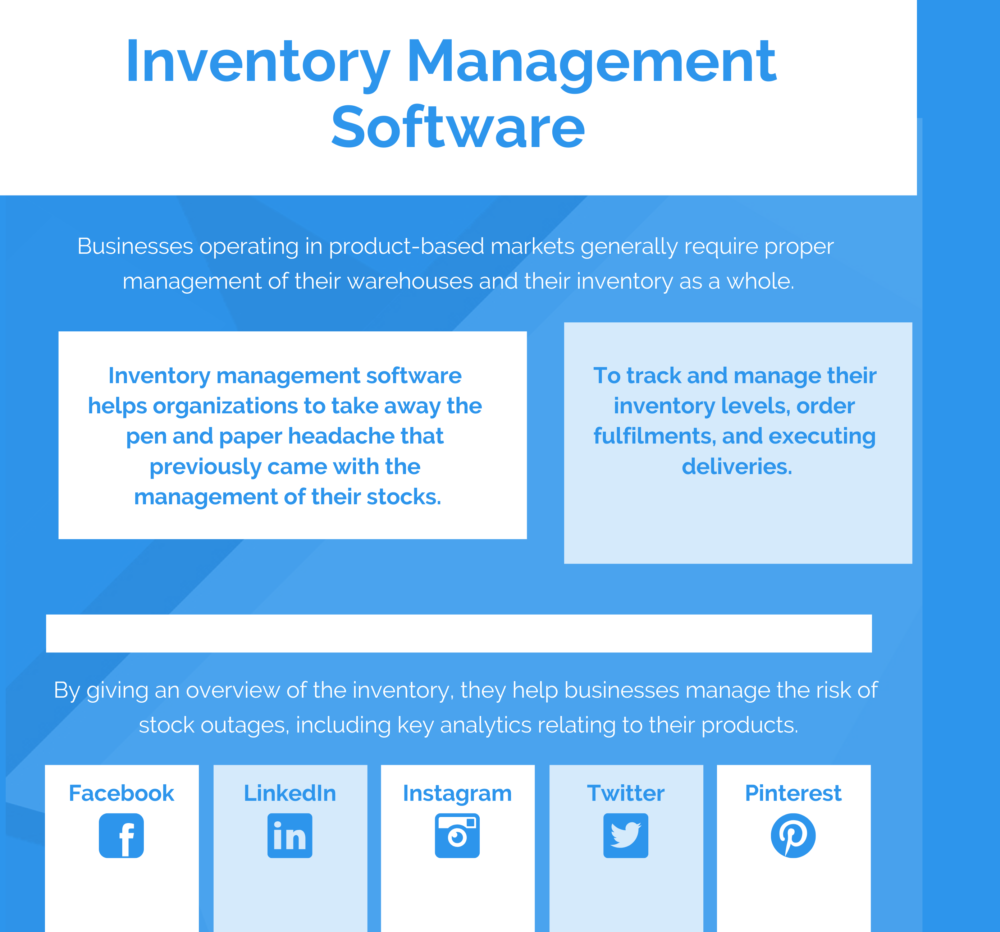 Businesses operating in product-based markets generally require proper management of their warehouses and their inventory as a whole. This is because a significant portion of its operating cash is usually tied up in its inventory.
Inventory management software helps organizations to take away the pen and paper headache that previously came with the management of their stocks. This includes the use of cumbersome spreadsheets.
Distributors, wholesalers and even manufacturers now rely on inventory management software to track and manage their inventory levels, order fulfilments, and executing deliveries. By giving an overview of the inventory, they help businesses manage the risk of stock outages, including key analytics relating to their products.
This also includes integrating that information with other data platforms within the organization, such as accounting, sales and customer service.
What are the Advantages of Inventory Management Software?
Inventory management software effectively replaces most error-prone and time-consuming manual processes
With the added use of RFID tags and barcode labels, businesses can finally eliminate virtually all human errors that are not uncommon with manual inventory management
By real-time tracking of inventory and assets, inventory management software is critical when businesses want to know the value of their assets for accounting purposes
What are the Benefits of Inventory Management Software?
By automating the inventory management process, businesses save time and money through reduced operational costs across the value chain
With real-time analytics, businesses can make accurate forecasts which can reduce disruptions in their sales cycles
Labor costs are significantly reduced, including human errors that can lead to losses
Users can generate different kinds of visual reports with just a few clicks
What are the Features of Inventory Management Software?
Users have a 360-degree view of the inventory status, including orders at various stages, tracking information, and shipment
Integration with other ERP systems such as accounting and sales to streamline operations
Order tracking and asset tracking capabilities
Organizes products into categories, and provides details such as descriptions and prices
Support for multiple warehouses and multiple sales channels
Option to share inventory data with others across the web
What are the Disadvantages of Inventory Management Software?
The cost of deployment may be unfavorable to some businesses. While there are free versions of inventory management applications available, they may also not serve the organization adequately.
Organizations may face challenges with integration of new inventory management software into their existing systems.
In-house inventory management applications may come with additional costs such as maintenance of servers and hosting.
What are the Trends of Inventory Management Software?
The best inventory management applications now feature drop-shipping capabilities. This means that they can have goods shipped to the customer directly from their suppliers' warehouse
Inventory management software now feature mobile tracking on both the iOS and the Android platforms. Users can execute orders and complete sales from their mobile phones.
The best inventory management systems offer cloud-based backup of data, secure and accessible at any time.
What are the Best Practices in Inventory Management Software?
Businesses must internally determine their minimal stock levels, and which they can then use to customize their inventory management applications. This is the minimum amount of inventory they are willing to keep before re-stocking.
To manage cashflow, some businesses opt to employ inventory management techniques such as Just-In-Time (JIT). This means that they only order goods from say, a manufacturer when they have a sales order.