How to Select the Best Software for Healthcare Industry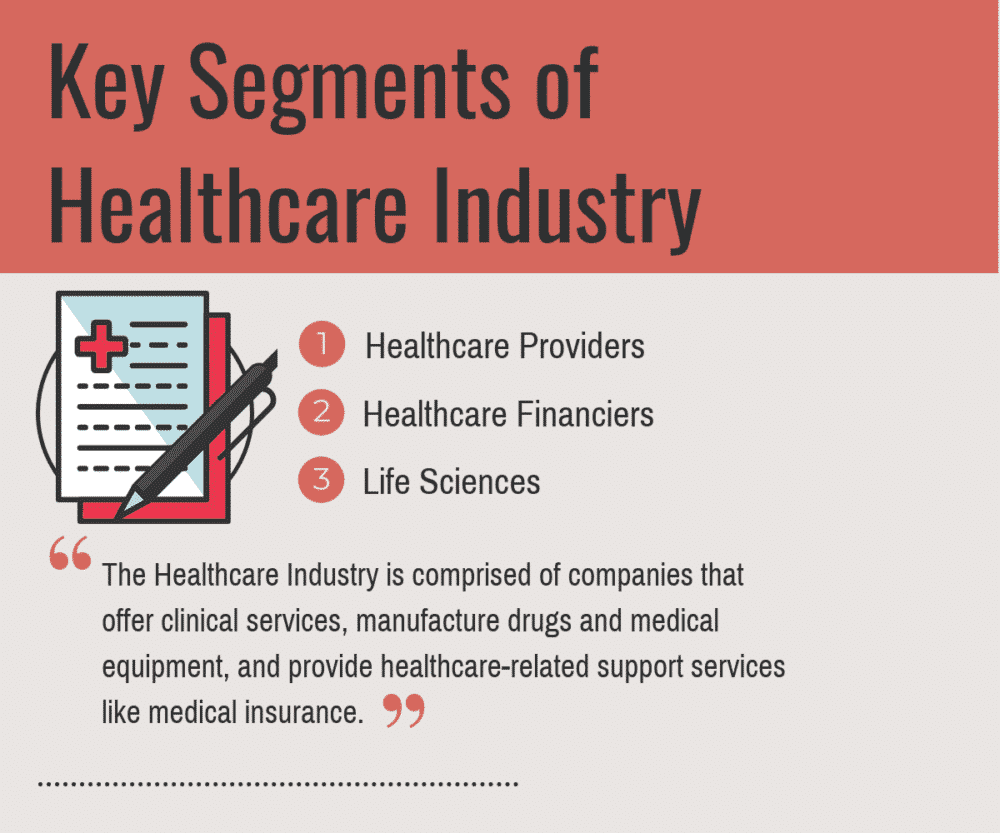 The Healthcare Industry is comprised of companies that offer clinical services, manufacture drugs and medical equipment, and provide healthcare-related support services like medical insurance. Its also referred to as the medical industry. These companies play a key role in the diagnosis, treatment, nursing, and management of illness, disease, and injury. The healthcare industry also provides preventive, remedial and therapeutic services to patients. To offer these services, there needs to be collaboration amongst healthcare providers including doctors, nurses, medical administrators, government agencies, pharmaceuticals, medical equipment manufacturers, and medical insurance companies.
The Healthcare Industry is one of the largest and is expected to continue growing well into the future guided by several drivers. Key among them will be; technological innovation, integration of medicine and healthcare, smart healthcare data management, and a patient-centered restructuring. This growth will be inevitable if and when technology is be embraced in every sector of the healthcare industry. This will call for massive investments in terms of cognitive computing, electronic patient records, interoperability, big data, etc. A digitized healthcare system will provide for better diagnostics, improve the quality of care, and also reduce operational costs.
At the center of this digital transformation is the need for innovative and cost-effective ways to deliver patient-centered, technology-enabled health care. Innovation will play a key role in the design and manufacture of medical products, equipment, and services. Technological innovation can, for instance, stimulate operational efficiency by helping connect and coordinate operations of all healthcare providers in their different areas of expertise. Integration of medicine and health care will also provide a holistic approach to healthcare through creation of a collaborative framework that will promote integration of skills and competencies across pharmaceuticals, medical equipment manufacturers, and healthcare providers.
Healthcare data management will mainly revolve around smart systems that can provide permission control, anonymity, and confidentiality when it comes to health data. For healthcare providers, data analysis will help to determine which patients need prompt or specialized care, which can go a long way in efficiently managing available resources. It will also assist them in deploying innovative care delivery and wellness models based on metrics derived from data. With technology, it will be possible to monitor and ascertain the effectiveness of certain medications on individuals or entire patient populations.
The future healthcare industry will be patient-centered; placing emphasis on the creation of value for patients rather than the volume of services delivered. Based on that, how effective a healthcare system is will be determined by clinical outcomes and patient experience.  A value-based healthcare system can be developed and supported by an array of reform policies and programs within the healthcare industry.
What are the Key Segments of Healthcare Industry?
Healthcare Providers
Hospitals and other medical centers: They conduct diagnosis and treatment of diseases, teaching, research, and training. Hospitals are equipped with medical equipment and facilities of all kind including operating theatres where medical professionals conduct major surgical procedures.
Nursing homes and rehabilitative centers: They offer both short- and long-term care services. Short-term care may include rehabilitative care after undergoing a surgery, illness or injury. This may include physical therapy, occupational therapy or speech-language therapy. Long-term care is offered to the sick, elderly and disabled.
Ambulatory service providers: These are physicians and other health professionals who provide outpatient medical services or non-hospital-based care. For outpatient-based care, a patient visiting a hospital or an outpatient clinic gets diagnosed, treated, and released on the same day.
Healthcare Financiers
These are government agencies and private companies that provide health insurance policies and fund healthcare services. They are tasked with pooling of medical funds collected through employer contributions or individual insurance policies, and oversee payment for services rendered. Healthcare financiers outline how people access health care, the kind of healthcare to be covered, and the allocation of healthcare services.
Life Sciences
This segment includes; pharmaceutical firms which make drugs and other chemical products needed for the provision of health care; manufacturers who make high-tech medical equipment; and biotechnology firms that conduct research and development to create new drugs, equipment, and treatment methods. Others who also fall in this segment are all those who provide other miscellaneous scientific services for the diagnosis, treatment, and monitoring of patients.
 What are the Healthcare Industry Value Chain?
 1.Administrative (Back office)
The administrative department is tasked with the planning, coordination, and supervision of the day-to-day operations of healthcare facilities, ensuring they run both efficiently and profitably.
The department is responsible for Budgeting and financial management; admissions and discharges, Public relations, Medical billing, Instituting hospital policies and procedures, Provision of staff and patient health-related education and Recruitment of staff and management of their benefits.
  2. Information Management
This department is the brain of the healthcare industry. It masterminds the collection and analysis of healthcare data to be used in making health care decisions. The department is responsible for Leveraging health data to improve care delivery, Availing patient data anywhere, anytime while ensuring it's portable and easy to use, Maintaining confidentiality and security of patient data, Ensuring there is accountability and due diligence in the sector and Overseeing the application and infrastructure landscape for healthcare institutions.
 3. Clinical Services
Clinical services are the heartbeat of the healthcare industry and provide comprehensive clinical and non-clinical services for the diagnosis and treatment of patients.  They provide acute and ongoing care, ambulatory services as well as conduct training and medical research.
Clinical services can include any of the following departments such as Biomedical Engineering, Cardiology, Dermatology, Pediatric Care, Disease Research Center, Dentistry and Oral Surgery, Diabetes Center, Diagnostic Radiology, Cancer and Palliative Care ,Integrated Imaging Center, Reproductive Health and Birthing center and Endocrinology
  4. Allied Health
Allied health professionals augment the entire medical and nursing teams, and provide direct patient care and other support services that improve health and quality of life of patients. These services may be diagnostic, therapeutic, or preventive in nature.
These services includes Occupational therapy, Speech/Language therapy, Psychological/Mental rehabilitation, Physical fitness training, Dietary and nutritional services and Health management systems.
5. Support Services
These are people, processes, and support structures that augment the realm of medical care, ensuring healthcare professionals can provide patient care and service effectively and efficiently. Some of the support services include Procurement and supply, Cleaners and food service workers and Biomedical Technology.
Procurement and supply: They order, receive, stock, and oversee the distribution of drugs and medical equipment across all hospital departments, whenever and wherever they are needed.
Cleaners and food service workers: They are tasked with housekeeping to maintain a safe, clean environment, as well as cleaning and sanitizing medical equipment. They also prepare food and drinks for medical staff and patients.
Biomedical Technology: They support healthcare professionals through design works, building, repair and maintenance of medical equipment.
 What are the Healthcare Needs?
There are five levels of healthcare needs:
Environmental health needs: Environmental health deals with the protection from natural and built-environment hazards that may influence human health and disease. This is achieved through the provision of basic human amenities like clean water and air, and adequate sanitation.
Basic healthcare needs: These are essential healthcare services like physical examination, immunizations, and screening to prevent certain diseases.
Medically necessary needs: These are health-care services availed to help prevent, diagnose, or treat a disease, illness, or injury through evidence-based clinical standards of care. They are provided by healthcare professionals either in hospitals, medical clinics or even in a patient's home.
Preventative care and wellness services: This covers regular preventive care and healthier lifestyles that support and promote better health such as physical fitness, occupational therapy, rehabilitative care, etc.
Health enhancements: These are services that speed up the healing process, reduce pain, or improve general health. They include chiropractic care, acupuncture, arthroscopic surgery, cosmetic surgery, and result-oriented therapies.
 What are the Key Competitive Advantages in the Healthcare Industry?
Effective cost controls: Health care institutions are expected to provide quality care and also ensure this is done a sustainable and profitable manner. For that reason, an effective healthcare system is one that makes use of innovative and cost effective ways to curb and control costs. Hospitals incur high costs in acquiring medical equipment, maintaining the wage bill and the day-to-day operations. Therefore, solutions that can promote the quality of care while containing costs must be considered.
Integration of Health and Technology:  Technology can be used in data capturing, monitoring and analysis in real time, thereby providing actionable insights that can yield clinical benefits and reduce misdiagnosis. Additionally, artificial intelligence (AI) can help streamline financial processes and quicken administrative duties so that focus can be placed on personalized care. Integrating health and technology will also make medical information accessible and available to practitioners and other stakeholders anytime, at any place.
Minimizing empty beds: Hospitals and other medical facilities should ensure there is optimal use of available resources like bed capacity. They should design and implement strategies that can improve hospital bed occupancy and encourage resource utilization. They can try to diversify the services they offer, to minimize discharge waiting times, and to reduce the time needed to clean and prepare beds after patients are discharged.
Access to government funding: The healthcare industry is one of the few industries that are directly supported by the government or by a government agency in pooling of medical funds to pay for essential healthcare services for its citizens.
Economies of scope: Major institutions in the healthcare industry can introduce a framework that promotes and facilitates sharing or joint utilization of resources to optimize service delivery and aid in reducing operational costs.
Skilled workforce: Hospitals need to create strategies that can help source and retain higher-level talent.  They can also introduce education and training models that can assist staff to bridge the skills gap and promote upward occupational mobility for low-skilled workers.
Top Medical Practice Management Software
Genesis, Nextech, eClinicalWorks, SimplePractice, Harmony Medical, enki, Greenway Health, Solutionreach, PetalMD, PrognoCIS, Centricity, Branch Enterprise are some of the Top Medical Practice Management Software.
Top Medical Practice Management Software
PAT Index™