What is ERP Software? Features, Benefits and Advantages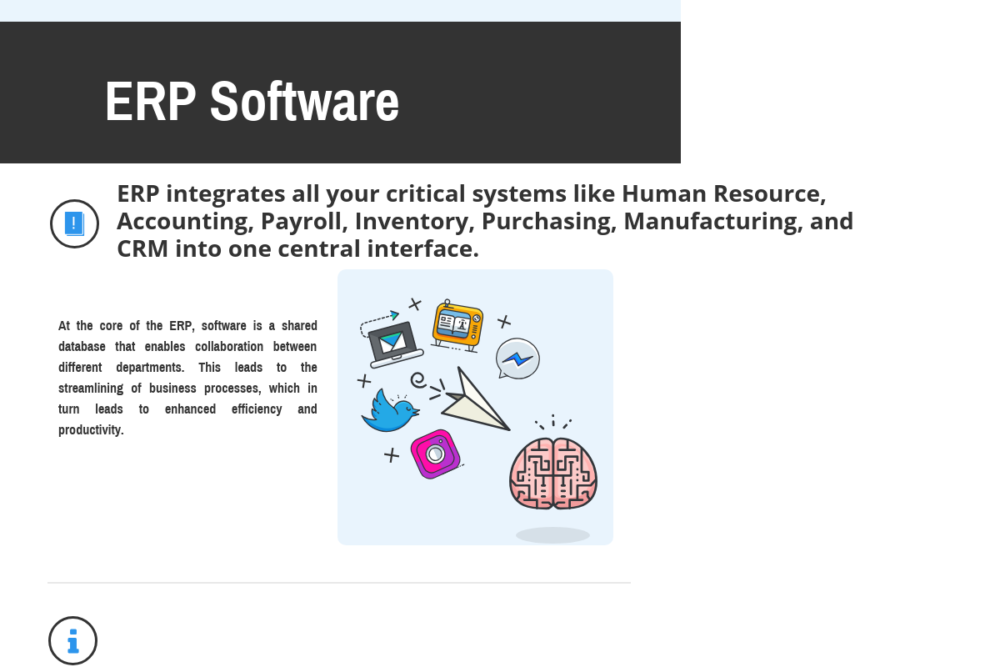 ERP integrates all your critical systems like Human Resource, Accounting, Payroll, Inventory, Purchasing, Manufacturing, and CRM into one central interface. At the core of the ERP, software is a shared database that enables collaboration between different departments. This leads to the streamlining of business processes, which in turn leads to enhanced efficiency and productivity.
New ERP software incorporates Machine learning for in-depth and insightful reports. With ERP software key decision makers in the organization can have a glimpse of all the business operations. Automation of processes leads to a reduction in bureaucracy and redundancy. Companies can use the system to reduce their risk exposure and comply with various regulatory requirements.
You may like to read: Top ERP Software,  Top ERP Software for SMB, Top Cloud ERP Software, ERP Software for Large Business.
What are the advantages of ERP Software?
Visibility of all business processes from one central location
Real-time reporting across departments through charts and statistics
Faster completion of workflow through automation of business systems
Web-based tracking of orders through e-commerce integration
Implement the ERP Software in stages through its various modules depending on an organization needs
Centralized back up of company data since it is available on one system
Allows integration of other company-specific API systems
What are the benefits of ERP Software?
Enhances efficiency in an organization by eliminating and automating repetitive processes
Managers can generate accurate forecasts based on reports produced
Departmental heads use the system to cut bureaucracy and promote collaboration
ERP systems are flexible, and this enables companies to scale up through the addition of users and processes.
ERP help reduce administrative and operational costs by streamlining complex systems.
What are the feature of ERP Software?
Data Analysis: The software centralizes organization data, and this enables the system to find trends and offer informative reporting.
CRM: Through the system, companies can handle crucial customer data like contact information or shipping details. This eliminates the need for separate spreadsheets and allows quick access to customer details.
Accounting: Companies can handle accounting functions like payroll, accounts receivable and payable, asset and risk management, and compliance with existing tax regulations.
Purchasing: Streamlines the procurement by identifying potential suppliers, negotiating price, awarding purchase order to the supplier, and billing processes.
Human Resources: Facilitates employee recruiting, hiring, and training. This module also includes payroll and benefits.
Production: Facilitates production planning and scheduling, and actual production activities are recorded.
Sales: Plans sales orders and scheduled deliveries, customer (pricing, address and shipping instructions, billing details.
Here are some tips for Selecting an effective Cloud ERP Software.
You may also like to checking Selecting the Best ERP Software for Your Small Medium Business and Selecting the Best Enterprise Resource Planning (ERP) Software for Your Business.
What are the disadvantages of ERP Software?
The cost of implementing ERP software can be very high; companies often choose to do it in phases.
To be fully functional can take two to three years
The need for participation amongst all a company's department – not possible at times.
Lengthy company training
Can be hard to integrate with other existing applications during migration
Single vendor lock-in prevents negotiation with other cheaper vendors
What are the trends of ERP Software?
IoT: Devices that can transfer data on cloud are on the rise. ERP will need to adapt to this change and facilitate interaction between IoT devices and applications. Such devices will facilitate employee deployment and communication in remote regions.
Prediction Analysis: Data centralization is a key feature of ERP. The future trend is more focus on predictive analysis through the utilization of AI.
What are the Best Practices of ERP Software?
First, understand what the company needs and expects from the ERP system.
Allocate time and resources for implementation of the system.
Establish and formulate key performance metrics to track your ROI in comparison to ERP software
Bring all the various departmental heads on board; familiarize them with the system benefits and challenges.
Start planning for data migration – one of the key components of ERP