Weekly forecasts in Forward Demand, Blue Yonder Platform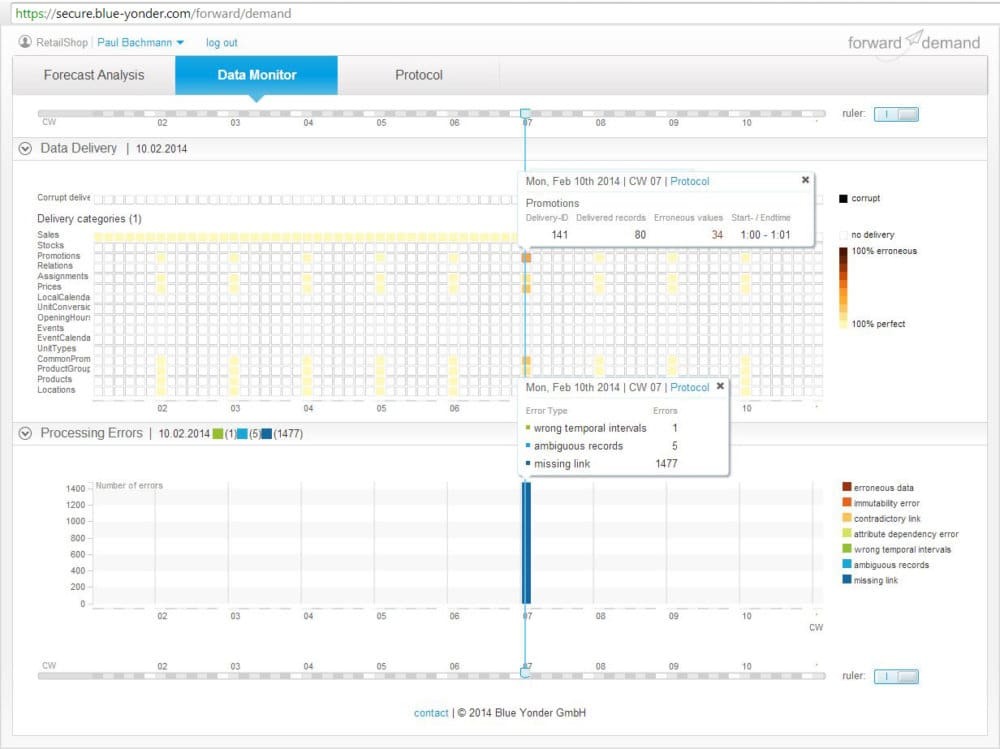 Weekly forecasts in Forward Demand, Blue Yonder Platform : The Blue Yonder Platform is a cloud based scalable platform for predictive applications that uses the most modern machine learning algorithms. Blue Yonder Platform enables data scientists and specialists to build predictive applications and integrate and operate them with existing systems such as ERP, CRM, HR, SCM, etc. using APIs. Blue Yonder is the leading SaaS provider for Predictive Applications, founded in 2008 and is based in Karlsruhe, Germany. The Blue Yonder platform automates mass decisions in real time, resulting in accurate forecasts, provides industry specific forecasting software that enables customers to optimize the key business processes and to become "predictive enterprises."
Blue Yonder delivers precise predictions for demand planning and replenishment. It is also being used for dynamic pricing and customer analytics. The Blue Yonder Platform makes available a high efficiency data store for the data, which can be up loaded and integrated through APIs and a framework for running machine learning algorithms on the data. The algorithms are parallelized automatically, so forecasts are calculated fast. Blue Yonder Platform is a machine learning toolkit with best of breed machine learning algorithms and the patented NeuroBayes algorithm for the most complex problem and a web application framework, which makes additional integration and simple user interfaces easily available.
Forward Demand is a Blue Yonder's SaaS solution, that will automate the demand planning, optimize the stock availability and help increase the profits, with a self learning solution which will make sales promotions for more effective and increase customer satisfaction. Blue Yonder, has now introduced weekly forecasts into its Forward Demand SaaS solution to help retailers improve sales forecasting. Procurement of goods is a critical leverage point for achieving higher turnovers in the retail sector and should be aligned as closely as possible with the customers' actual demand. When dealing with slow-moving goods, there is mostly too little statistical information to evaluate individual products and generate precise daily forecasts. In order to optimize stock and improve processes, weekly forecasts are a key instrument. Forward Demand now enables companies to make decisions based on accurate weekly forecasts and avoid both over and understocking.
Retailers can optimize their sales planning to a particular item as well as location and get a forecast for up to 28 days. Weekly forecasts are an absolutely key component to companies with non-food products, multi-level distribution channels and slow-moving goods, this also highlights the flexibility of Blue Yonder's enhanced offering.
German retailers such as BAUHAUS AG and natsu Foods already use Forward Demand within their sales forecasting. Taking into consideration unforeseeable factors such as weather, special campaigns as well as vacations and public holidays when planning is another one of Forward Demand's strengths. The SaaS solution easily integrates into any heritage IT system environment and features a customer-friendly user interface. The model uses all benefits of the cloud, and is particularly suitable for medium-sized companies. This allows for the integration with the ERP system or data warehouse, so existing systems can be used immediately via standard interfaces. In addition, Blue Yonder supports its customer base with a comprehensive service portfolio throughout the entire process.
You may also like to review the predictive analytics free software list :
Predictive Analytics Freeware Software
You may also like to review the predictive analytics software API :
Predictive Analytics Software API
You may also like to review the top predictive analytics proprietary software list:
Top Predictive Analytics proprietary Software
More Information on Predictive Analysis Process
For more information of predictive analytics process, please review the overview of each components in the predictive analytics process: data collection (data mining), data analysis, statistical analysis, predictive modeling and predictive model deployment.