Review
Web2project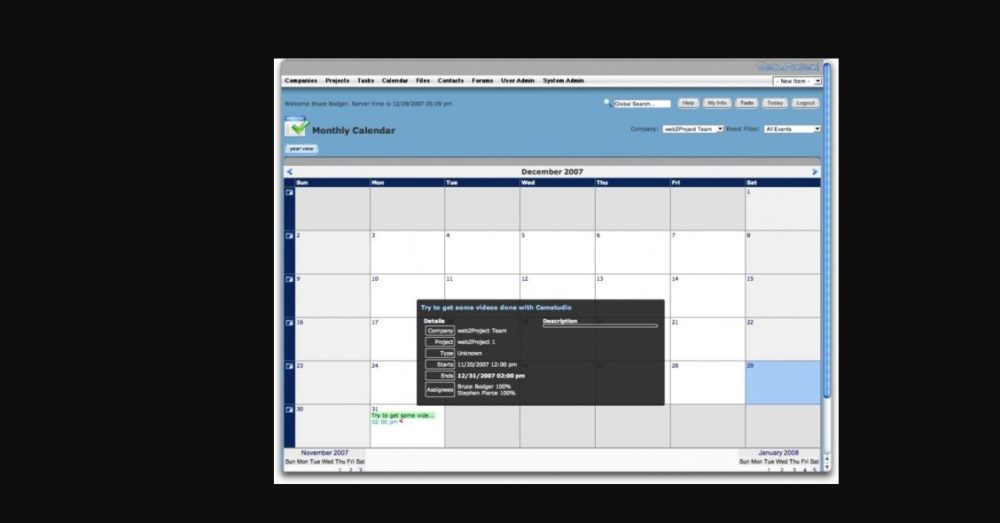 Overview
web2Project is a Free Open Source business-oriented Project Management System (PMS) built for the future
Project Management Software Open Source
• Secure web-based infrastructure
• One-stop shop for all project information
• Role-based permission system
• Project and group-wide Gantts Charts
• A unified calendar with iCalendar support
• A modular infrastructure
Small (<50 employees), Medium (50 to 1000 Enterprise (>1001 employees)
What is best?
• Role-based permission system
• Project and group-wide Gantts Charts
• A unified calendar with iCalendar support
• A modular infrastructure
What are the benefits?
• Capable of managing ant number of projects, companies, departments and users
• Provides information to avoid confusion and reduce risks
• Provides the project manager with fine-grained control over sensitive data
• Provides iCalendar support that shows relevant tasks and events
• Addition and removal of modules to customize the features according to your requirements
Web2project is a free and open source multi-language, multi-user, and web based business oriented project management system. The web2project uses a module that mimics the simple to do aspects of Basecamp.
Web2project main goal is to build a stable, feature filled and flexible platform that is specific for your business needs. Web2project provides useful updates to the community on a regular basis through the regular release cycle. Web2project presents a secure infrastructure that is based on the web. The web based infrastructure enables web2projecct manage any number of companies, users, projects, and companies at ease. This enables business to operate smoothly. Web2project provides a one-stop shop for all projects.
The one-stop shop provides a good platform for users for avoiding confusion and reducing risks in their businesses. Web2project also features a permission system that is based on roles.
The role based system provides managers and administrators with a good platform for gaining full-grained control over data that is sensitive to the company or business. With Web2project, users get a chance to use the group-wide and project Gantt charts that are ideal in analyzing data got from the business results. Web2project provides a calendar for businesses, users, companies, and projects that is unified.
Web2project also provides an iCalendar. The iCalendar is ideal as it shows all relevant events and tasks for the company or business projects. Web2project also provides a good platform for customizing the features according to the user's requirements. This is achieved by Web2project providing a modular infrastructure that facilitates allowing of addition and removal of modules.
You may like to read: Top Free, Open Source and Premium Project Management Software and Buyer Guide for Selecting the Best Project Management Software